Interview with Figurative Artist Heather Nevay
Heather Nevay is a figurative painter based in Glasgow who studied at Glasgow School of Art. Heather has exhibited regularly at the Compass Gallery and Cyril Gerber Fine Art, Glasgow, and the Portal Gallery, London. She has also exhibited many times in important mixed shows at the Royal Academy, The Royal Scottish Academy, The Society of Scottish Artists, The Royal Glasgow Institute, and at the London and Glasgow Art Fairs. She uses symbolism to express ideas of heroism, weakness, fear and the shifting balance of human relationships…
Can you provide a short one-paragraph introduction to your life and work?
I have subjects which I have been drawn to, usually listening to programmes on the radio, or articles I read, which I gather in a sketchbook in written form, which I know I want to explore through painting and drawing. I create a collection of images – all very figurative, where all the work makes sense together but can exist as a single idea or image. Then I create very literal imagery to interpret these thoughts and ideas. I want whatever I paint to have a beauty about it, even if it's a challenging or uncomfortable topic and use the surface beauty to ease the viewer into that world.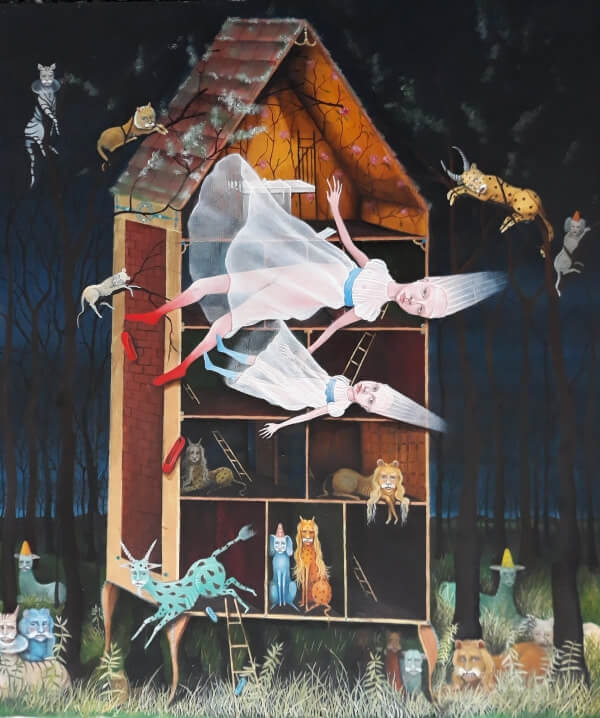 Heather Nevay – Falling Asleep (2018)
When did you first know you wanted to become an artist?
Not until I was in 6th year at school and did a crash course in art. I come from a very working class background and didn't know it was something that someone like me could do. I had no examples to encourage me to think it possible.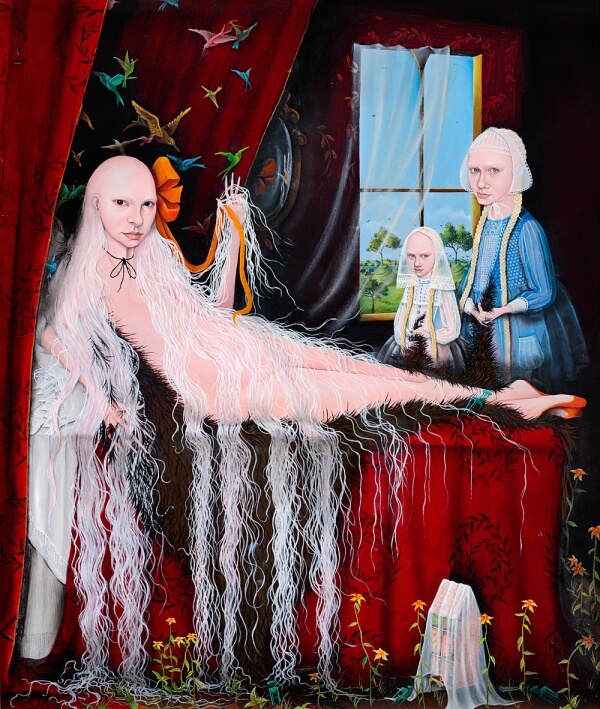 Heather Nevay – Olympia (2015)
Can you name 3 artists who have inspired/informed your artistic practice?
Paula Rego, Frida Khalo and Van Eyck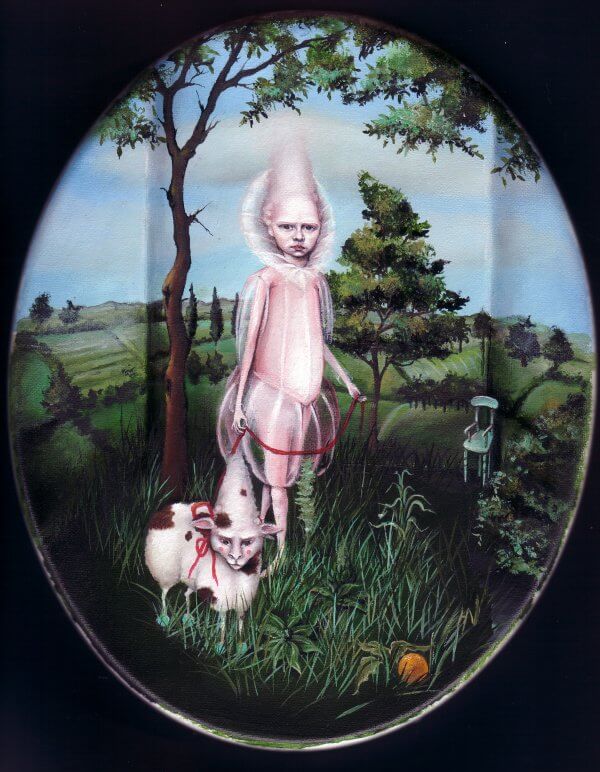 Heather Nevay – Pastoral (2005)
What do you consider one of the greatest surrealist works of all time?
Max Ernst " The Robing of the Bride" (1940)
How did you develop your style? How would you define it?
I developed my style by just doing it and then comparing it to the painters I admired. It evolved slowly and I think moving from acrylic paint to oil helped me discover a more subtle painting style. But looking at the beauty of the Italian renaissance artists alongside the subject matter and personal content of Paula Rego and Frida Khalo was a lightbulb moment for me.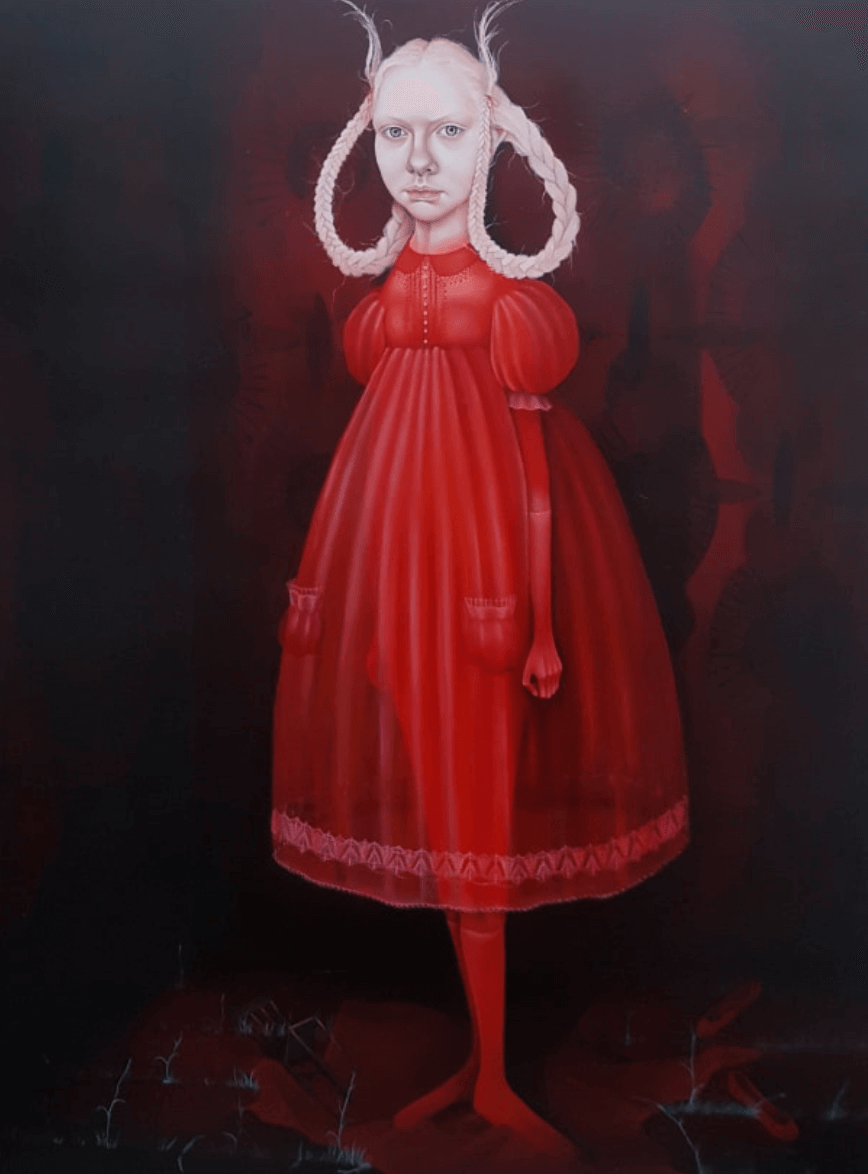 Heather Nevay – Furious (2019)
Where do you draw inspiration?
From radio programmes looking at the human condition, mental health, childhood experiences. I listen to Radio 4 and Radio 3 mostly when I work. Some specific music also gets me in the zone. Sometimes a word is all that's needed to spark an idea in my head.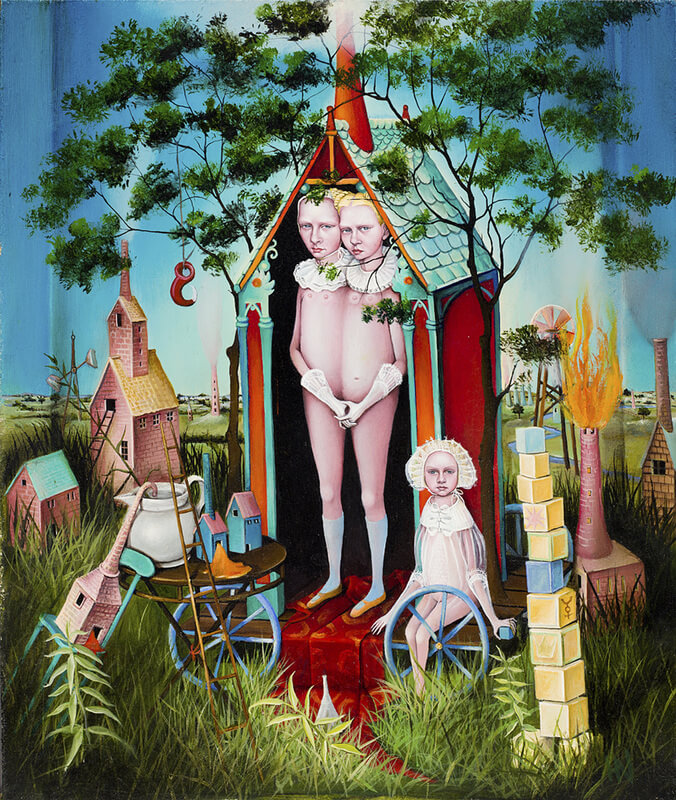 Heather Nevay – The Hermaphrodite Reliquary (2013)
What is the symbolism of the Children in your work?
They represent a world we have all experienced, so that the viewer, no matter from what background , can relate to the imagery – positively or otherwise. They have an imaginative world which adults usually lose as they mature and where I enjoy being.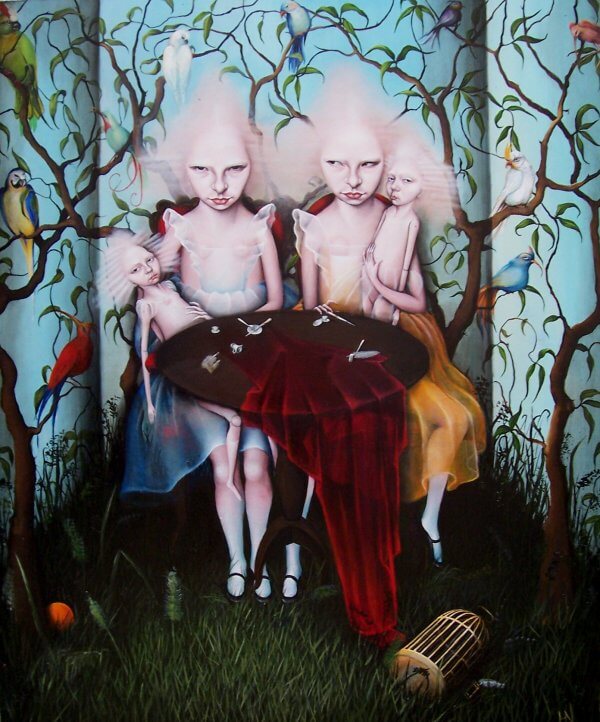 Heather Nevay – The Feast (2005)
How has being a woman affected your work?
I'm not sure I can assess that as its all I have known. I don't feel I have had prejudice because of it, and never consider it as a disadvantage. But I'm aware of the listings of "women's art" as an insult. I think that is totally ridiculous. Good art is good art. I hope it is irrelevant to the viewers of my work.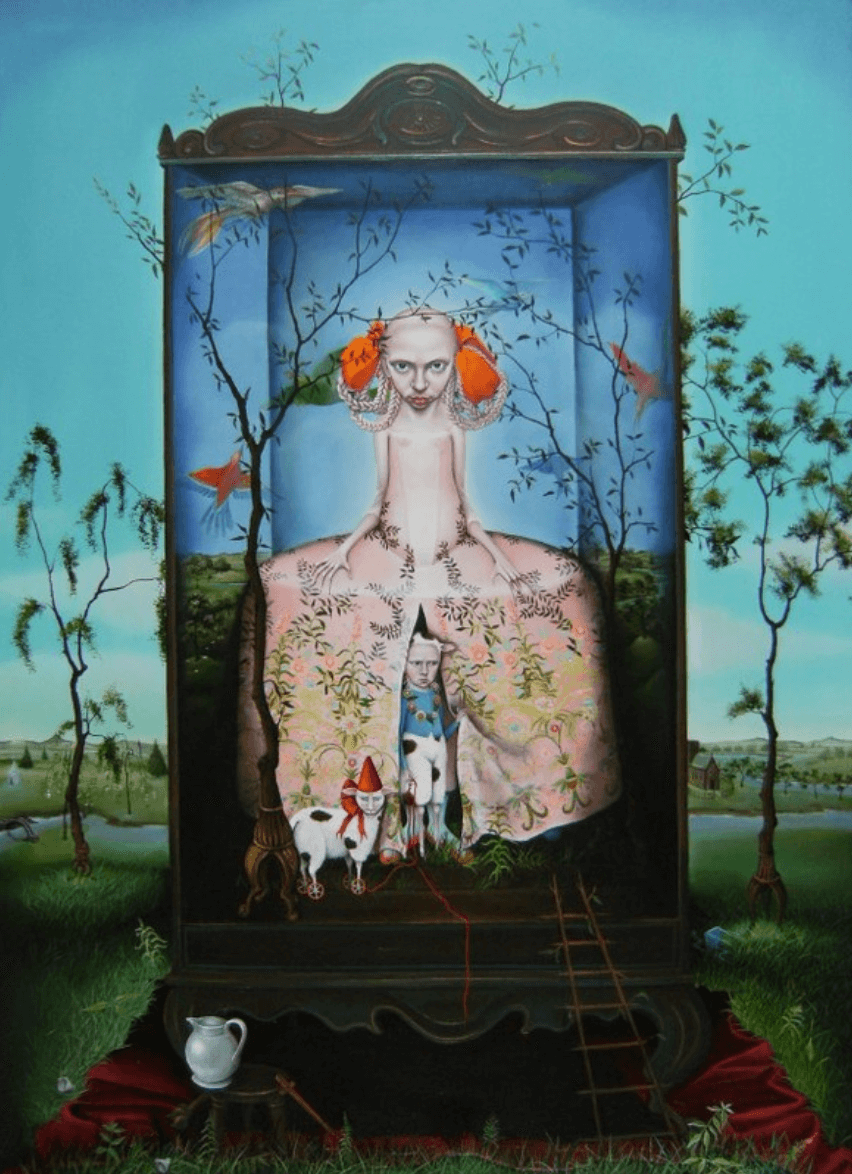 Heather Nevay – The Secret Garden (2009)
Can you tell us about your upcoming projects/direction you'd like your work to take?
I have decided to produce less paintings, but take more time over them. To make the work more beautifully painted and aesthetically richer. I also want these new pieces to be more layered and nuanced but with serious and challenging ideas secreted within them. They will take as long as they take to do. I hope to continue my relatively new adventure in printmaking. Its my place to play.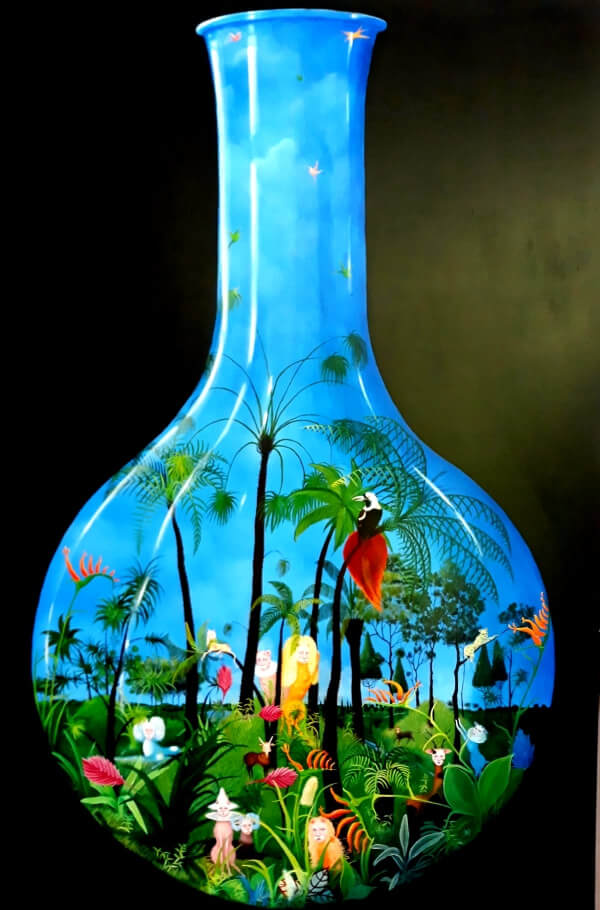 Heather Nevay – Eden (2022)
 Thank you Heather!