In-Visible; Interview with Esther Shalev-Gerz
On the occasion of her exhibition 'In Visible' at the Sorbonne Art Gallery, Paris, (3 October – 4 November 2022), we were delighted to interview Esther Shalev-Gerz.
Esther is a multi-media artist who was born in Lithuania, studied at the Bezalel Academy of Art and Design, Jerusalem and since 1984 has been living and working in Paris. Esther is internationally recognized for her seminal contributions to the field of art in the public realm and her consistent investigation into the construction of memory, history, the natural world, democracy and cultural identities. Her monuments, installations, photography, videos and public sculptures are developed through active dialogue, consultation and negotiation with people whose participation provides an emphasis to their individual and collective memories, accounts, opinions and experiences which then become both represented and considered. Constantly inquiring into transitional qualities of time and space and the correlative transformation of identities, locales and (hi)stories, Esther Shalev-Gerz has produced a body of work that simultaneously records, critiques, and contributes to our understandings of the societal roles and value of artistic practice.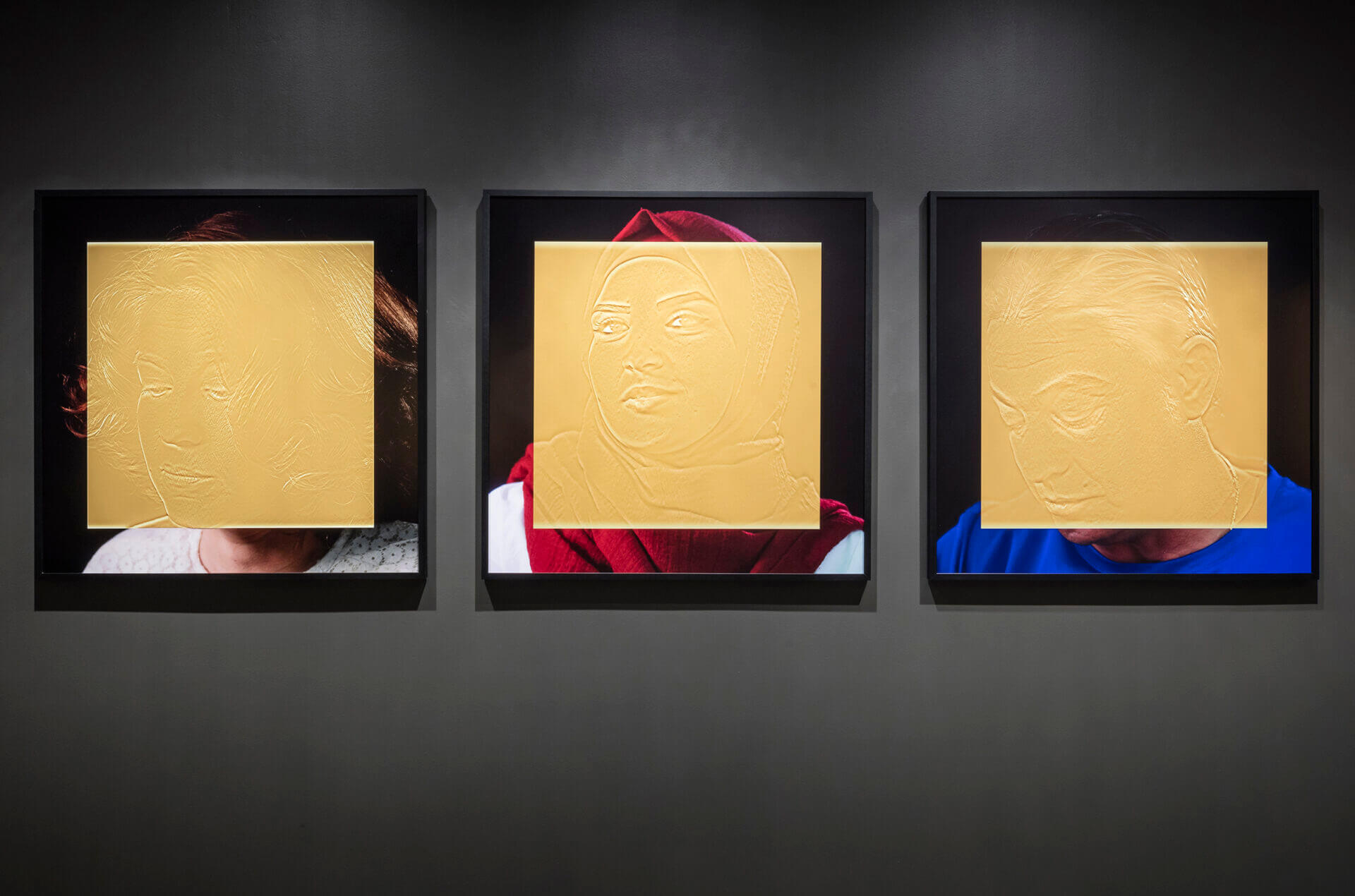 The Gold Room (2016) – Installation view, The Koffler Gallery, Toronto (2018)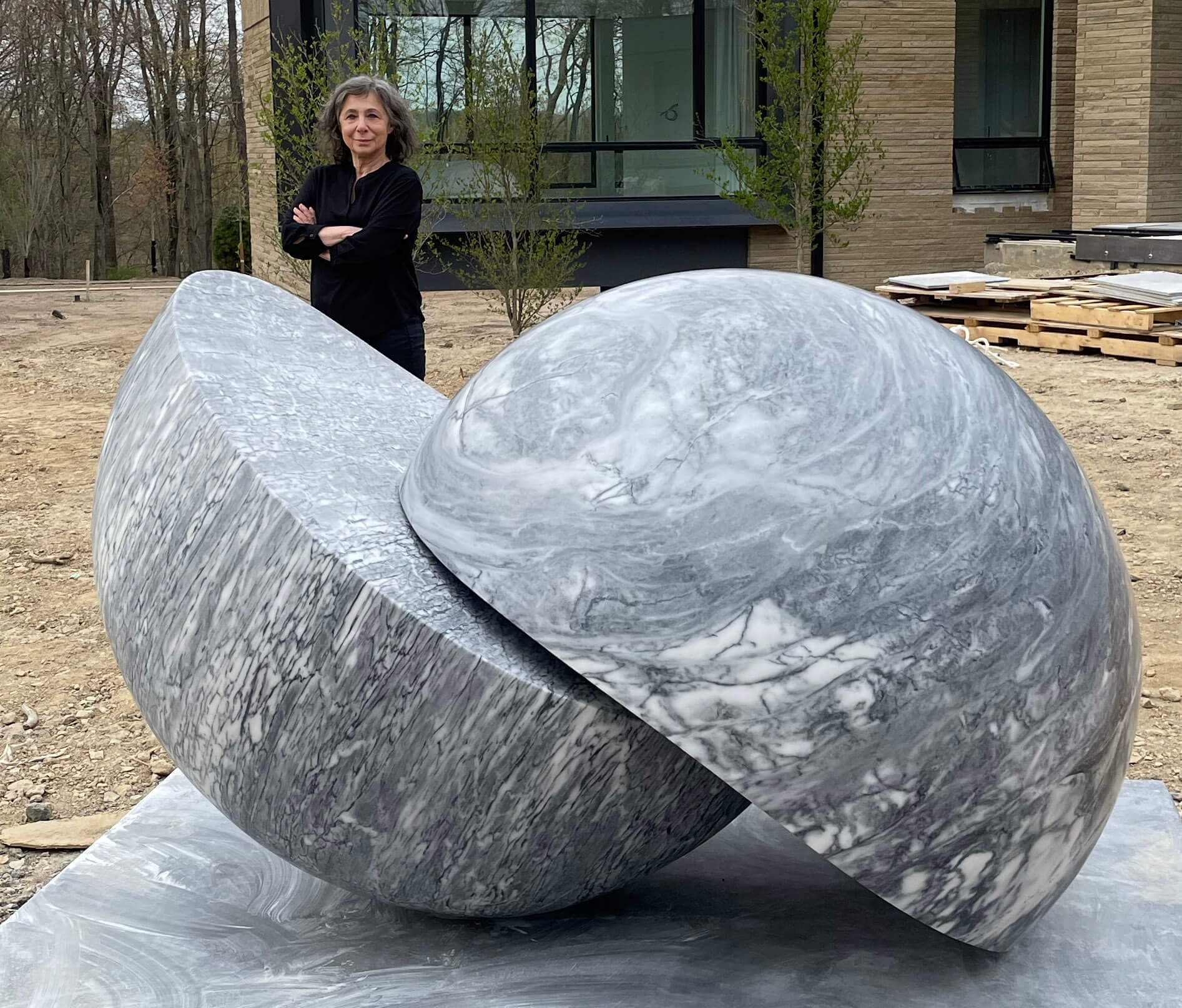 Portrait with KING & KING (2020-2022) – Pittsburgh
Can you tell me about how 'In Visible' first came about?
The 10 artworks were originally commissioned by SICPA in 2015.
What is SICPA?
SICPA is a security provider and adviser to governments, security banks, high security printers and industry – providing secured identification, traceability and authentication solutions and services. They create pigmentation for money, for instance the green for the dollar, keeping the shade constant all over the world. They create the identity of products, enabling traceability in our global world. I was pleased to be commissioned by SICPA because I have always been fascinated by the idea of creating identity. Like all my work, this project was rooted in in-depth research. I went to all the SICPA laboratories, even to the one in Rio de Janeiro. I constantly ask myself, what is identity? Why is it important? Why do we need it? We are each different from each other, so then what is identity all about? Of course, the object of the utmost identity is the iris, which became the focus for this series. The Iris suggests a moment of regard, of looking, but what does it see? Like many people today, I am obsessed by selfies, how we look at ourselves, with eyes being at the centre of our being. The Iphone is an eye. We see the world through it – and the world sees us. This can make us scared. Why? Are we scared that we are being seen? Before it was only Kings that were seen.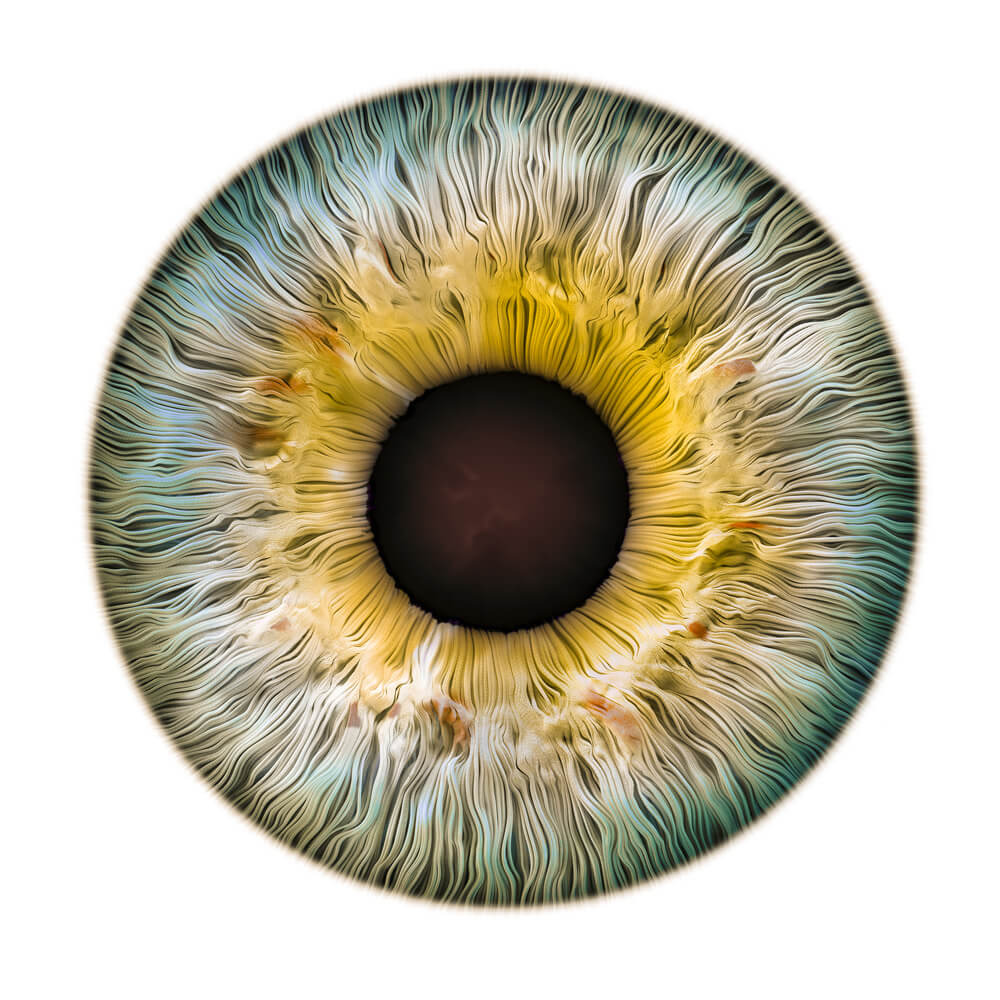 In-Visible (2015)
What does the project 'IN VISIBLE'  tell us about identity?
'IN VISIBLE' represents the absolute mystery of the universe: everything is different, every tree, every leaf, every person, and we don't know why.  Just as the magic of the world cannot be explained, each iris is assigned a different 'code' as unique as any individual. The viewer can walk through the specificity of each iris and discover its system of identity as a reflection of the changes operating today on systems of recognition.
Where was In-Visible first exhibited?
These works originally hung in SICPA's offices and laboratories, but they were not exhibited in an artistic context which is why I was thrilled to have the opportunity to display them at the Sorbonne.
How has the nature of the project changed in its new context at the Sorbonne?
At the Sorbonne Art Gallery, these 10 works seemed to fit perfectly. The space itself is beautiful, a long neo-classical stone hall with a terrazzo marble floor running the entire length of the building, lined with wooden benches on either side and flanked by lecture halls. The 10 beautiful 19th century frames, which line the hall, originally served as notice boards (before the digital age). They are rectangular, cast in bronze, with a dark rich brown patina and ornamented with small roundels. These frames almost seemed made for the project. 100s of students move through this historic building…it's an elevating experience. The project just seemed to belong there, the Irises glance – eyes looking at you. And we look at the eyes. 
Can you describe the process?
I started my research with my own eyes. I visited eye doctors to ask if they could photograph the iris, but I learnt that they can only photograph an iris when they shine a light on it and so there is always a reflection. I soon realised that the iris, impossible to capture photographically in its pure form, is the physical archive that bears the traces of a person's unique identity. Did you know that the eye dissolves when we die? But the eye is also the window to the soul, to love, our expressions. It shows our emotional irregularities. It has a fantasy role. I wanted to protect the beautiful side of it. You never know where a painting will take you! 
Can you describe the technique?
The technique involves 3D ex-nihilo, a similar technique used by architects. They don't use clay anymore but computerised 3D tools on the computer – it proposes shapes and colours and then you alter them. Then, I print out the image in 2D.
Why 2D?
I started off as a sculptor. All my life I've asked myself, what is sculpture? What is a monument? Do we really need to create more objects in a world that is getting fuller and fuller? Why don't we give a monument a date of expiry? No one throws monuments away. By producing my work in 2D, I appeased my worries about the world and spaces around me. I always had many questions around this subject, so this is why I prefer to print in 2D rather than 3D.
You have created many projects in public spaces –  in Hamburg, Galilee, Stockholm, Knislinge, Geneva, Glasgow and Vancouver. Can you tell us about your 'Monument against Fascism'? 
In 1986, for the city of Hamburg, I co-created a 'Monument against Fascism', a column standing 12 metres high that, as it becomes covered in inscriptions from passers-by, sinks and disappears into the ground. Residents were invited with a text, translated in seven languages, to sign against fascism by engraving their names with the metal pencil provided directly onto the lead clad surface of the monument. But a monument cannot fight Fascism, the last sentence of the text " In the long run, it is only we ourselves who can stand up against injustice" but this work is emblematic of my concerns, participating on the one hand in the debate on public space and the involvement of the spectator, and on the other hand evoking World War II from the perspective of memory and otherness.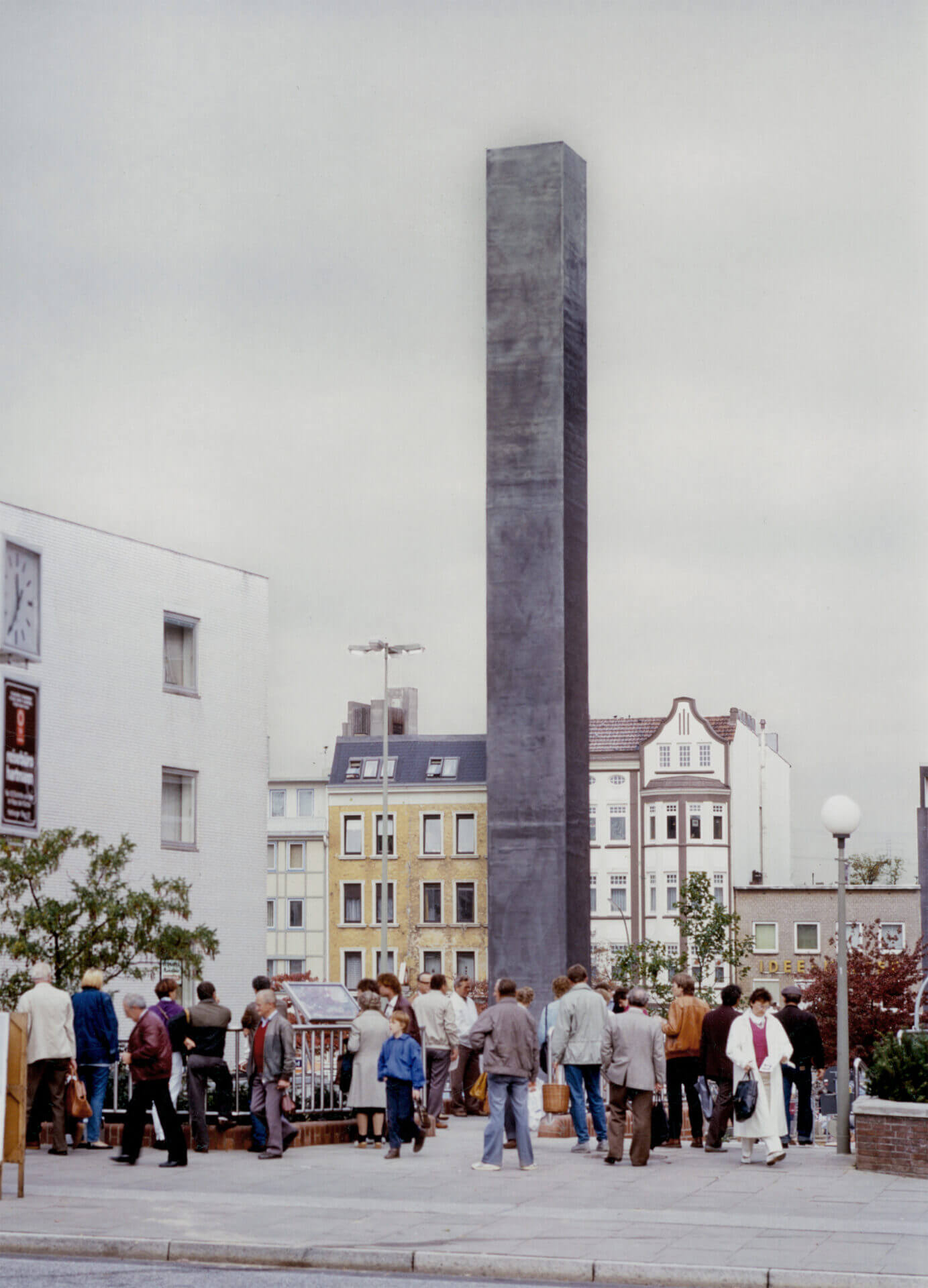 Esther Shalev-Gerz and Jochen Gerz, Monument against Fascism (1986)– Installation, Hambourg-Harbourg, Germany 
Can you tell us about The Shadow? 
'The Shadow' is an enormous work, a to-scale image of the shadow of a giant fir tree laid out by 25,000 black and grey pavers on University Commons Plaza at the University of British Columbia in Vancouver, BC, which is located on the traditional, ancestral and unceeded territory of the Musqueam people. When I first went there, I sensed the ghosts of huge trees that are no longer there. The work is an unapologetic condemnation of the resource-extraction industry and the colonial appropriation of land. It is a paradoxical artwork in more than one sense. While monumental in scale, it lacks a monumental presence as it is literally embedded in the paving stones.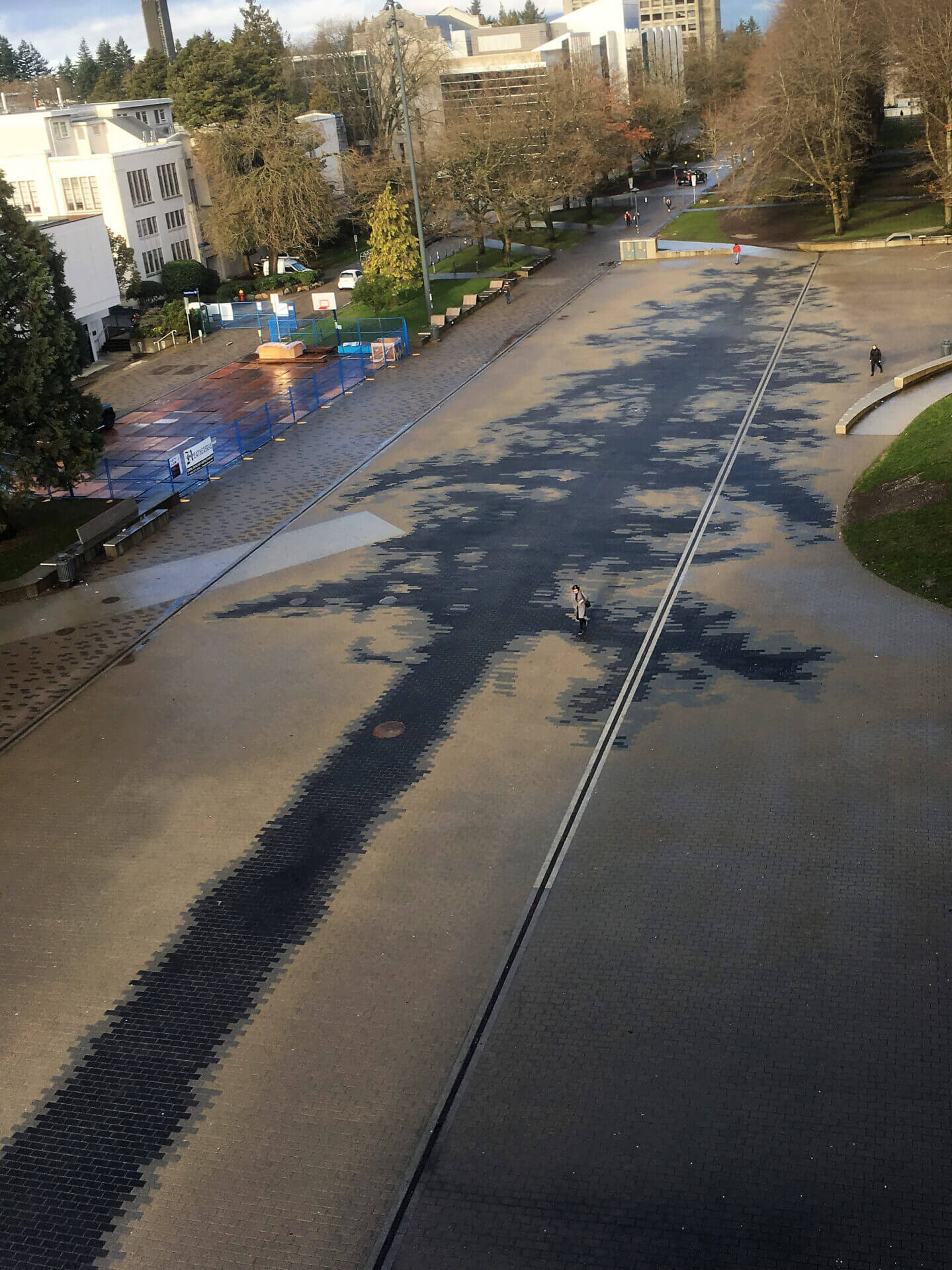 Esther

Shalev-Gerz, The Shadow (2015-2018) – UBC, Vancouver
Where do you find inspiration?
I find inspiration from people, the world always with a fresh 'regard'…
How has being a woman affected your life and work? 
I have always considered myself as a 'person'. I have created important projects. I did have a show at the Jeu de Paume. Of course, I would like a show in a very important gallery. But how many women have solo shows in important galleries?  Very few women are accorded this kind of space. Look at Orlan, one of France's most important women artists – when did she have a major exhibition?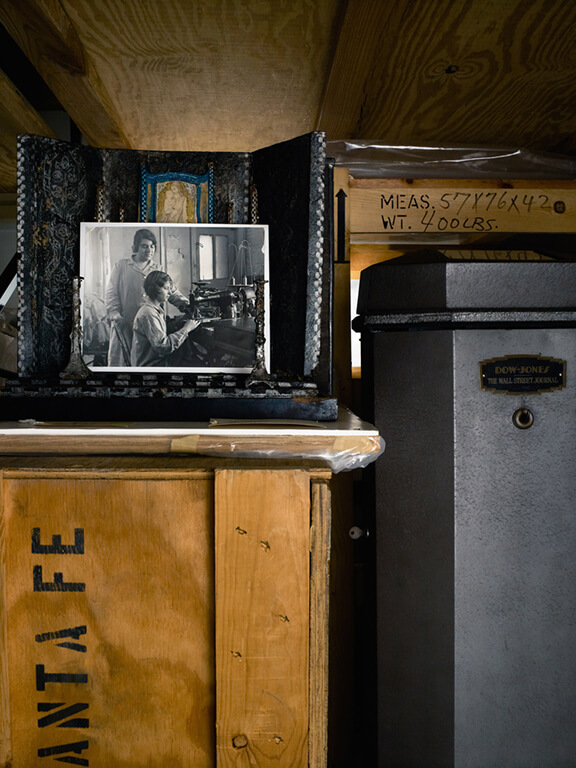 Describing Labor – Learning a trade in a garment factory (2012)
Can you name 2 women artists who have inspired your artistic practice?
Louise Bourgeois, and God.
Take a tour of this exhibition by clicking here – (Short film directed by Evelina Llewellyn, 2022).
Thank you Esther!