Since February 1st, the Maison Européenne de la Photographie (MEP) in Paris has hosted the
first French retrospective of South African activist artist Zanele Muholi. Using photography as a tool against injustice to document the daily life of the black LGBTQIA+ community,
Muholi has developed a photographic body of work rooted in deep activism. The works presented at the MEP, until May 21, bring together more than 200 photographs, prints, archives and videos, that question the racist and discriminatory gaze of our society and provides representation to still under-represented communities.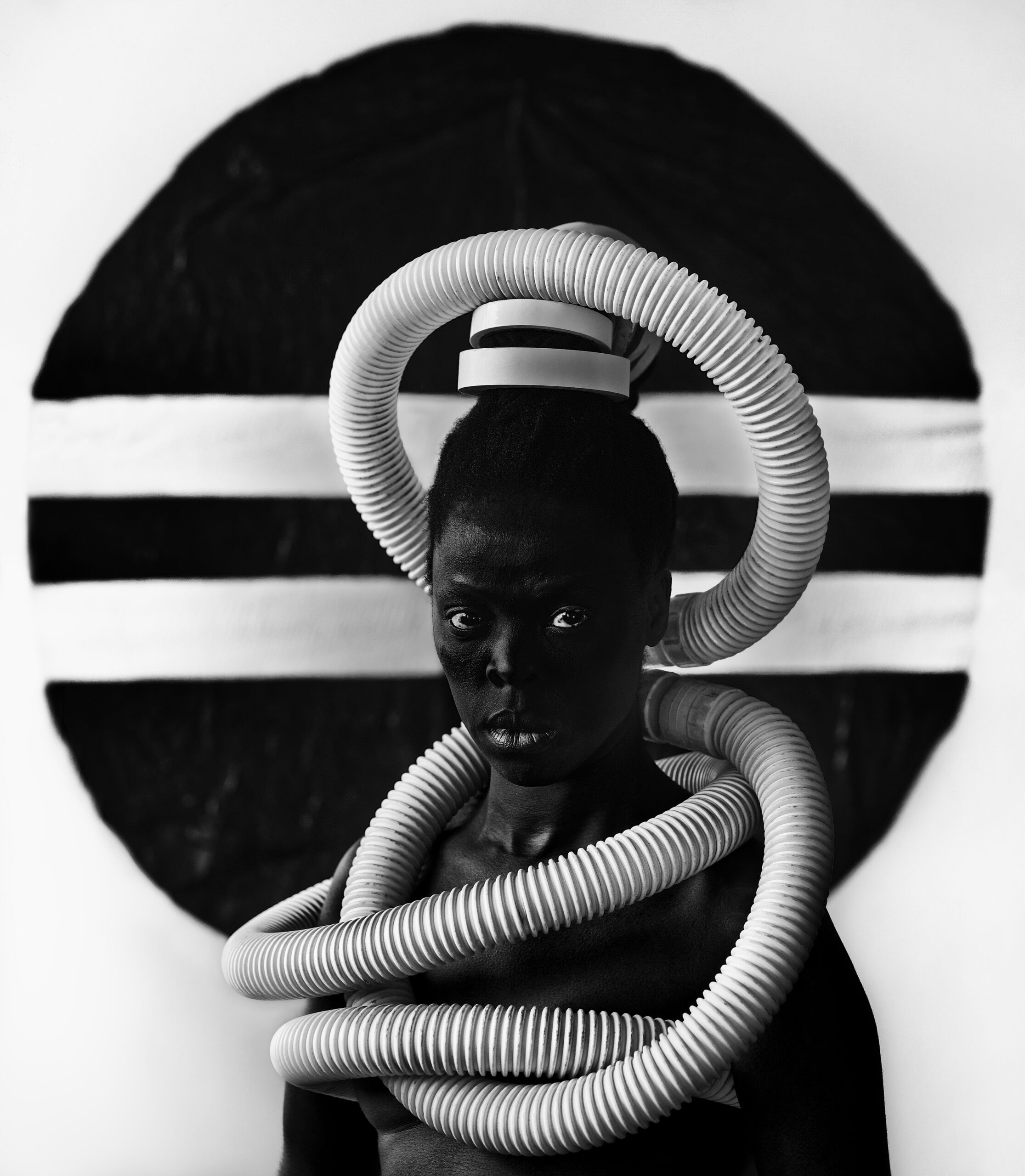 Sebenzile Parktown (2016)
Zanele Muholi was born in Umlazi, South Africa, in 1972. After studying at the Market
Photo Workshop in Johannesburg and Ryerson Polytechnic University in Toronto, they co-founded FEW: Forum for the Empowerment of Women, as well as Inkanyiso, a forum of queer visual media. Muholi now lives and works between Cape Town and Durban. They are also aonorary professor at the University of the Arts Bremen in Germany.
Visual activism
Zanele Muholi defines themselves as a visual activist and uses photography to reveal the
injustices they grew up with in South Africa. Muholi witnessed major changes in their country:
the establishment of democracy which put an end to apartheid in 1994 and the establishment of a new Constitution in 1996 which led to South Africa becoming the first country in the world to prohibit any type of discrimination against a person's sexual orientation. Unfortunately, despite this historic victory, prejudices, ostracism and violence against black LGBTQIA+ peoples still remains today. Through photography, Zanele Muholi first documented protests and activist groups fighting for their rights in a country where persecution against the black LGBTQIA+ community would often turn deadly. The artist thus became a witness to the struggles of queer and racialized collectives and, in turn, invited the public to become witnesses by making these struggles visible. By celebrating these people's courage, diversity, solidarity and dignity, Maholi invites the viewer to question their own biases and preconceived ideas. The use of black-and-white in Muholi's work is significant: by reclaiming this medium, the artist returns to the source of photographic history while addressing contemporary and relevant issues. The use of black-and-white also challenges and echoes the notion of a binary view, which is something that Muholi actively fights to dismantle by representing many different gender-identities and sexualities.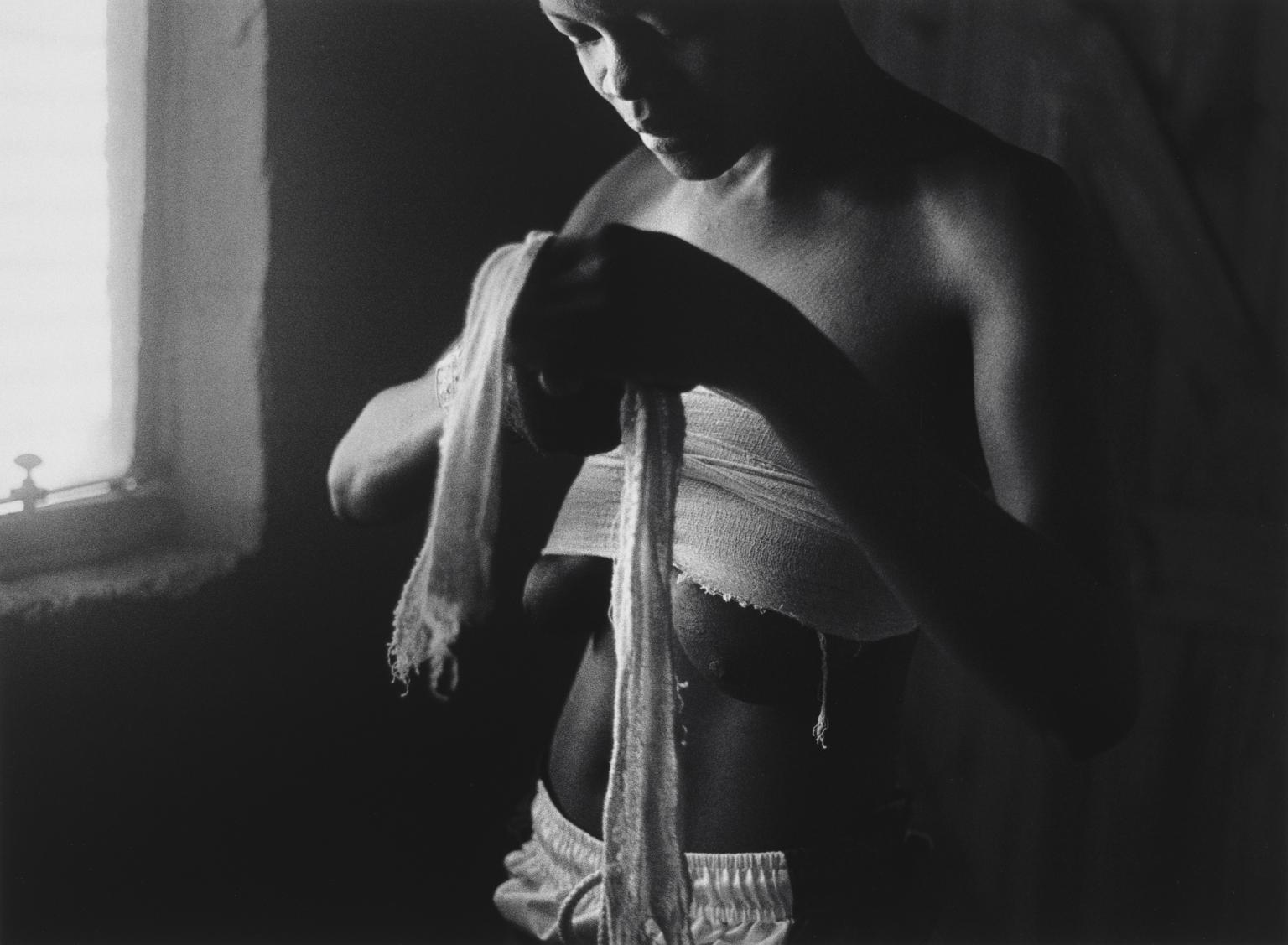 ID Crisis (2003)
Threatened privacy
The exhibition opens with what the artist calls the "love room", a vast space dedicated to moments of intimacy captured by Muholi within homosexual couples. The visitor is therefore immediately confronted with the heart of the matter: the LGBTQIA+ people represented here, tenderly entwined, in bed, washing themselves or sharing moments of intimacy in their private spaces are represented as any couple would be – more specifically, heteronormative couples – despite exposing themselves to significant risks by agreeing to reveal their identities or have their names reproduced on the labels, highlighting the injustices they face once again. What is normalised for some – an intimate gesture or a kiss – is a privilege and a daily fight for others. The adjoining room presents a societal response: the artist exhibits close-ups of human bodies (thighs, genitals, legs) and includes three photographs of hate crime survivors. Rather than highlighting the violence they have suffered, Moholi portrays these sitters with candor and dignity.
Rewriting history

Qiniso, The Sails, Durban (2019)
An important part of the exhibition is dedicated to the self-portraits that Muholi has been developing since 2012. In these, the artist transforms themselves into archetypes as a way of offering new narratives to biased historical imagery. Zanele Muholi is transformed into a queen, a goddess or strikes poses reminiscent of classical painting. The studded headdresses, the jewellery, black skin voluntarily accentuated with paint, are all artifices that invite us to question our own ideals and iconographic references. On closer inspection, crowns are actually made from afro combs such as in Qiniso, The Sails, Durban, 2019. Jewels are made of stainless-steel sponges, feather dusters or clothes pegs as in Bester I, Mayotte, 2015, a vibrant tribute to their mother who worked for forty years in the house of a white family to provide for her own family's needs. Muholi plays with our own automated, reductive conceptions: they trap us by attracting us towards portraits that at first glance we think we recognize. Yet, from the moment we understand that the adornment of an African queen (that one would think was woven from palm branches) in Bhekezakhe (2016) is, in fact, a decoy made up of hundreds of white serflexes, used as handcuffs by the police to restrain people and prevent them from fleeing, we understand that the photograph has multiple layers that we did not expect to be confronted with. "Many of my self-portraits refer to my South African experience. My mother was Zulu and her name was Bester Muholi. She worked as a domestic and never had the opportunity to study because of the segregation imposed by apartheid. My activism is directly based on my living conditions, on where I come from, on the education I received." Zanele Muholi for Le Monde, February 2023.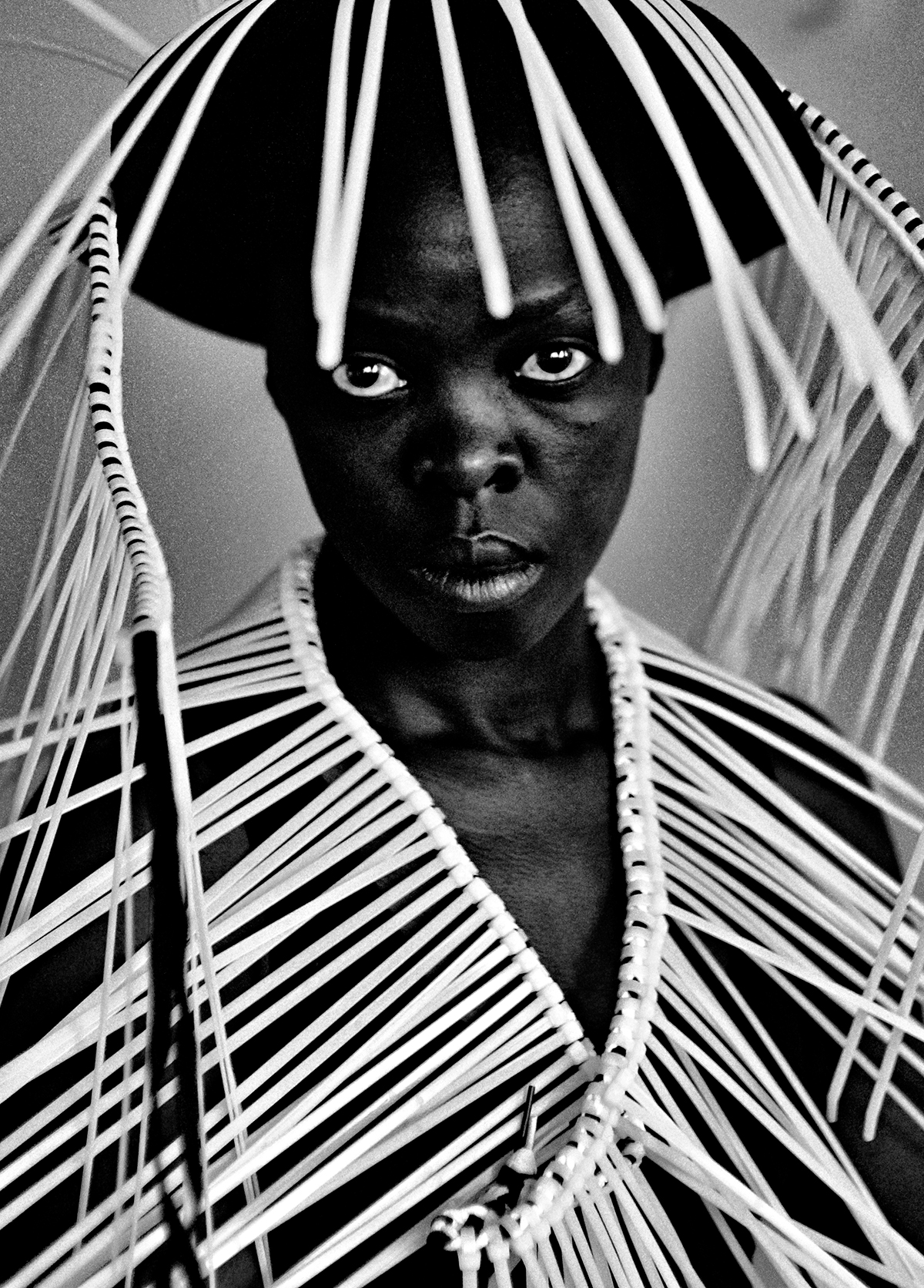 Bhekezakhe (2016)
Thus, Muholi weaves together, in their photos, both small and momentous stories: elements from scenes of daily life in South Africa meet the great images that the history of art has celebrated for centuries. Their eclectic works bring together canons of beauty as distant as traditional Zulu outfits and Renaissance memento mori, romantic odalisques of the 19th century and portraits of Vermeer, the Statue of Liberty and traditional African masks. These visual encounters are pretexts to remind us that our images, as inoffensive as they seem, are all artificially constructed and deconstructable. Above all, they suddenly remind us of the often harsh reality of the fate of black women.
Changing mindset

Candice Nkosi, Durban (2020)
All the rooms of the exhibition have one thing in common: to show the diversity and dignity of the subjects photographed by Muholi. The caring and respectful gaze of the photographer reveals a strong feeling of Adelphity and mutual support. A room dedicated to transgender people celebrates the courage necessary to simply exist. By presenting people who escape heteronormative criteria, exposing themselves proudly and courageously to the eyes of the world, Muholi provides a platform so vital and instrumental to changing global perspectives on important and current issues. Muholi also presents many portraits, captured in real-time, constructed but not posed. A powerful example of this is the photograph Sazi Jali, Durban, 2020, in which a young woman in a swimsuit on a beach proudly displays her curves and her hairiness. The theme of Venus emerging from the water is, once again, an immediately recognisable backdrop with which Muholi explicitly challenges heteronormative and Westernised standards of beauty, calling into question the concept of a 'Modern Venus'. The last room depicts a mosaic of portraits of activists, poets and artists besides a film Muholi shot in South Africa during a day of a gathering and peaceful protest. We see the sweetness and joy of a close-knit community that fights to be recognised. Muholi's work, although heartbreaking, in many ways remains luminous and full of hope.
Benjamin Carteret is an author passionate about Antiquity and Greek mythology. After training in art history and specializing in modern and contemporary art, Benjamin Carteret is now a writer and communications strategy advisor. He has helped several entities in the art world to develop their own mythologies. His work currently revolves around two main themes: the myth of descents to the Underworld and the principle of performative speech, and he is interested in realistic and feminist revisions of myths to address contemporary questions. In 2021, he published a collection of personal photographs, titled Fétiches. He is also the author of a fictional biography of the ancient poet Orpheus, Moi, Orphée (I, Orpheus), which will be published in October 2023 with  Ateliers Henry Dougier. Benjamin is currently working on a graphic novel project on Jean Cocteau, with the designer Gabrielle Lavoir. Perséphone, his first novel, will be published in 2024.