The following images and text contain references to sex and pornography
Can you provide a short one-paragraph introduction to your life and work?
I'm a filmmaker living and working in London. I studied documentary photography at Falmouth University and then transitioned into making video work. Focusing on women who live against the grain of society, I'm now producing work which is part fiction, part documentary and part pornography.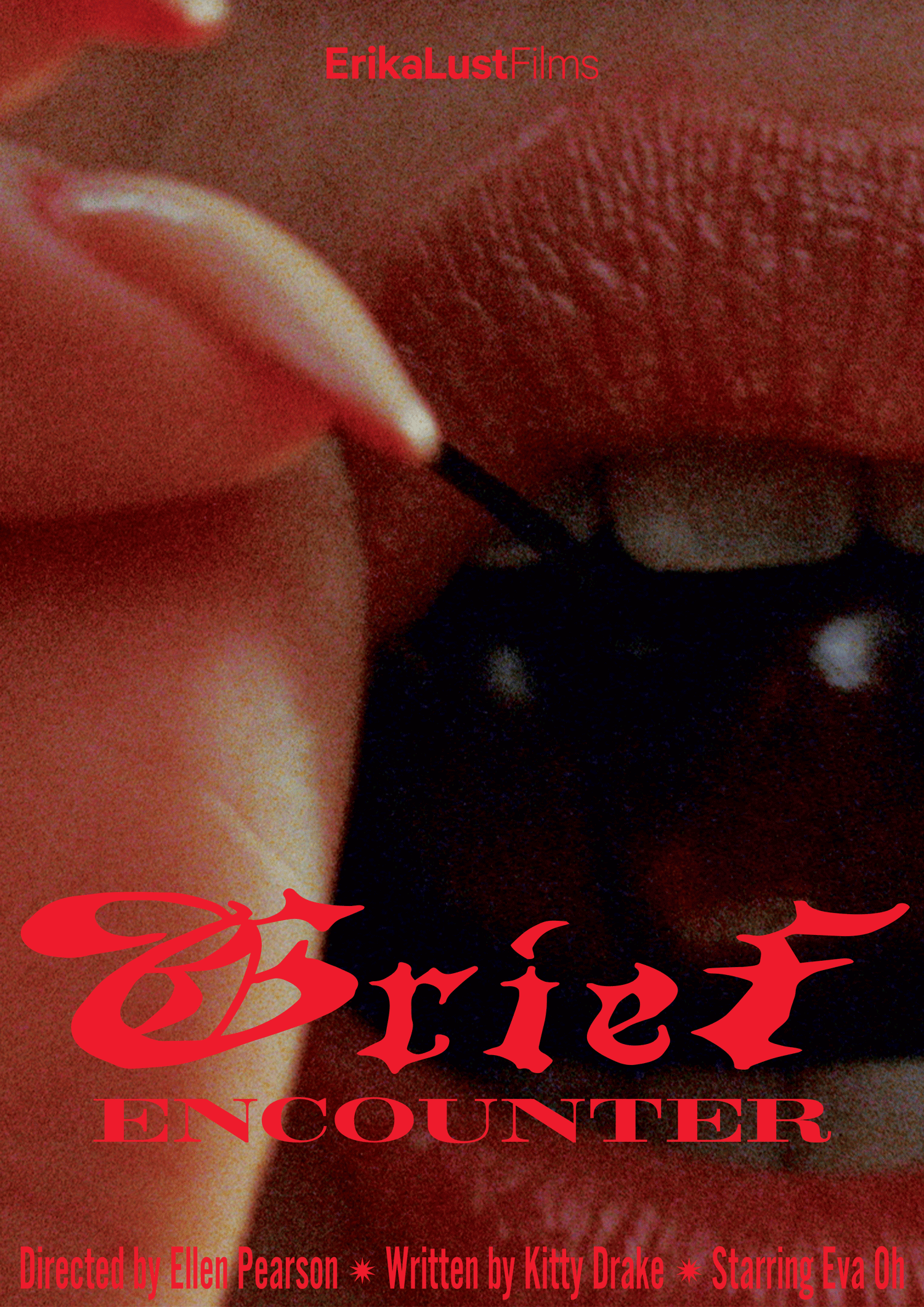 Grief Encounter Poster (2022)
When did you first know you wanted to become a film director?
When I was studying I started thinking a lot about the traditional relationship set out for the photographer or director and the subject, and how I could flip it. I'm interested in taking things apart, laying it all out on the table and then putting it back together. While at Falmouth, inspired by filmmakers like Chris Marker, I started combining stills, archives, voiceover and music. Leaving school, I got funding to make my film Lawless about the everyday life of sex worker and writer Tilly Lawless, who was in Australia. I'd seen her photos on Instagram and knew that she had a great eye. We were both in Berlin coincidentally so we met and from there decided to make a project. I sent her a Yashica film camera, a letter and a photo book by William Eggleston and she started documenting her everyday life. Finally, I flew out there and interviewed her over a period of a month to create the voice-over for the work. My work has always been about making portraits of women, I've just found film to be the most playful and collaborative medium to approach that with.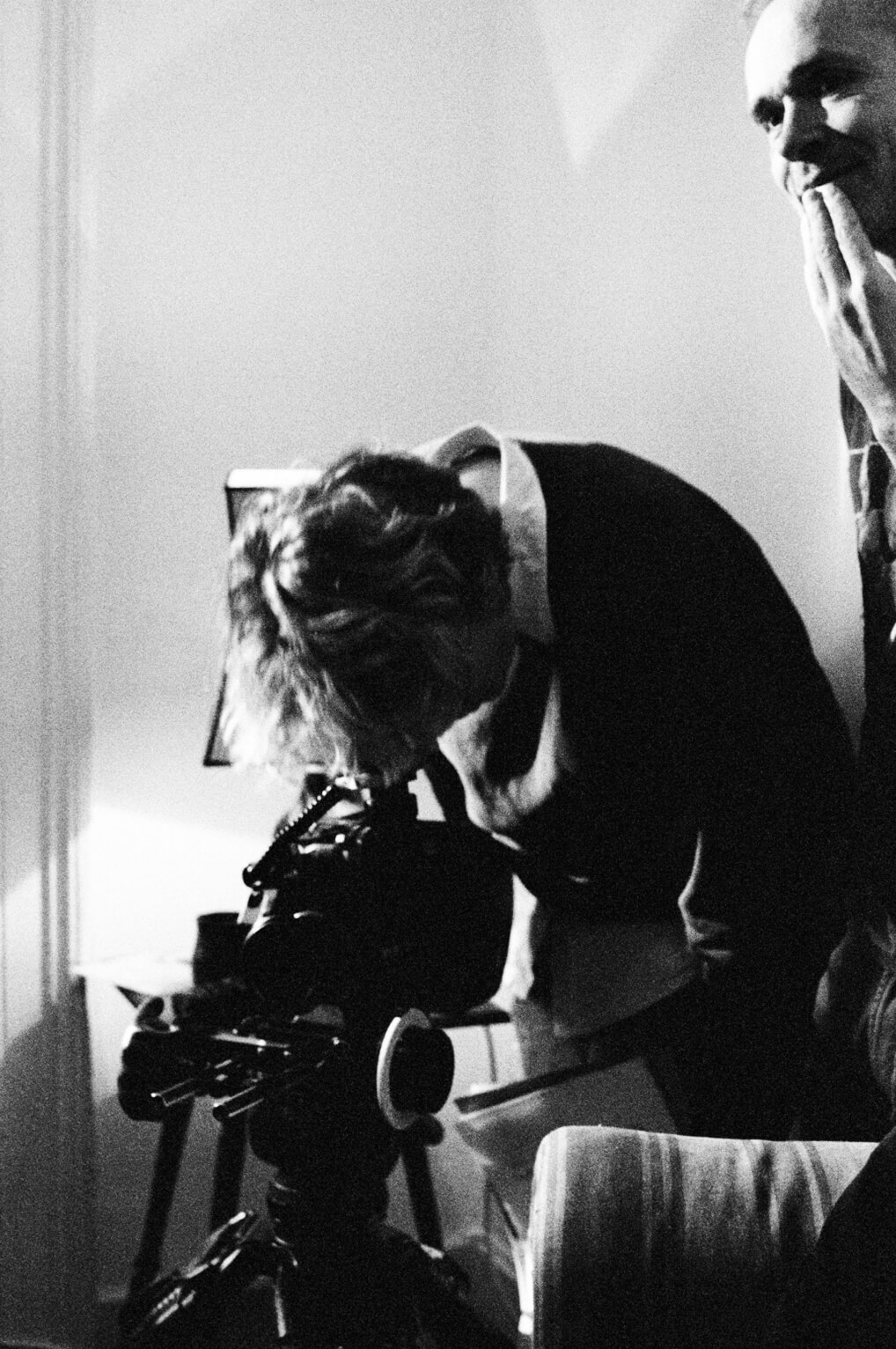 Ellen Pearson (2022)
Would you define your work as the intersection between fine art and porn? Do you consider there to be enough of a market for the two to co-exist?
Naming the work pornography is something that was really important to both myself and the writer of the film, Kitty Drake. I think there's this idea of low-art and high-art and I wanted people to reconsider what they hold artistically valuable. I think society finds work that can't be categorised uncomfortable, especially work made about sex and I wanted to lean into that. Historically women who make explicit work have existed on the fringes. Carolee Schneeman who, three years after her death, just had a retrospective of her work at the Barbican, died under recognised and close to broke. In the 1970s when a film of hers screened at a cinema in France, men ripped up the seats with razor blades. This is a different time but we didn't know whether film festivals would pick it up because of how explicit it is. But it just premiered at the International Film Festival Rotterdam. We also had a two-day screening launch in London at The Fitzrovia Chapel last week. And at the same time, it was born and lives on Erika Lust's porn platform, xconfessions. I wanted our film to exist in multiple worlds and I'm really excited we've managed to do that. 
Which artists do you take inspiration from?
My inspirations span across different mediums. I feel indebted to the female writers, artists, sex workers and filmmakers who have imprinted on me, not just in terms of making work but also on how to live: Anais Nin, Annie Sprinkle, Mary Gaitskill, Ulrike Ottinger, Maggie Nelson. I'm particularly drawn to women who have dedicated much of their work and lives to subverting stereotypes. I recently discovered Catherine Breillat's film 'Fat Girl' which is wonderfully playful, dark and radical, especially since it was made over twenty years ago. 
What was the concept behind Grief Encounter?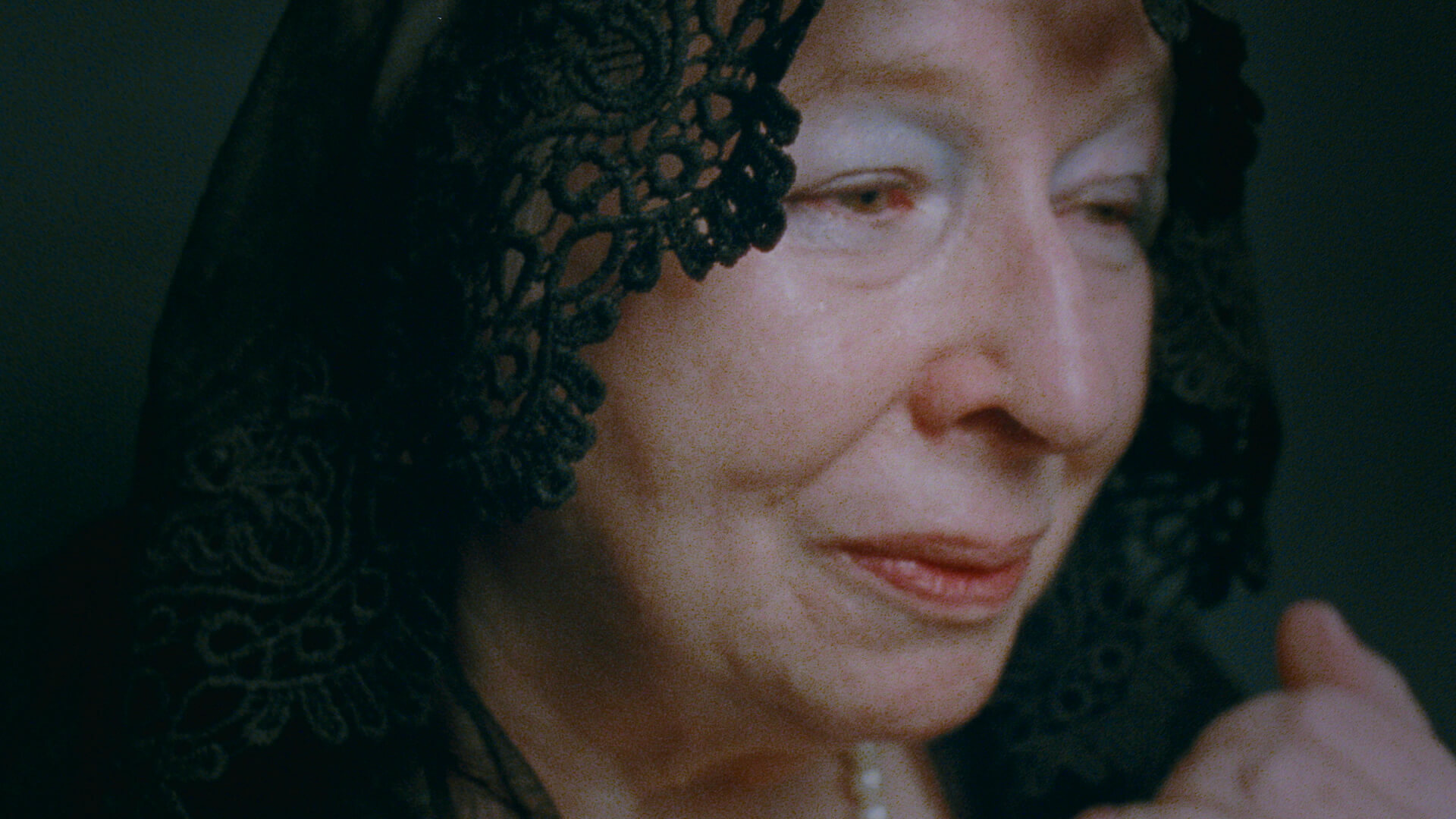 'Wake' (Grief Encounter, 2022)
Kitty and I were having dinner with a friend of ours who is a funeral director. He was saying how sometimes he realised he was turned on – that the proximity to death and the mortality reflected in the eyes of the attendees was erotic to him. Kitty had been in touch with our star international dominatrix Eva Oh, for another piece she was writing. Eva has an interest in the intersection between death and desire and so we decided to shape the film around her. In the film Eva is playing Eloise, a vampiric woman turned on by male vulnerability. I was really inspired by Eva's real-life decision to leave a successful 'vanilla' career in marketing behind in favour of an alternative kind of life based on pleasure. Kitty spent several years speaking to Eva, and the character we created was a heightened version of Eva. With the story and the look of the film, I wanted to avoid binary tropes that connect sexuality with darkness and employ a playful, darkly funny lens. I worked with composers Joel Amey and Dicky to create a soundtrack inspired by italo disco tracks from the 80s to create feelings of euphoria, and Eva's voice and real laugh is woven into the audio to bring her warm personality into the fabric of the film.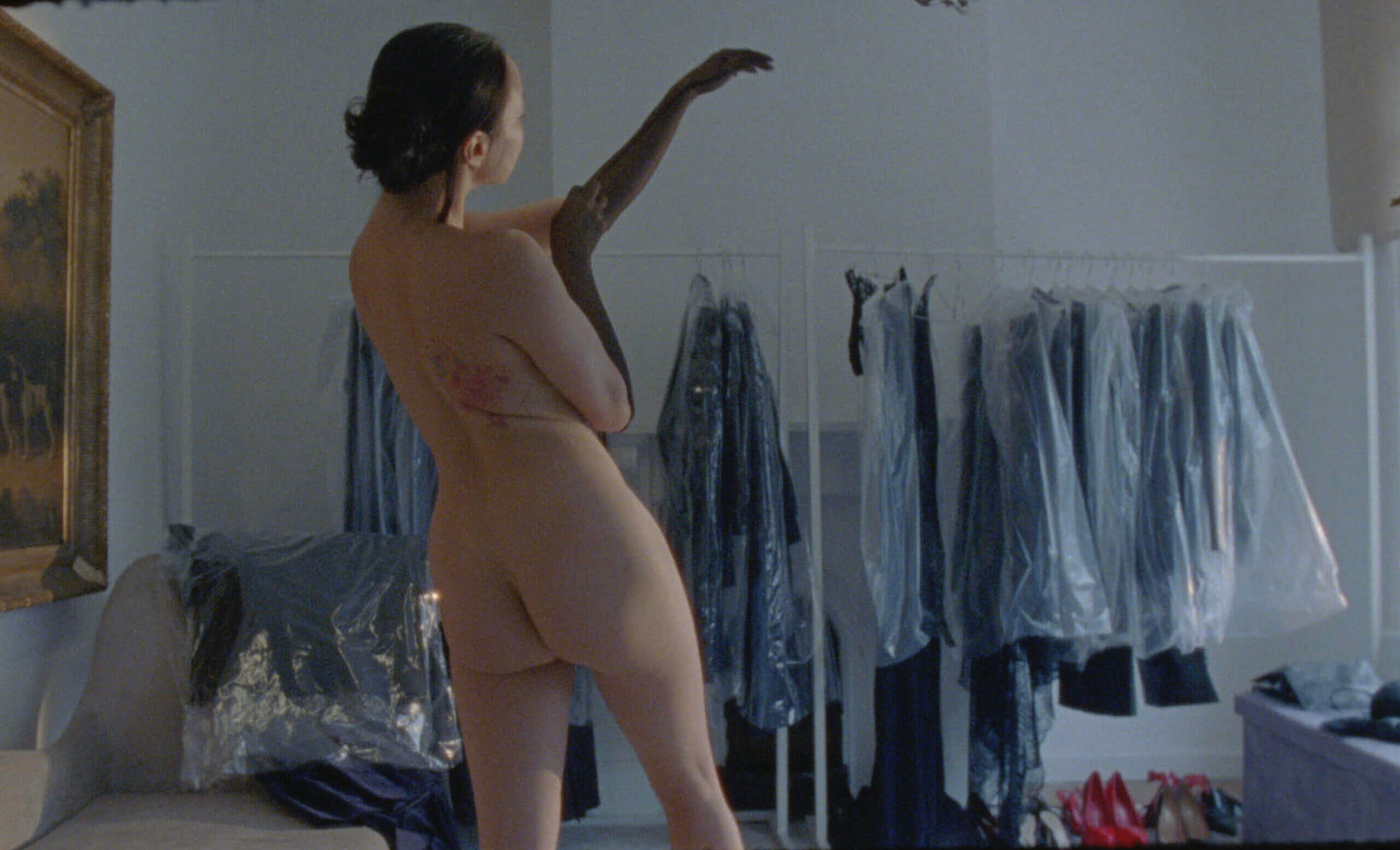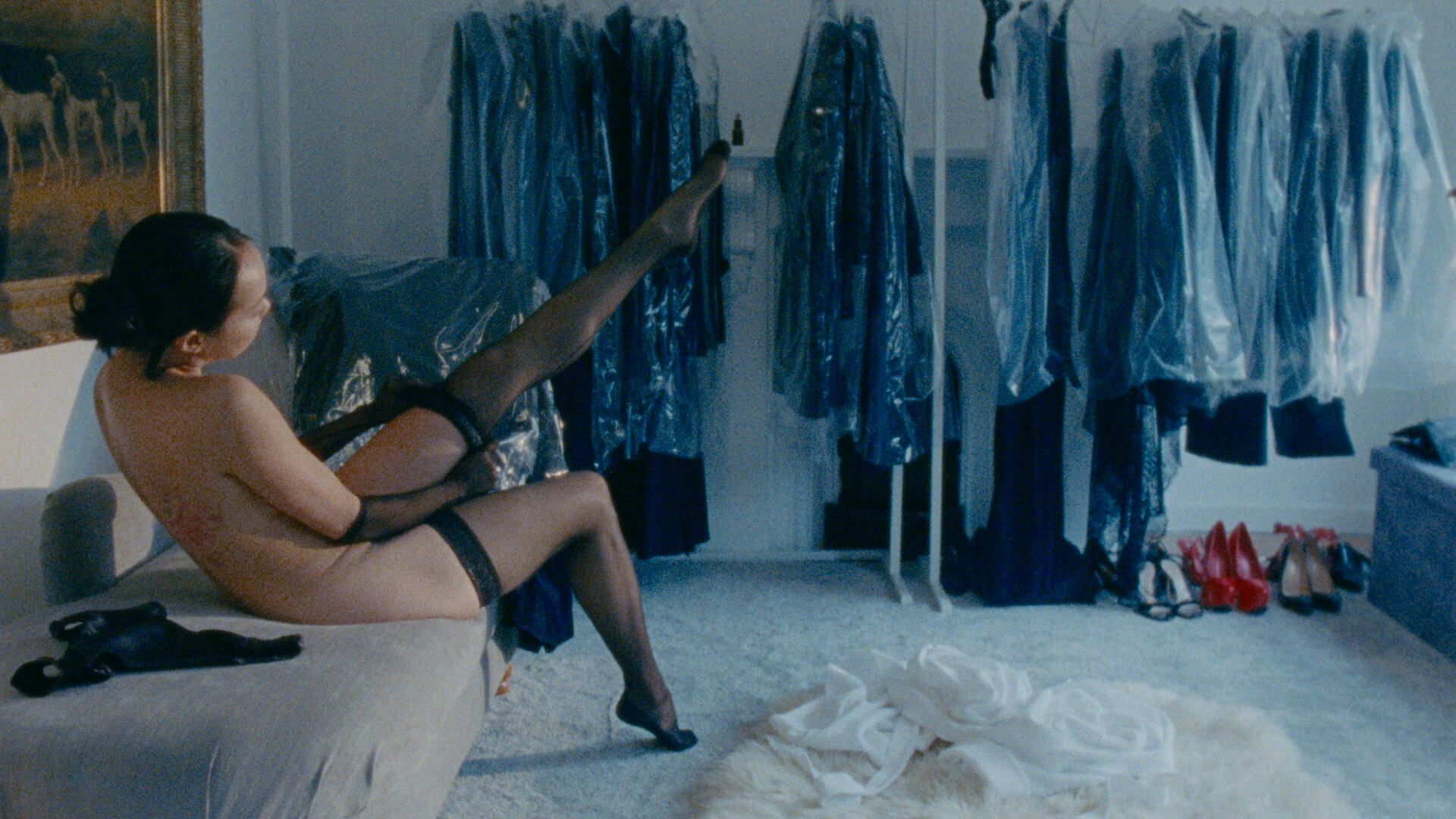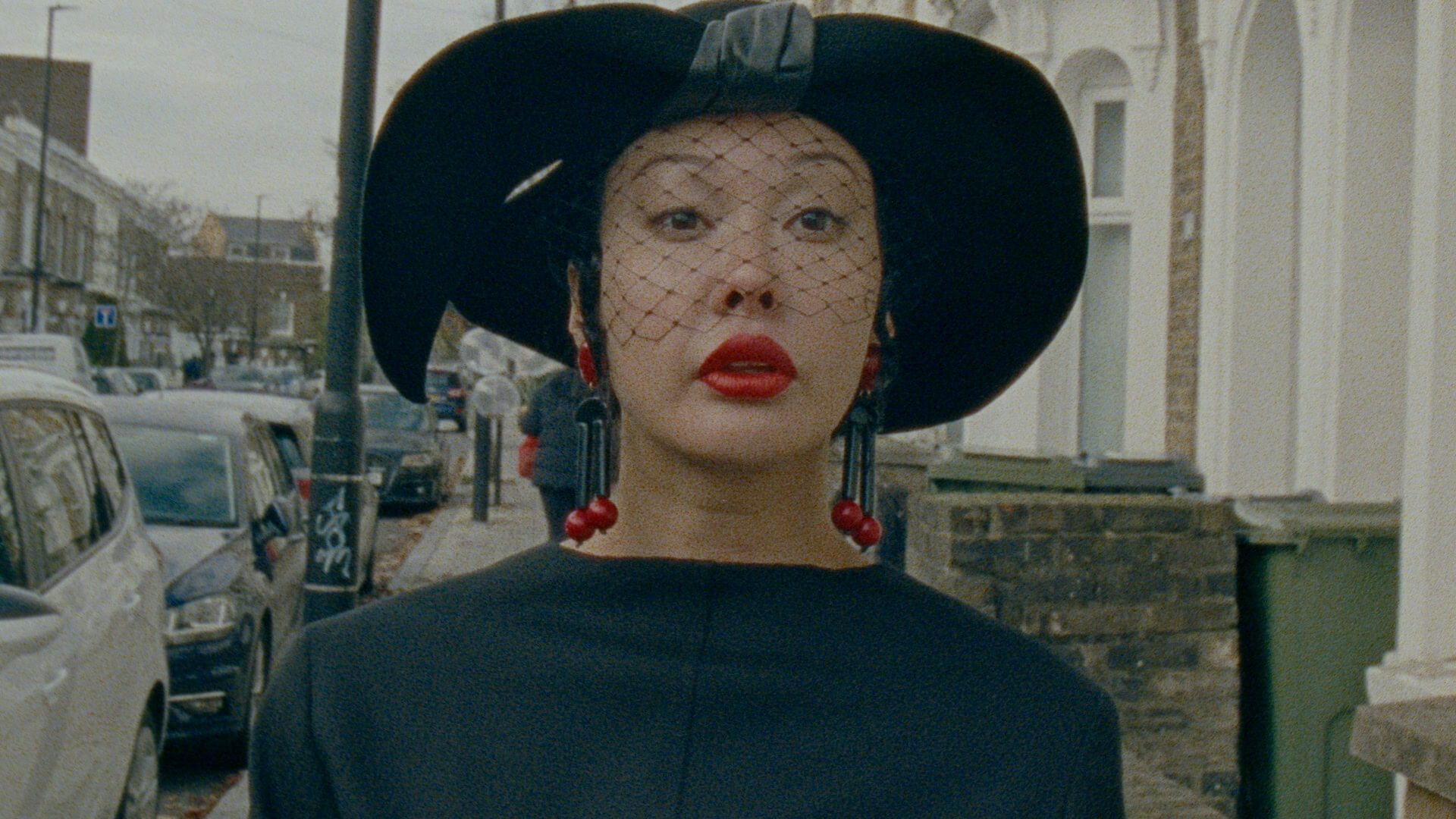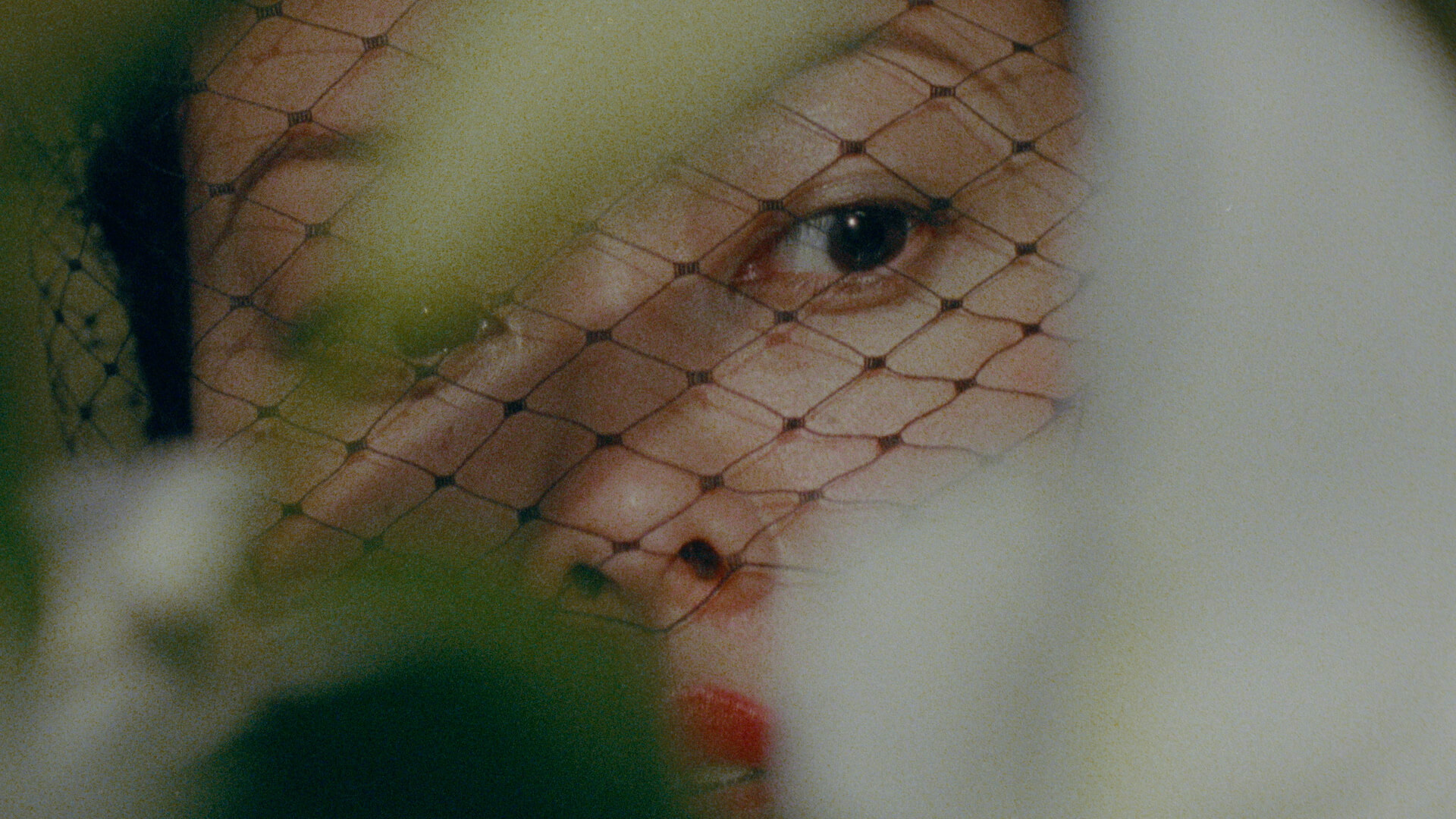 Eva Oh (Grief Encounter, 2022)
How do you deal with the inevitable stigma surrounding the nature of your work?
Kitty, Eva and I worked very closely together on this project. Working with two such amazing minds I didn't feel intimidated by what people's reactions might be, because I believed so strongly in our collaboration and why we were making it. But you do step out into the world and have conversations where you see how afraid people are. This is so funny because everyone is squirrelled away at home watching porn on their computers. I love that our screenings are a chance to get a room of people together to confront that. At IFFR they showed the film on an Imax screen which we were all delighted about. As I don't perform I experience a lot less stigma. For me, it's just a very small reflection of what it's like being out in the world as a sex worker.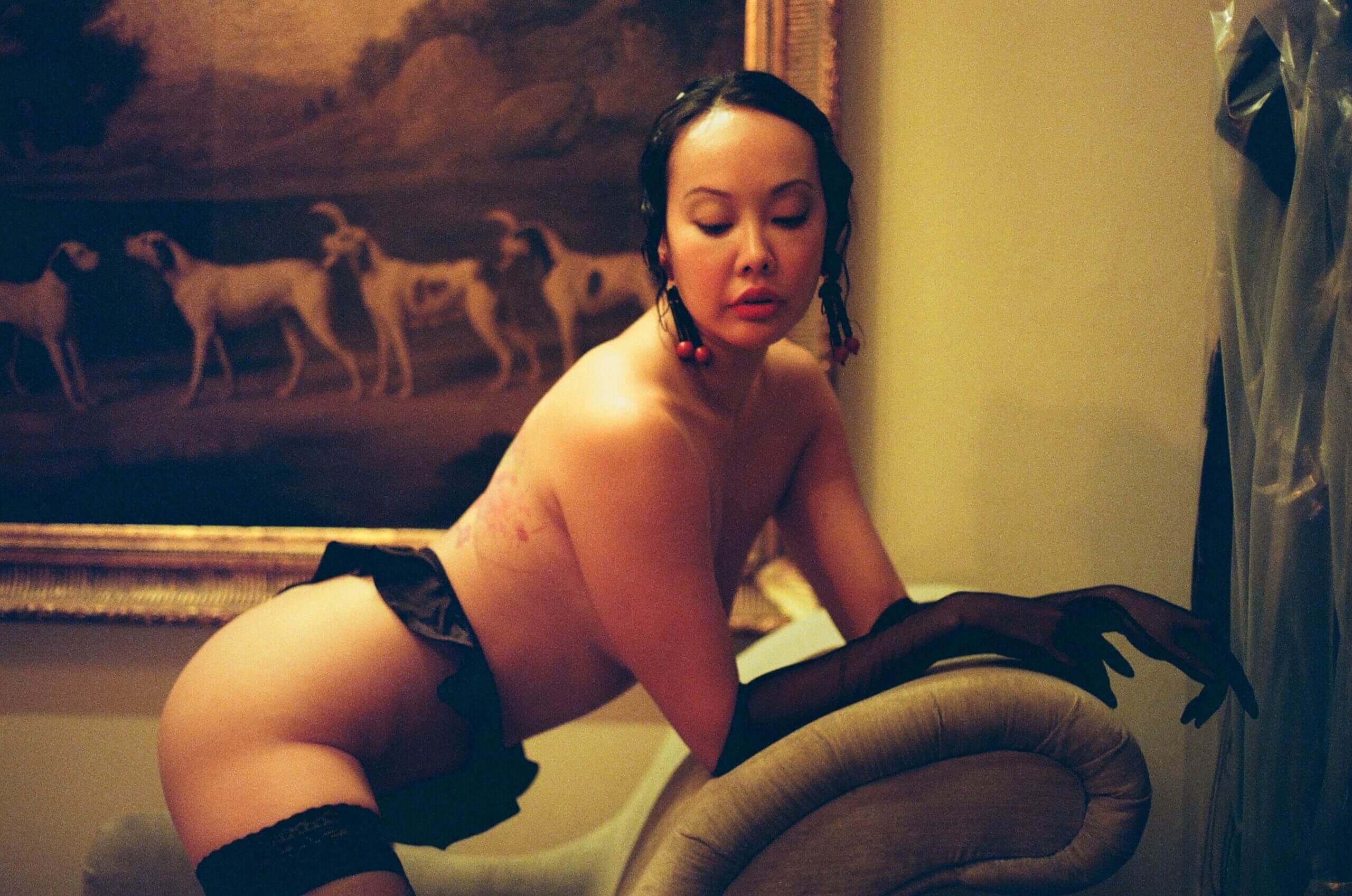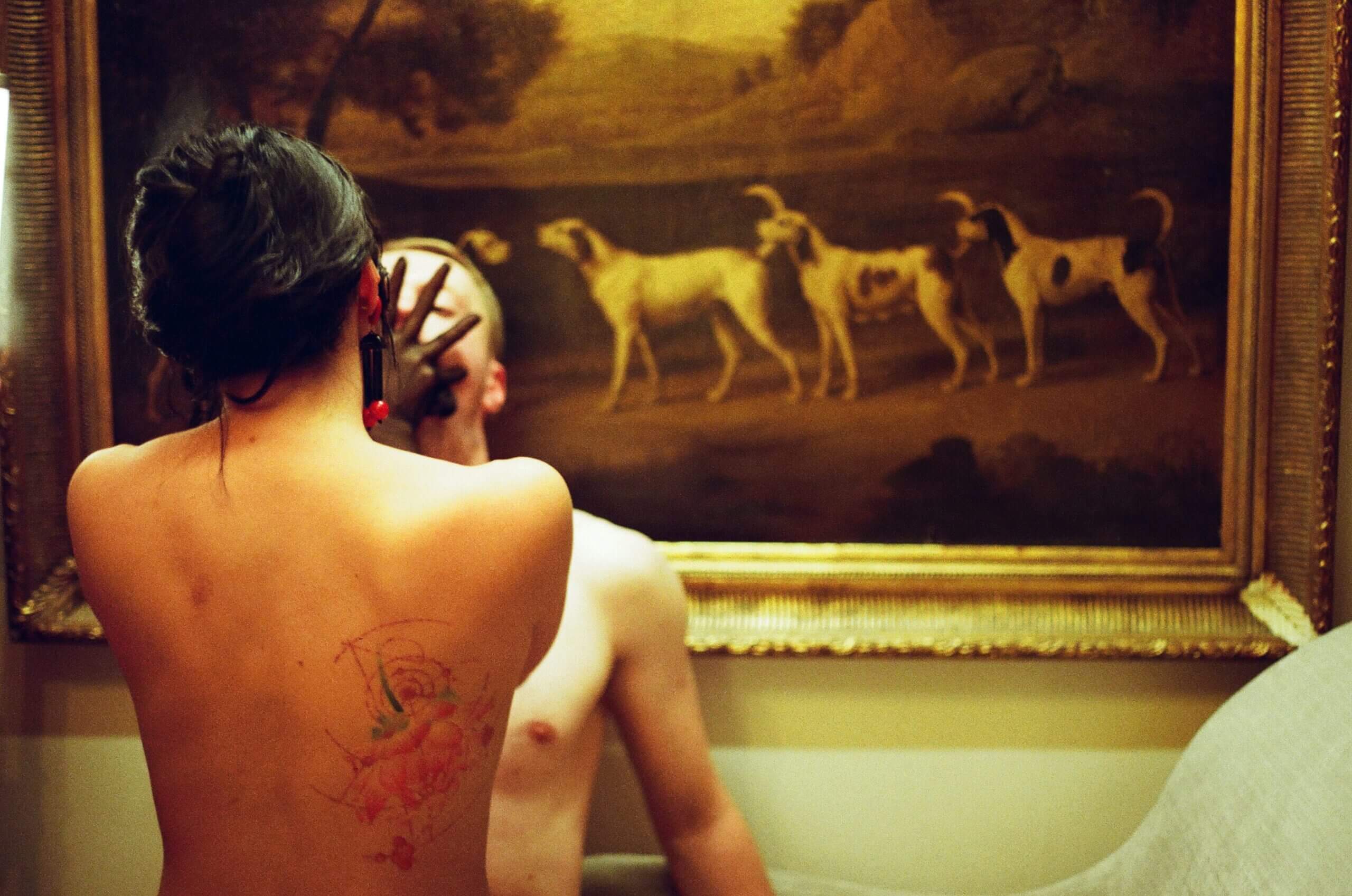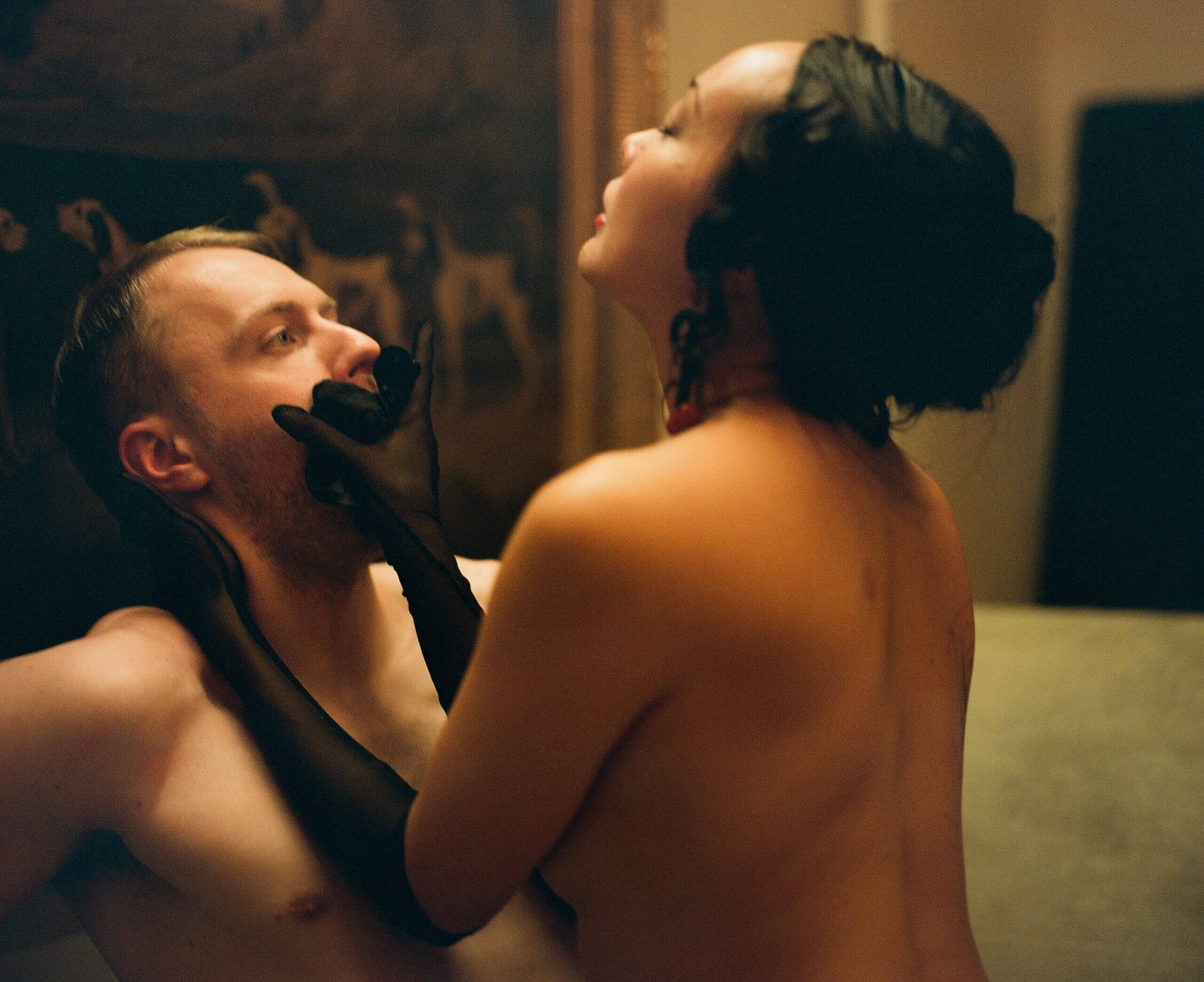 Eva Oh & Chris Cobalt (Grief Encounter, 2022)
With the tightening of online censorship, have you found there has been an increase or decrease in sex-positive platforms to share your work?
Currently, I think we're at the most conservative our society has been for a long time. There are more alternative, queer porn platforms popping up which is exciting. But in terms of the crossover of porn into cinema and art, I think people are still tentative. So we're delighted to be recognised for the Baron Art Prize 2022, a space created for projects investigating gender, sex, sexuality and identity politics. The energy at the screenings was palpable, I think people are hungry for work like this.
Can you tell us about your upcoming projects/direction you'd like your work to take?
At the moment I'm writing a feature film, continuing to work within the themes of the feminine, the masculine, sex and power. And I've been working for many years on a short animation about a woman with a fetish for sponges which I'd like to see finished this year.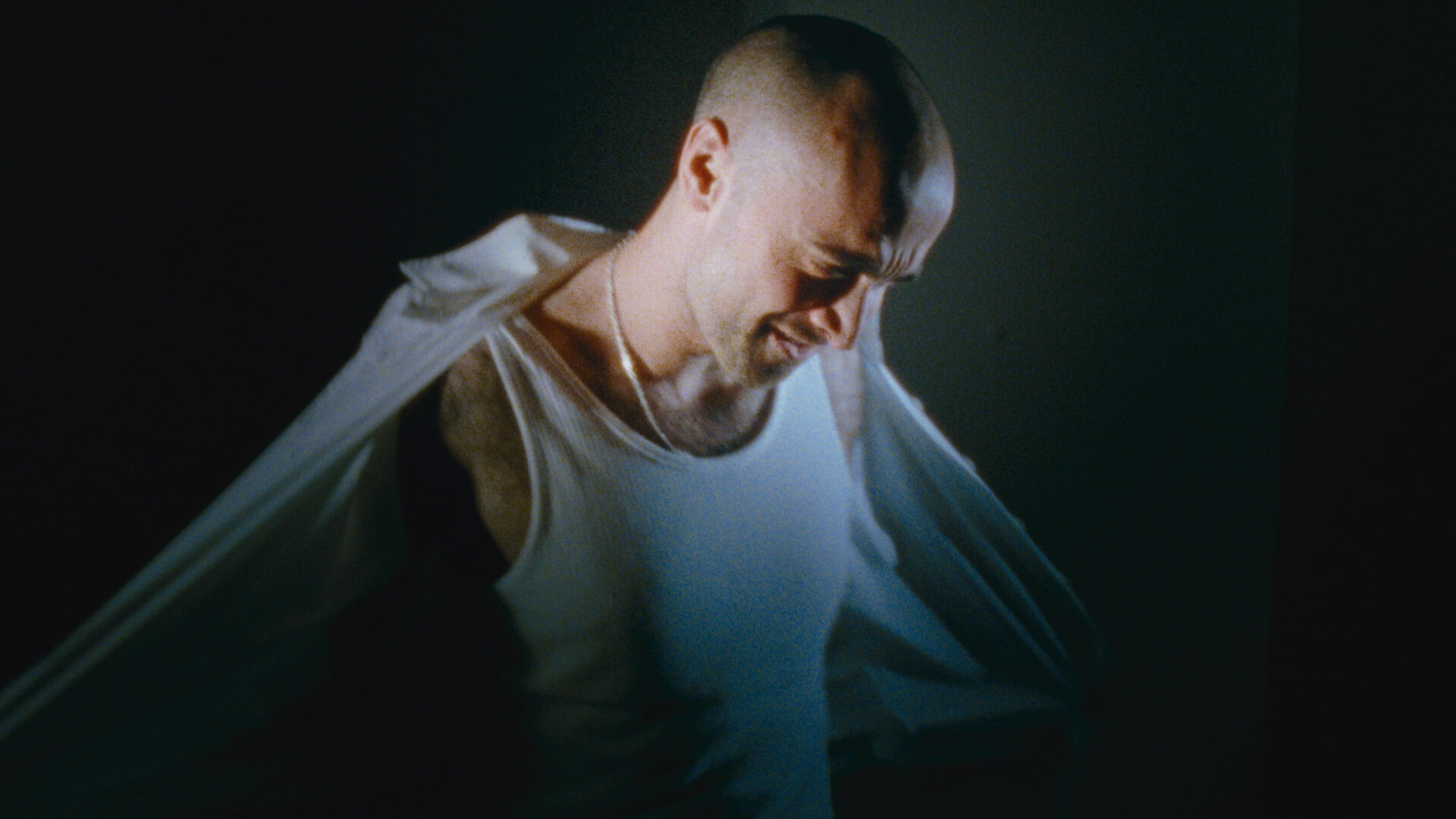 Dance Scene (Grief Encounter, 2022)
Watch the trailer here!
Thank you Ellen!