Carolee Schneemann (1939-2019) worked relentlessly throughout her career as an artist to defy classification. Formally trained in painting at Bard College (BA) and the University of Illinois (MFA), her oeuvre of kinetic painting, multimedia installations, text, film, assemblage, kinetic theater and performance is imbued with an insistence on her identity as a painter. In her early paintings, she established her style outside the male-dominated formalities of Abstract Expressionism, resulting in unremitting rejection from what she called the "Art Stud Club."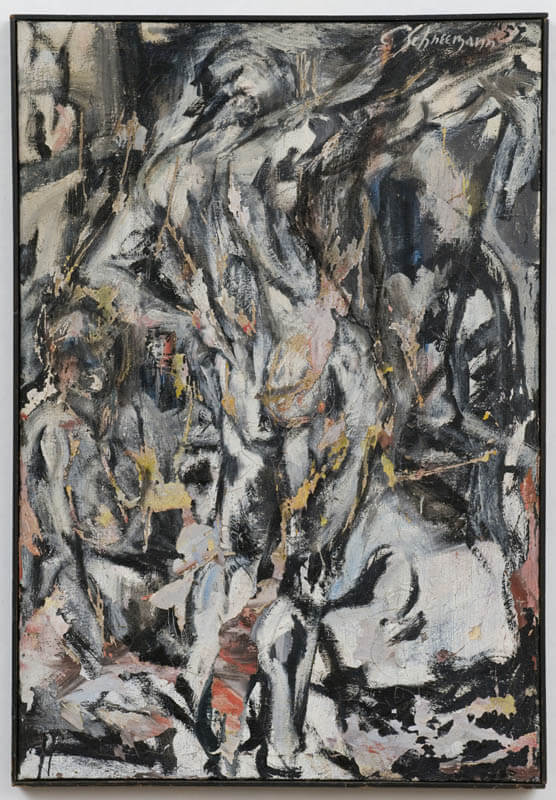 Installation shot of Body Politics at Barbican Art Gallery (2022), with Three Figures After Pontormo (1957); J.T. and Three Kitchs (1957); and Aria Duetto (1957) – Photo by Marcus J. Leith.
The most readily misunderstood aspects of Schneemann's work surround her efforts to break with conventions of the naked woman's body in movement. She rejected the belief that for her body to be viable in performance and constructed in her own image, it had to be stripped of its sexuality and eroticism. She wrote, "Not only am I an image maker, but I explore the image values of flesh as material I choose to work with. The body may remain erotic, sexual, desired, desiring, but it is as well votive: marked, written over in a text of stroke and gesture discovered by my creative female will." Her radical subversion of the male gaze was powered by the strength of her identity formation, in which she refused to exist in a relationship of causality by men. Schneemann saw the absence of this representation in the art world and acted tirelessly to render its existence. In 1974 she wrote about her work, "In some sense I made a gift of my body to other women: giving our bodies back to ourselves." Schneemann's gift challenged social anxieties around flesh: disrupting and complicating oppressive male perceptions of women's bodies.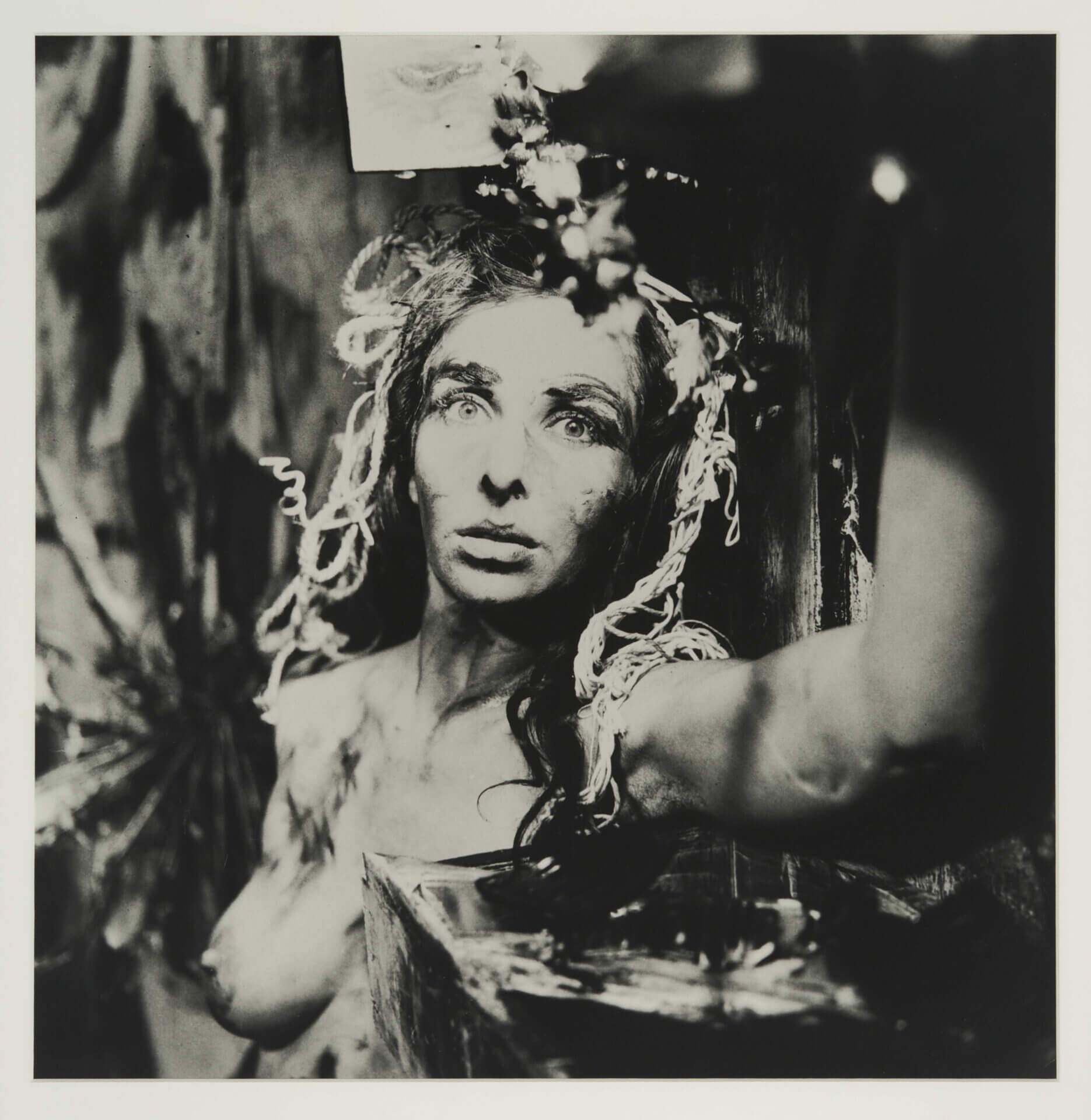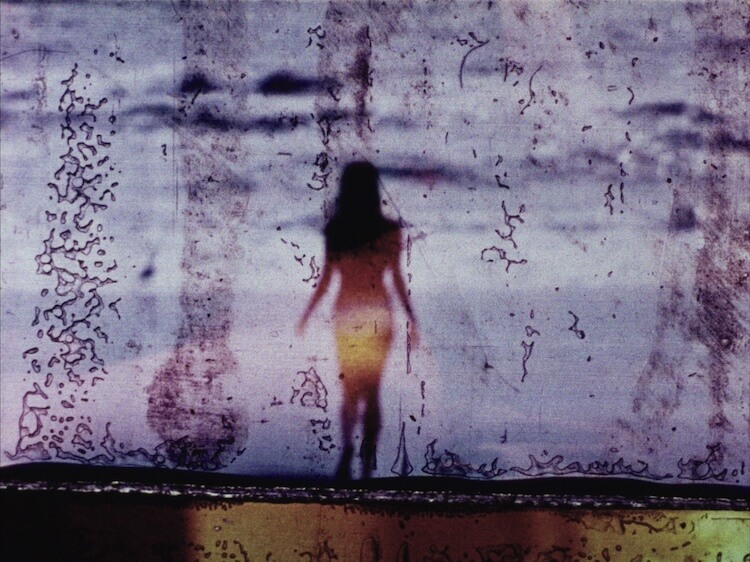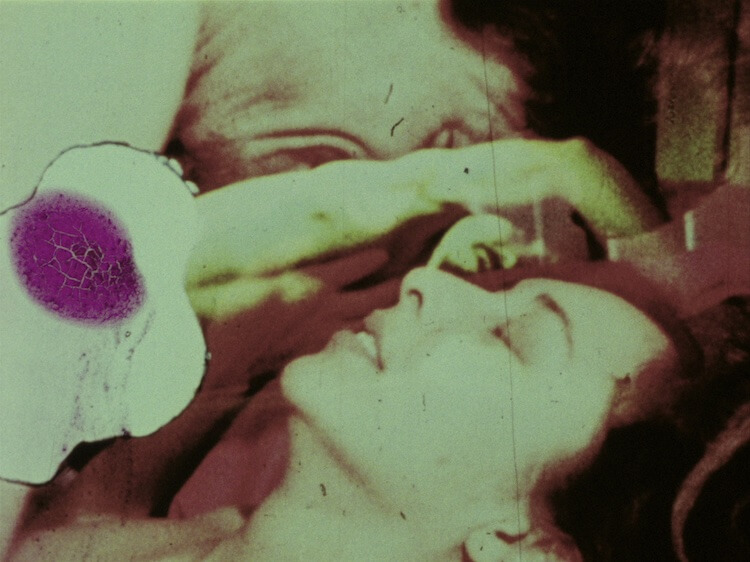 Carolee Schneemann, still from Fuses (1964-67)
In some ways, the quick dismissal of her work by her male contemporaries cut deeper than reactions of flat-out rage. Loyal friend and supporter Robert Haller wrote to Schneemann regarding Fuses in November 1977, "After your screening at the Carnegie Institute four years ago, somebody said to me that the film wasn't much, it was so obvious, 'That pussy was Schneemann's cunt…' as if that snide cliché summed up the film, then defused it for him. How he missed the point (and how sad). We live in the womb of the universe, which is echoed all around us (in your vagina, your eyes, your camera, my mind, the ocean…) in nature, and in your film."