In this online feature around sculpture and three-dimensional works, we thought you might like to take a look inside some of RAW's most treasured pieces. Sculpture was a defining medium in the 20th century, especially for women who were increasingly encouraged to venture into three-dimensional practices. This world had more or less been closed off to women due to historical disadvantages including needing reasonable space and resources to practice such crafts. Artists such as Barbara Hepworth (1903-1975), Nikki de Saint Phalle (1930-2002), Camille Claudel (1864-1943) and Augusta Savage (1892-1962) to name a few, led the way for other women, making history in their respective countries.
In the RAW collection, a wonderful example of women's three-dimensional work infiltrating fashion and cosmetics is 'SHOCKING' (1937). In 1937, Elsa Schiaparelli asked Leonor Fini (1907-1996) to design a flacon for her new perfume. Fini's presentation – a dressmaker's dummy based on Mae West – was made up of no less than 20 separate parts – including tiny glass flowers made in Murano – and apparently it took 30 women to assemble it. The bottle was then housed in an elegant glass-domed case with a pink velvet cushion and a delicate printed white lace pattern. The whole creation was packaged in a 'shocking' pink presentation box lined in 'shocking' pink satin. In her autobiography 'Shocking Life', Schiaparelli wrote: 'The colour flashed in front of my eyes. Bright, impossible, impudent, becoming, life-giving, like all the light and the birds and the fish in the world put together, a color of China and Peru but not of the West-a shocking color, pure and undiluted'. Jean Paul Gauthier once said that his 'Classique' perfume torso bottle was inspired by his grandmother's perfume – we can only assume what scent she used!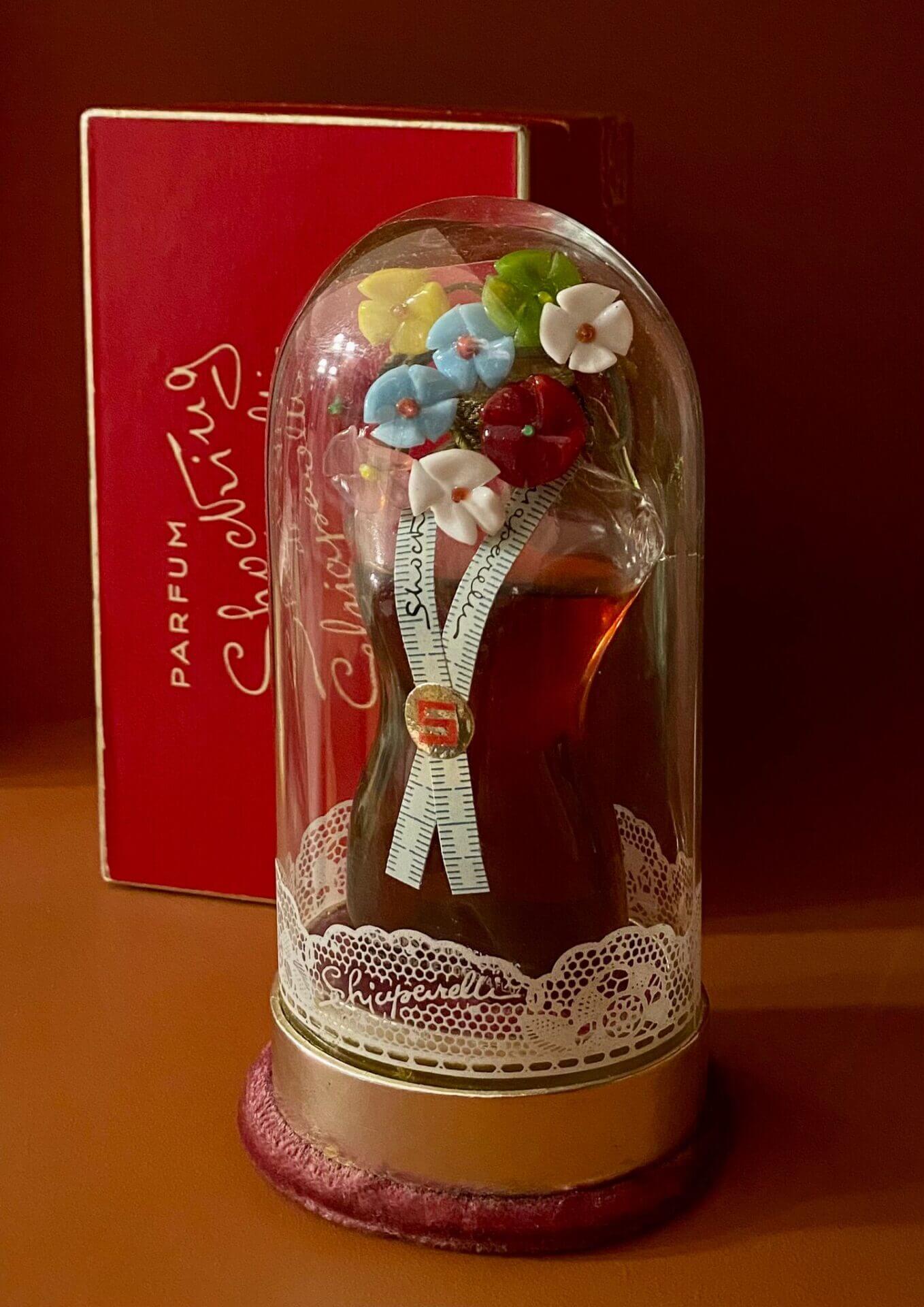 Another work which is historically significant is Esphyr Slobodkina's (1908-2002) – The Madly Scrambling Circles of Upward Mobility, 1950. Slobodkina was a pioneer of early American abstraction, a celebrated avant-garde artist and feminist who participated in numerous exhibitions over the 1930s & 1940s including Peggy Guggenheim's show Exhibition by 31 Women at the Art of This Century gallery in New York. From the 1930s onwards, Slobodkina began to make sculptures out of humble everyday objects – typewriters, clothes hangers, pieces of old furniture – giving them a new reality and an independent existence of their own. Irritated with the contemporary "sloppy" use of the English language, she gave these sculptures humourous and wonderful titles, such as The Saddly Sagging Educational Spiral, or, as with this fan, The Madly Rushing Circles of Upward Mobility.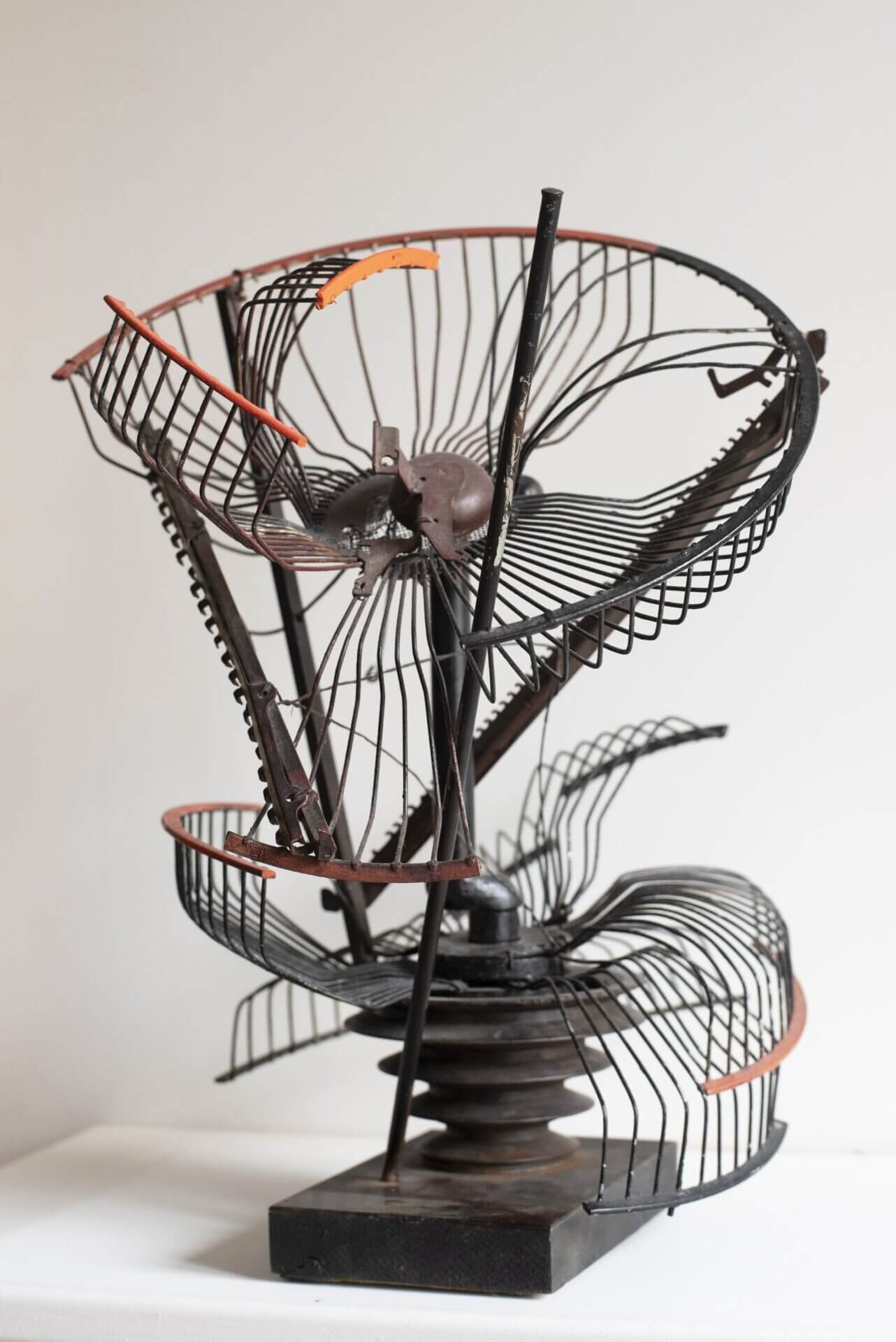 Leila Faithfull (1896 – 1994) is a little known artist who built a reputation as a portrait painter and exhibited widely at the Royal Academy, the Royal Institute of Oil Painters, the Royal Society of British Artists and the New English Art Club. RAW has in its collection a rare example of her talent as a sculptor:  Sculpted Female Head, 1960. During the war, she produced commissions for the WAAC, and gained employment as a surgical artist at the new plastic surgery unit at the Queen Victoria Hospital in East Grinstead, under Sir Archibald McIndoe. It is believed that she turned to sculpture after her experiences working at the hospital. Her work can be seen at the Imperial War Museum, Warwick University and was once in the collections Sir Kenneth Clark and Sir Edward Marsh.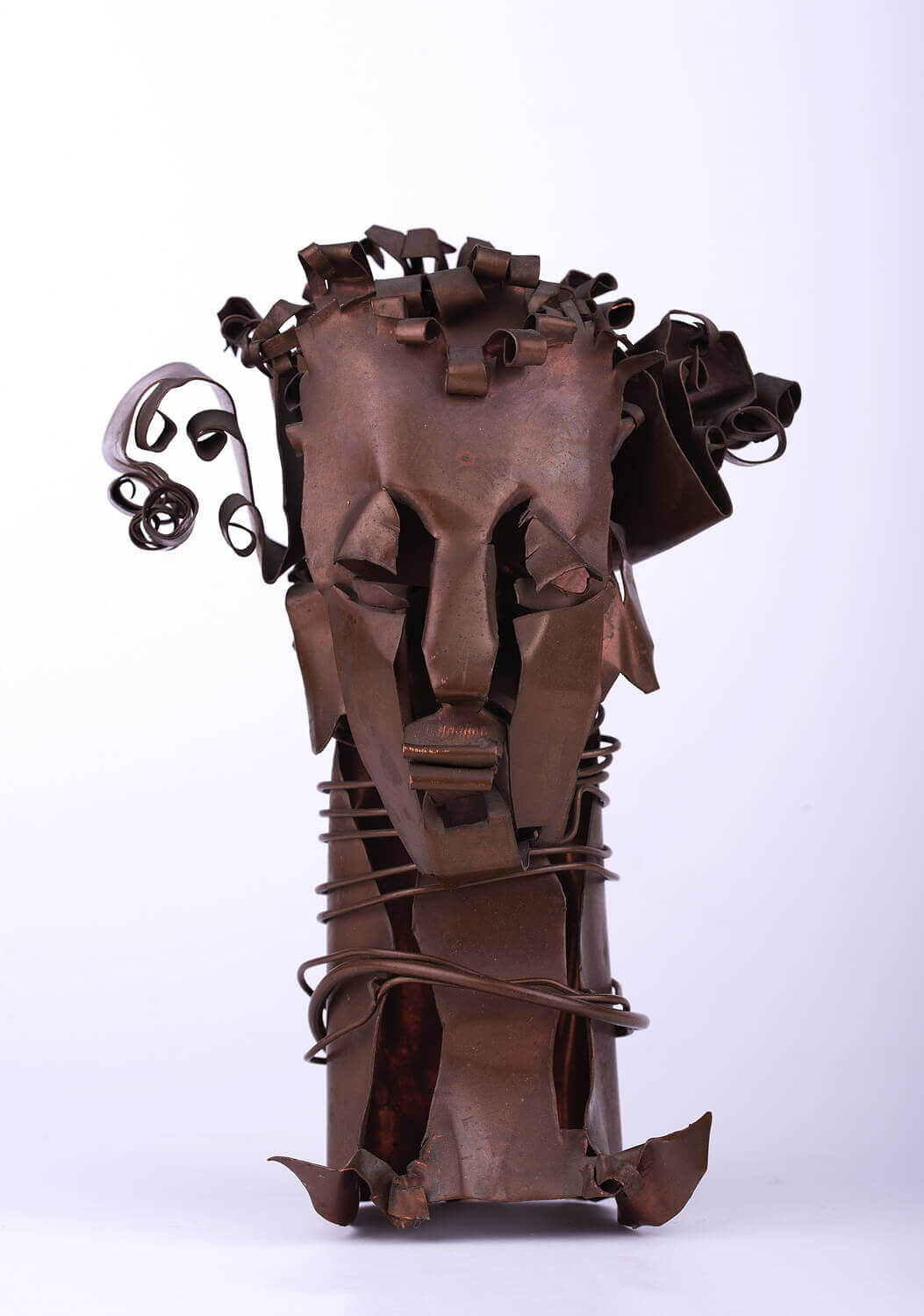 A student of the Ecole des Beaux-Arts in Sainte-Etienne, Colette Gueden worked as a designer at Primavera alongside Claude Lévy, Gisele Favre and Madeleine Sougez. At the beginning of her career, Gueden defined her work as "tabletterie" ( a form of high-end creative wood-turning ) but soon started experimenting with new materials (horn, glass, metal, mother of pearl). In the 1940's she created at Saint-Leu-la-Foret a series of busts and female faces partially glazed and decorated with shells and gently wavy hair. In the 1950s, her style evolved whilst she was surrounded by a team of young designers who had just graduated from art schools and formed part of her 'entourage' such as Alain Le Foll (1935-1981)amongst others who helped her organize small fairs in the spring (from 1950 to 1967) for which Buste Féminin aux Deux Oiseaux (1952) was probably made.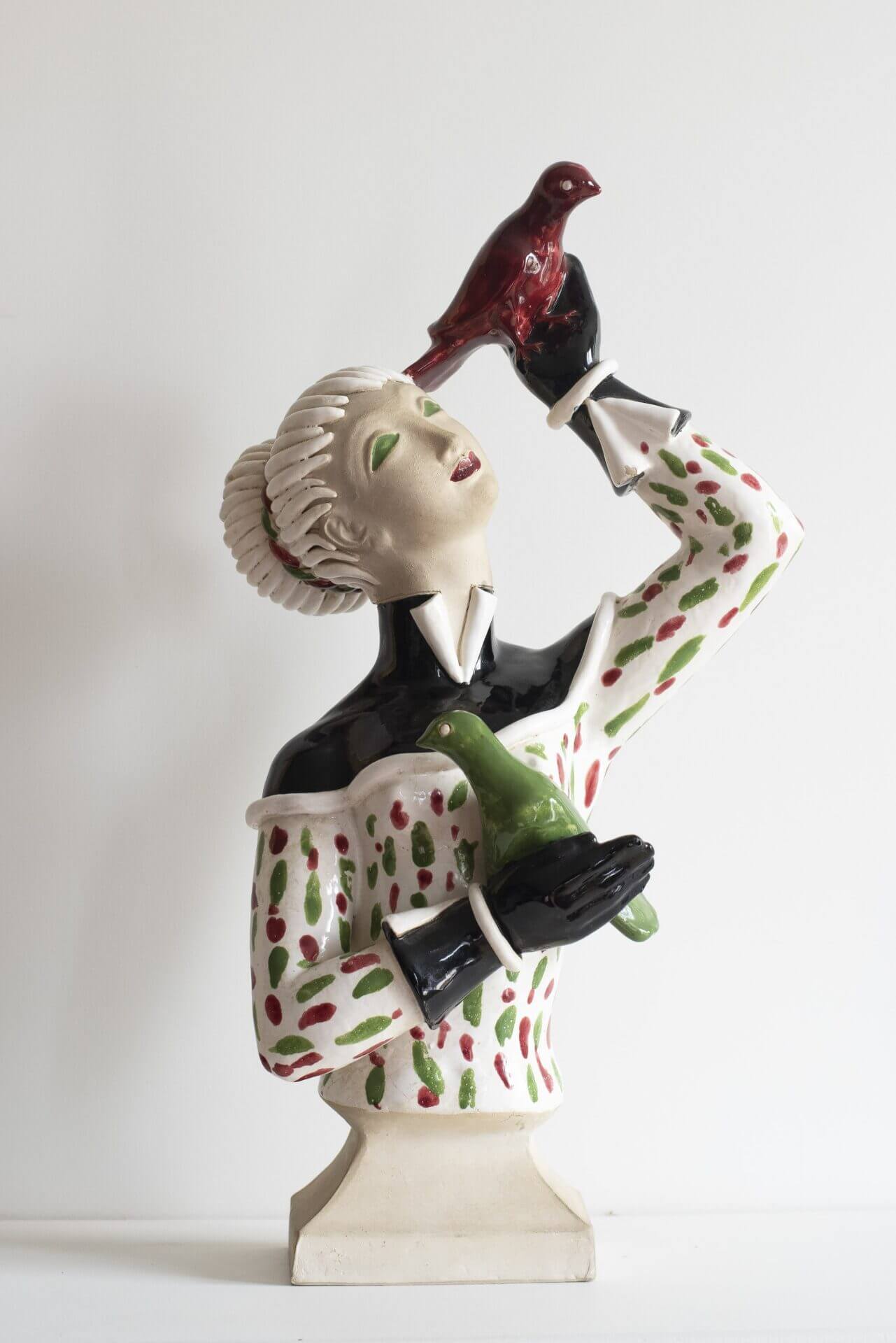 As well as being a painter, Gladys Hynes was also a sculptor. According to one newspaper report in 1926, she had "almost entirely deserted painting for sculpture". She was a pioneer of wood carving, creating portrait heads and full-length figures; her sculptures, which she gilded or lacquered, were, in their realization, distinctly modern.  Along with Adrian Allinson and Elizabeth Muntz, her work was included in the seminal "Modern Wood-Carving" exhibition at Lucy Wertheim's Gallery, London, in 1932.  This wooden bust is of her friend Anthony Butts ( 1900 – 1941), an art critic and painter, and brother of the writer Mary Butts and companion of the writer William Plomer, who fictionalised him in Museum Pieces, 1952. Stephen Spender in World Within World, 1951, described Butts as having "eyes of a china blue which stared out of their facade of a slapstick face, with a solemnity which would suddenly collapse into laughter', adding 'he was one of those extremely talented people who do not know how to direct their gifts". Butts took his own life in 1941.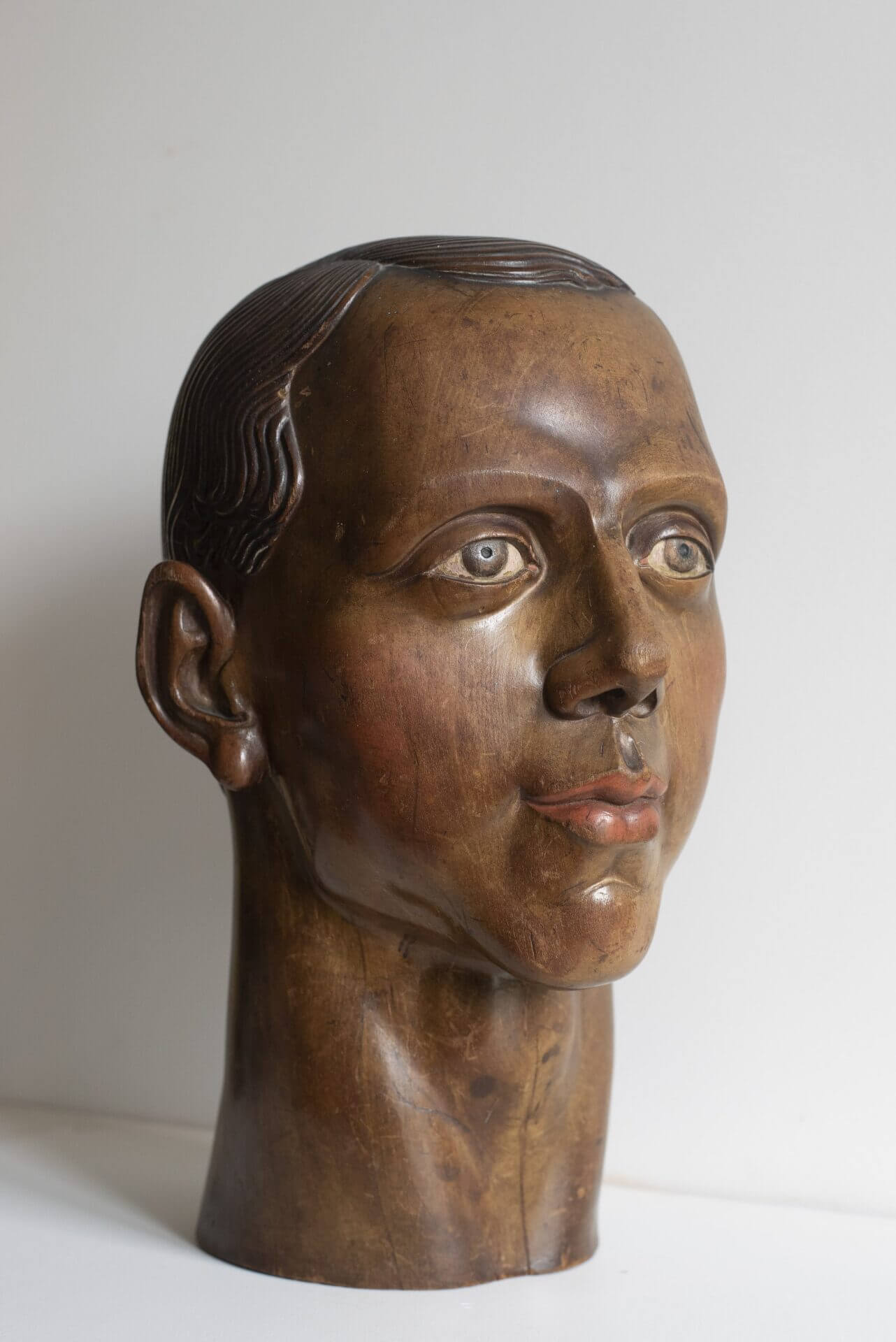 Woman with pigtail, head bowed (1914) by Jean Milne (1875-1963) is one of our earliest works and a rare example of Jean Milne's simplified and expressive sculptural vision. One of the few women to be part of the English direct carving revival – of which Eric Gill is the most well-known practitioner – she was also influenced by the clean geometrical lines of modernism, seen in the work of artists such as Constantin Brâncuși and Jacob Epstein. When Milne had her first solo-show at the Paterson Carfax Gallery in Old Bond Street in 1920, the critic of American Art News (Vol. 18, Issue 37) admired the sense of mystery in her work, and how she allowed simple lines and surfaces to speak for themselves: "Miss Milne belongs to the steadily increasing number of artists who carve directly onto the stoneitself, and thus avoid the pitfalls of undue ornamentation which come so easily to those who affect plaster modelling, leaving it to others to work out their ideas in the more difficult material. Hence there is a directness and simplicity which remind one at times of the archaic, at others of the ultra-modern Serbian masters".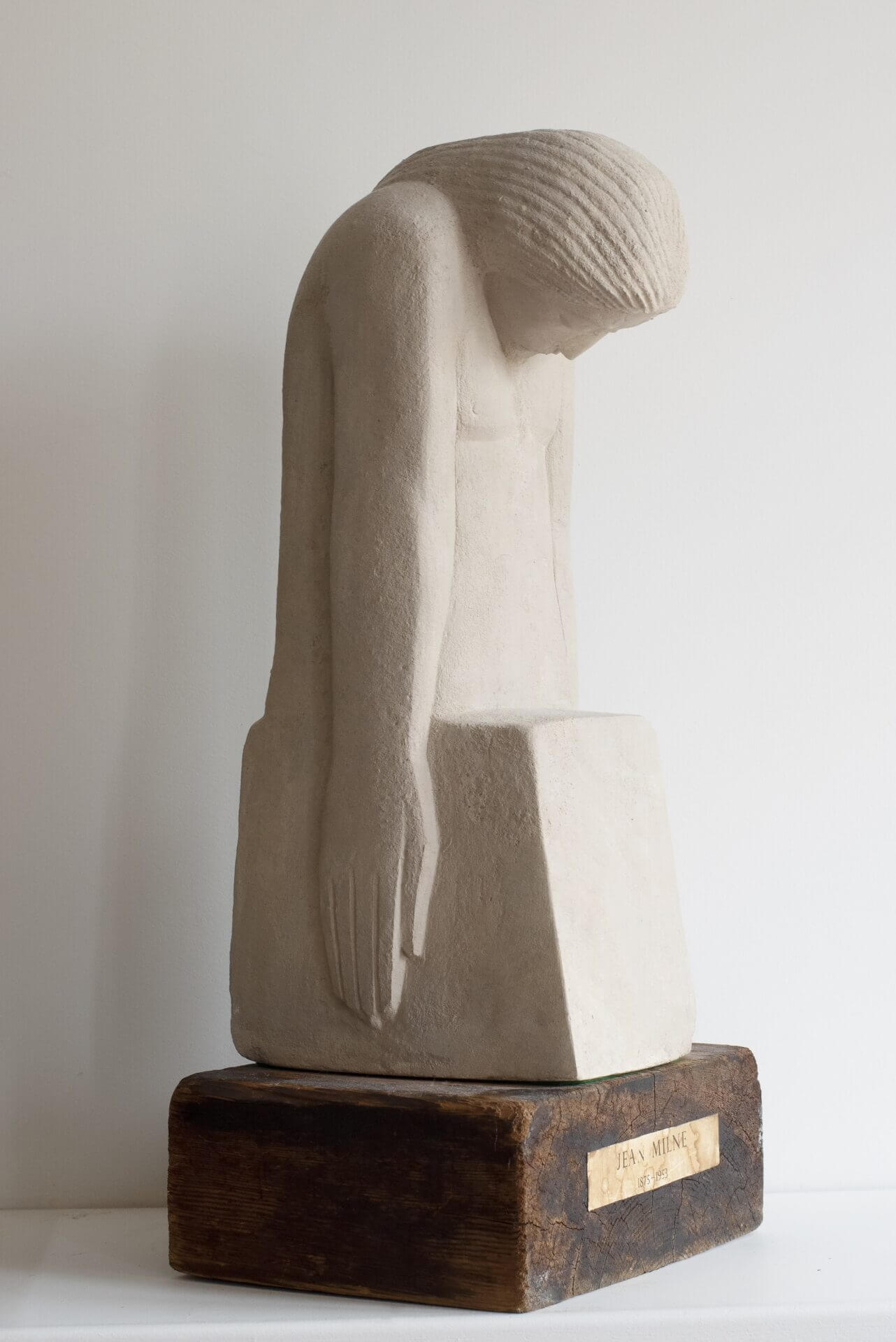 In contrast, Meret Oppenheim's (1913-1985) – Traccia (Table with Bird's Feet) Cassina edition, 1973 is our latest three-dimensional piece. Traccia (Table with Bird's Feet) was first designed by Meret Oppenheim in 1939 for Leo Castelli's avant-garde gallery in Paris, which sold paintings and furniture by Surrealist artists including Léonor Fini, Augene Berman, Max Ernst, and Salvador Dali. In 1971, the Italian designer Dino Gavina (1922-2007) launched what he called "l'opera d'arte funzionale", or "functional artworks", and in so doing inaugurated a new approach to furnishing where surreal objects were adapted for everyday use. This led to the creation of his Ultra Mobile Collection for Simon International Company (later merged with Cassina) and Traccia was one of the pieces selected. (Cassina still produces Traccia, fully respecting the original design). Later, in 1983, in a limited edition of thirty under the artist's supervision, Traccia was reproduced in conjunction with gallerist Thomas Levy, the tabletop being executed by Helmut Sasse, Hamburg, Germany.