The art-world is riddled with biases. One only has to pick up a copy of 'The Story of Art' by Ernst Gombrich (1909-2001) to become painfully aware of the erasure of women, queer and non-white people's contributions in art, an issue that has been addressed by Katy Hessel in her new book, 'The Story of Art without Men'. . .Nothing about this is new, the systematic privileging of white male artists  has been happening for centuries. In recent years, the incredible effort in reattributing work to more marginalised groups, recognising their contributions and bringing them out of the shadows, has provided us with a truer and more meaningful art historical narrative, kick-started by Linda Nochlin's seminal essay, 'Why Have There Been No Great Women Artists?' (1971).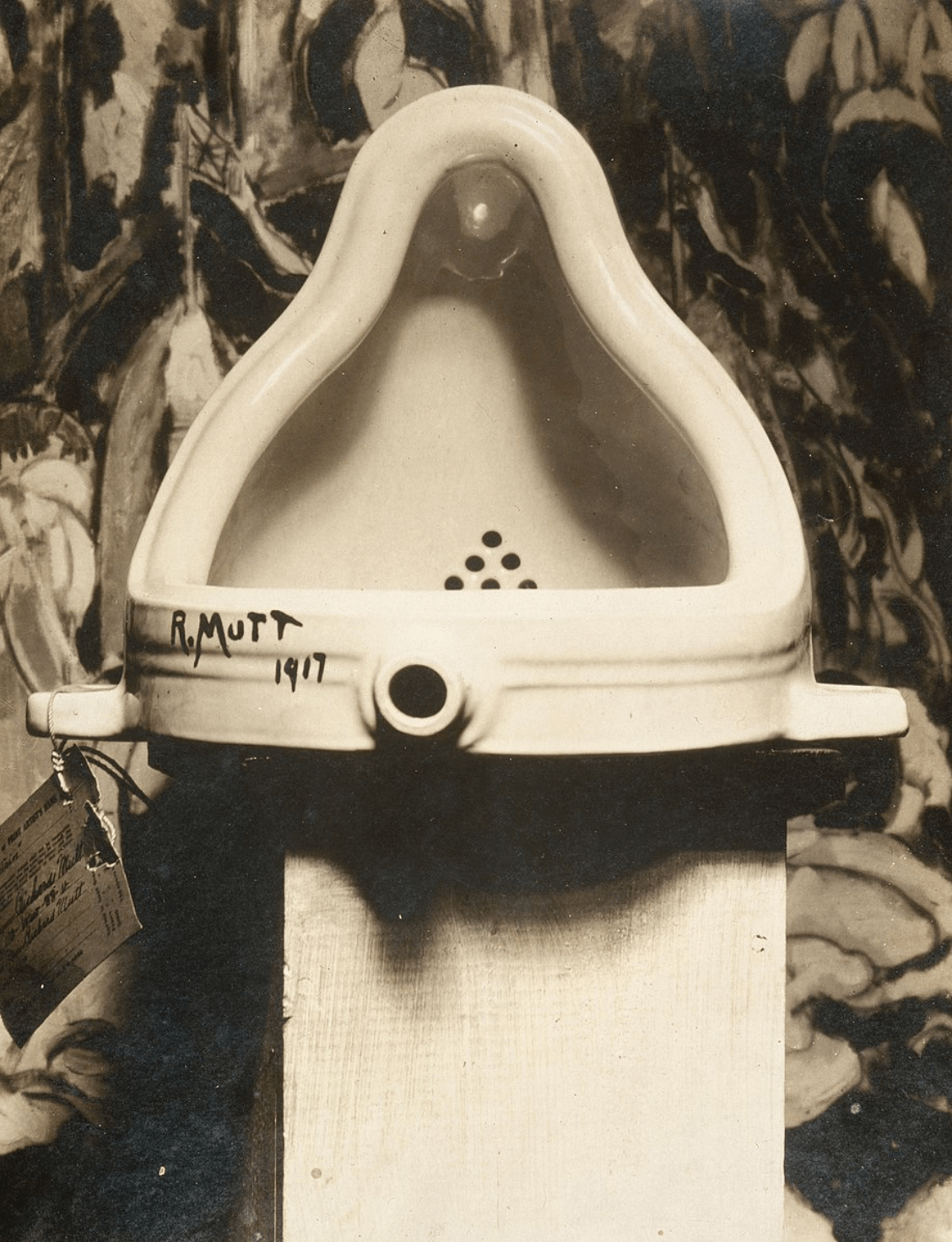 Fountain (1917), photograph by Alfred Stieglitz
The term 'Rediscovering women artists' often implies research of an archeological nature: archives, lost or buried, as was the case with Winifred Knights (1899-1947) – but let's look at the story behind one of the most influential modern artworks of all time: 'The Fountain' attributed to Marcel Duchamp (1887-1968) and more recently to radical visual artist, Baroness  Elsa von Freytag-Loringhoven (1874-1927). On March 29th, 2019 an article published in the Guardian by Siri Hustvedt stated: "The evidence is there. Elsa von Freytag-Loringhoven sent in the urinal. It's time to rewrite the story". The claim that the urinal was in fact by the Baroness stemmed from a letter dated 11th April 1917 that Duchamp wrote to his sister, Susanne, which appears in Irene Gammel's biography of the Baroness: "One of my female friends who had adopted the masculine pseudonym Richard Mutt sent in a porcelain urinal as a sculpture." R.Mutt was only identified as an artist living in Philadelphia but later Gammel confirmed in her 2002 biography that it was indeed the Baroness, who at the time was making a name for herself with her controversial plumbing sculptures such as 'God' (c.1917) which was rejected by the Society of Independent Artists as an "anti-art" submission. It wasn't until 1935 that André Breton (1896-1966) attributed the urinal to Duschamp and it wasn't until 1950, long after the Baroness had died, that Duchamp began to take credit for the piece and authorise replicas. He claimed to have purchased the urinal from JL Mott Ironworks Company, adapting Mutt from Mott, but the company did not manufacture the model in the photograph.
Baroness Elsa von Freytag-Loringhoven and Morton Schamberg, God (1917)
From this, what ended up being a five year long scandal and dispute (2017-2022), unfolded with hundreds of claims being founded on circumstantial and speculative evidence. The Burlington Magazine published an article in December 2019 entitled "Marcel Duchamp Was Not a Thief" by Dawn Ades and Alaistair Brotchie in which was written: "Despite Gammel's welcome aim of restoring agency to women artists and poets, it is unfortunate that she chose to champion the Baroness rather than the other women in the New York avant-garde who were actually involved in the 1917 Fountain incident, and who are no less forgotten by history: Louise Norton and Beatrice Wood (…) Unless they can provide evidence on this specific point, we suggest that the honourable course of action on their part would be to admit they were mistaken and to apologise for their accusations, which have turned out to be unfounded". Since the claim was largely considered to be discredited in 2022, other research has pointed to the "female friend" being an early appearance of Duchamp's female alter ego Rose Sélavy and artist Louise Norton (1888-1941), a close friend of Duchamp who contributed an essay to The Blind Man (1917) defending 'Fountain' and whose address is discernible on the paper entry ticket in the famous photograph taken by photographer Alfred Stieglitz (1864-1946).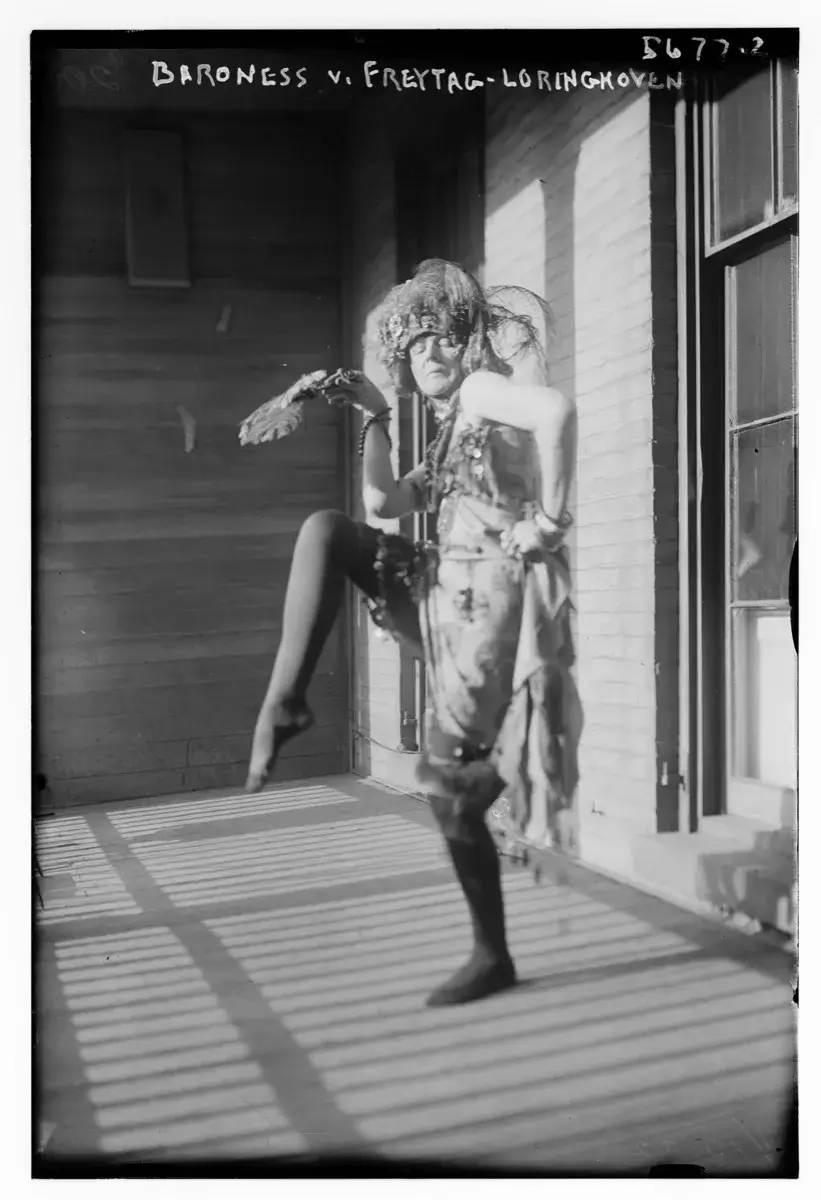 Baroness von Freytag-Loringhoven
Whether the Baroness was or was not behind this conceptual masterpiece, it is definitely a scandal that speaks to our current climate. It took centuries for historians to accept that Artemisia Gentileschi's work was her own and not her father's, Lee Krasner's obvious influence on Jackson Pollock went unrecognised for decades, much of Simone de Beauvoir's work was attributed to Jean-Paul Sartre and Margaret Keane, whose work has collectively made millions over the last century, was stolen and claimed by her second husband for over a decade. It is no surprise that there is a sense of distrust when it comes to recognising women's contributions. Whilst men are championed as conceptual masterminds, geniuses in creation, having immense precision and technique, being highly intellectual, women (like the Baroness), who were just as skilled and radical in their time, are often viewed as highly emotional, crazy, attention-seeking or controversial. The lack of 'great art by women' –  to cite Nochlin –  is due to the systematic oppression that women face in a heavily biased and homoerotic environment. Today, there is some progress but much more work needs to be undertaken. A report released by the Freelands Foundation in 2019 found that while more women (66%) are enrolling in postgraduate study in the creative arts and design this figure is effectively reversed for commercial gallery representation. In 2018, 68% of artists represented by major commercial galleries were men. Similar inequalities exist in art and design institutions, in which 63% of senior staff are men, a 4% increase on 2017, suggesting a growing gender disparity in this field. The worst area for gender inequality was in the art market, in which 88% of 2018 sales were by men. Of the top ten highest grossing sales at Sotheby's Contemporary Art Evening Sales only 3% of sales were by women. The report criticised these 'very concerning' statistics, suggesting they are caused by "anecdotal attitudes in the sector that female artists make poorer investments". Recalculating Art, an eye-opening new BBC4 radio exposé by Dr Helen Gorrill revealed just weeks ago that for every £1 a male artist earns for his work at auction, a woman earns a mere 10 pence.
Baroness von Freytag-Loringhoven, Enduring Ornament (1913)
Would 'Fountain' still be considered the masterpiece that it is today if it had been attributed to a woman from the start? Looking at the statistics above which are supposedly representative of a progressive climate where women are afforded the same opportunities as men and regarded as equal, it is difficult to imagine that the urinal would hold the legendary status that it does today.