Jane Graverol's (1905-1984) earliest surrealist work, which she created prolifically during the 1930s & 1940s alongside the up–and–coming Belgian surrealist group that formed around René Magritte,  set her apart from her male counterparts: women, who in the male artists' pictures are often portrayed as passive, fleeting and incidental, are in Graverol's paintings given centre stage. Even when in the 1960s and 70s, Graverol moved towards a more figurative style, women remained central to her vision and are invariably portrayed as strong, proud and sensual. In this picture, which dates to 1960, a woman's breast is unveiled by a dark red cape with a high buttoned collar, while a bird pecks at her nipple. Far from being seductive or titillating, Graverol's female figures can be read as powerful symbols of modernity and female autonomy. This work was made in homage to 'The Rite of Spring' by Igor Stravinsky, a ballet whose theme is the return of spring and whose central narrative revolves around the sacrifice of a virgin obliged to dance herself to death – This groudbreaking work redefined the boundaries of music in the 20th century though its exploration of the unconscious. The parallels between Stravinsky and Graverol's exploration of the unconscious resonate in this highly chraged and deeply disturbing image which is poised so tantalisingly between reality and fantasy.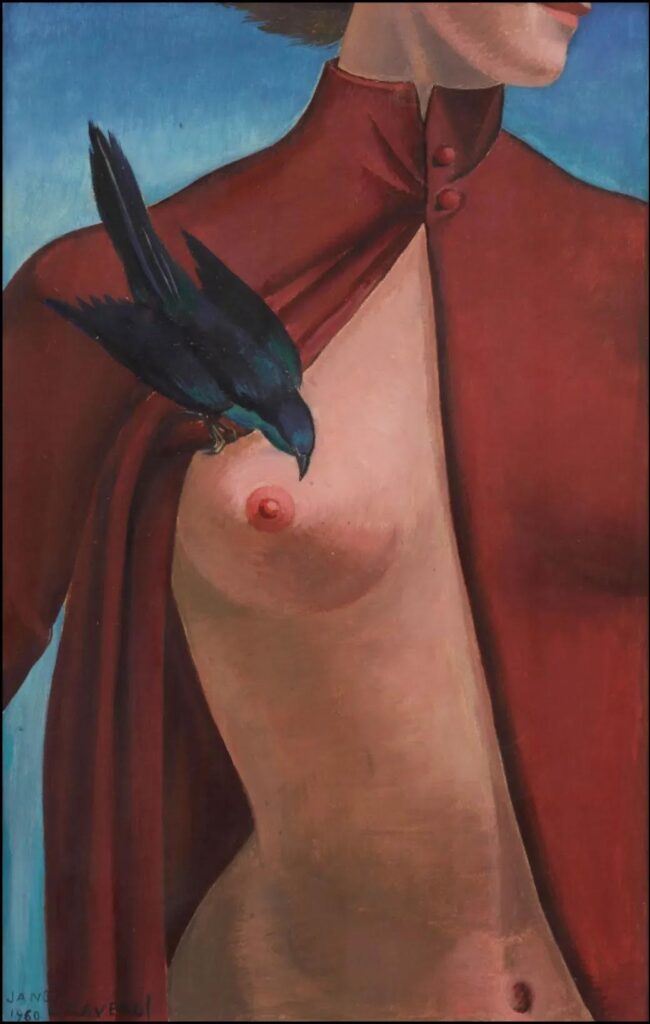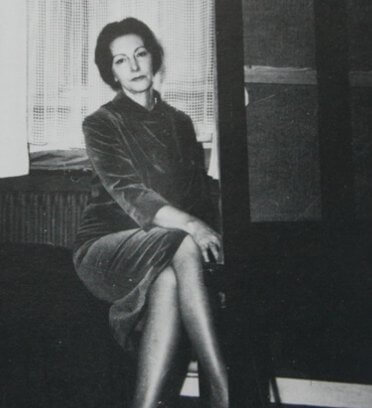 Jane Graverol was was born in Ixelles, Belgium, on 18 December 1905. Her father was the Symbolist illustrator and writer Alexandre Graverol. After studying at the Academy of Fine Arts in Etterbeek, she attended the Académie Royale des Beaux-Arts in Brussels, where she studied under Montald Constant and Jean Delville. She initially made her name in the field of still life and landscape and had her first solo exhibition in 1927, but in the late 1930s she embraced Surrealism. In a striking departure from her male colleagues' work, her compositions mainly centred on strong and determined female figures. Blending fairytale with the grotesque, and often depicting the erotic female body, Graverol described her paintings as "waking, conscious dreams". In 1949 she met members of the Belgian Surrealist group and in 1953 helped found the Temps Mêlés group in Verviers, which had leanings toward pataphysics – the absurdist, pseudo-scientific, literary invention of the French writer Alfred Jarry. She was a co-founder of two significant surrealist publications – the Temps Mêlés, and in 1954 along with Mariën and Paul Nougé, the avant-garde review Les Lèvres Nues. In the 1960s, she made the acquaintance of André Breton, and later Marcel Duchamp in New York. Even though she subsequently moved to France, she stayed in close contact with the Belgian surrealist artists and exhibited in Belgium every year. She died in Fontainbleau on 24 April 1984.
Artworks by the same Artist
Sorry, there is no other artwork by this Artist in the collection for now.