Interview With Jeweller Carly Owens
Can you provide a short one-paragraph introduction to your life and work?
I am a multidisciplinary artist based in Boulder, Colorado (USA). Hand embroidery lies at the core of my creative practice. I gained my technical foundation in hand embroidery while studying at the Royal School of Needlework in the UK and, since then, have been honing my skills and applying them to more contemporary contexts. Today, I create soft sculpture, wearable art and textile art pieces.Through my work, I want to create a space where the feelings of the uncanny arise from the familiar being made unfamiliar. I use the displacement of everyday objects to construct narratives with subtle complexities that seduce the viewer through its beautiful rendering. I allow objects to imply identity.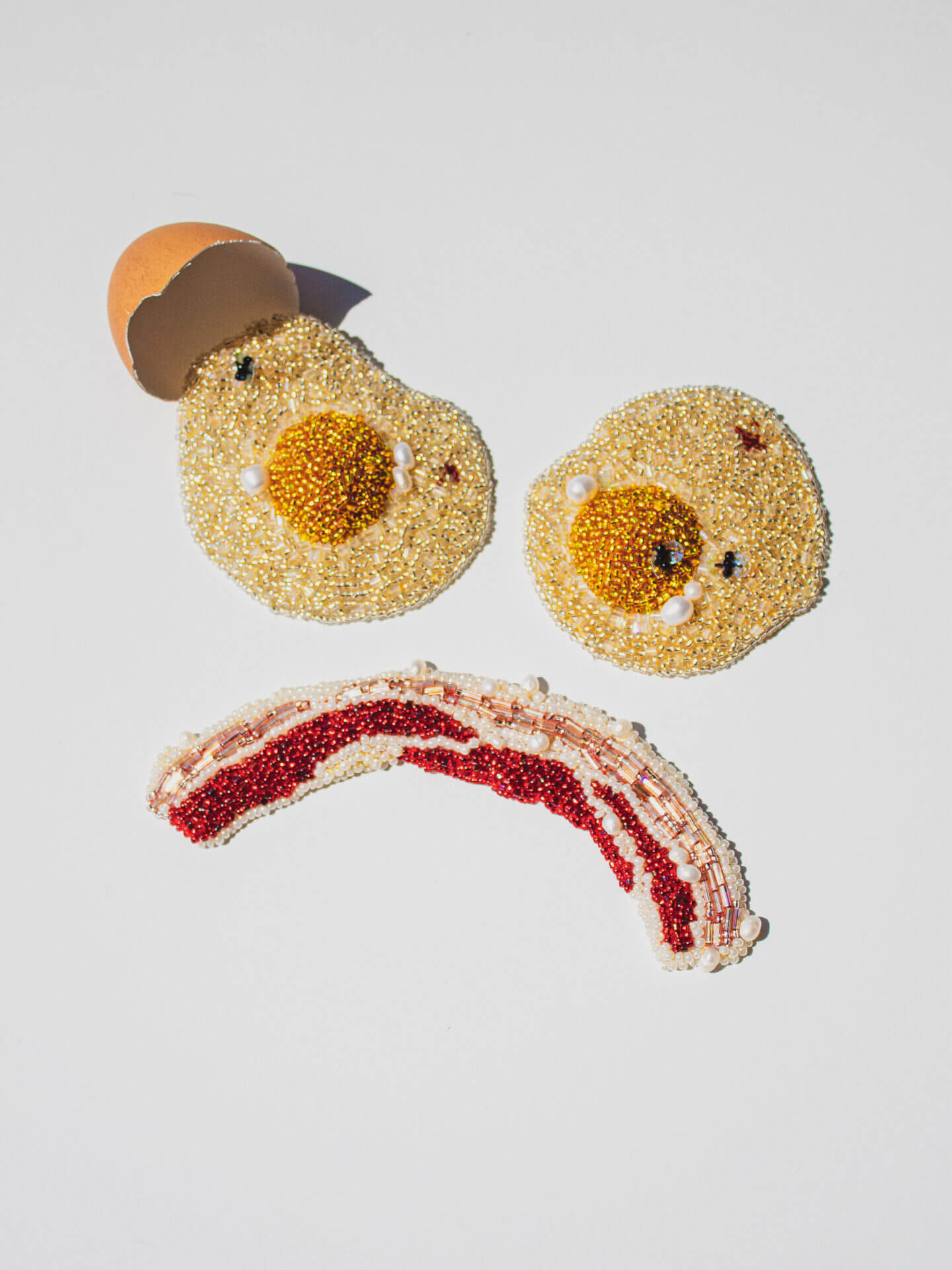 'Unhappy Meal', hand embroidered soft sculpture (2022)
Can you name 3 women who have inspired/informed your artistic practice?
Leonora Carrington, Louise Bourgeois and Georgia O'Keeffe. They're absolutely incredible artists with fascinating life stories. I profoundly admire them all.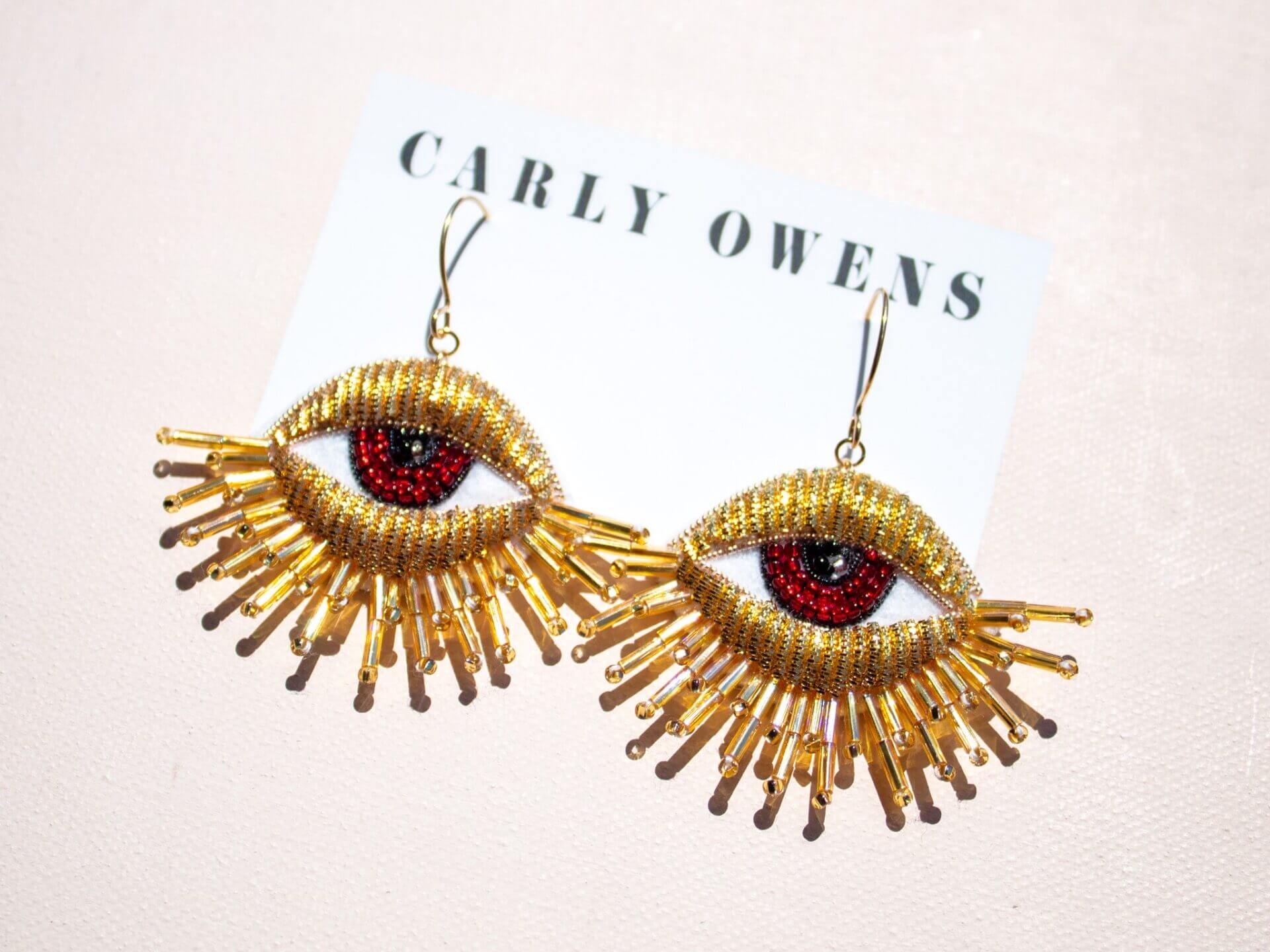 Eye earrings (2022)
How has being a (woman) affected your work/the pieces you create?
I think my life experiences inform my work. My work isn't necessarily about womanhood, but rather how I personally navigate the world in my own body. I think if anything, I'm trying to combat the stigma of "woman's work" through my embroidery. I work in a medium that was, and still is, incredibly gendered and struggles to be taken seriously. Embroidery is just as effective at communicating ideas as any other art medium, so it needs to be seen that way.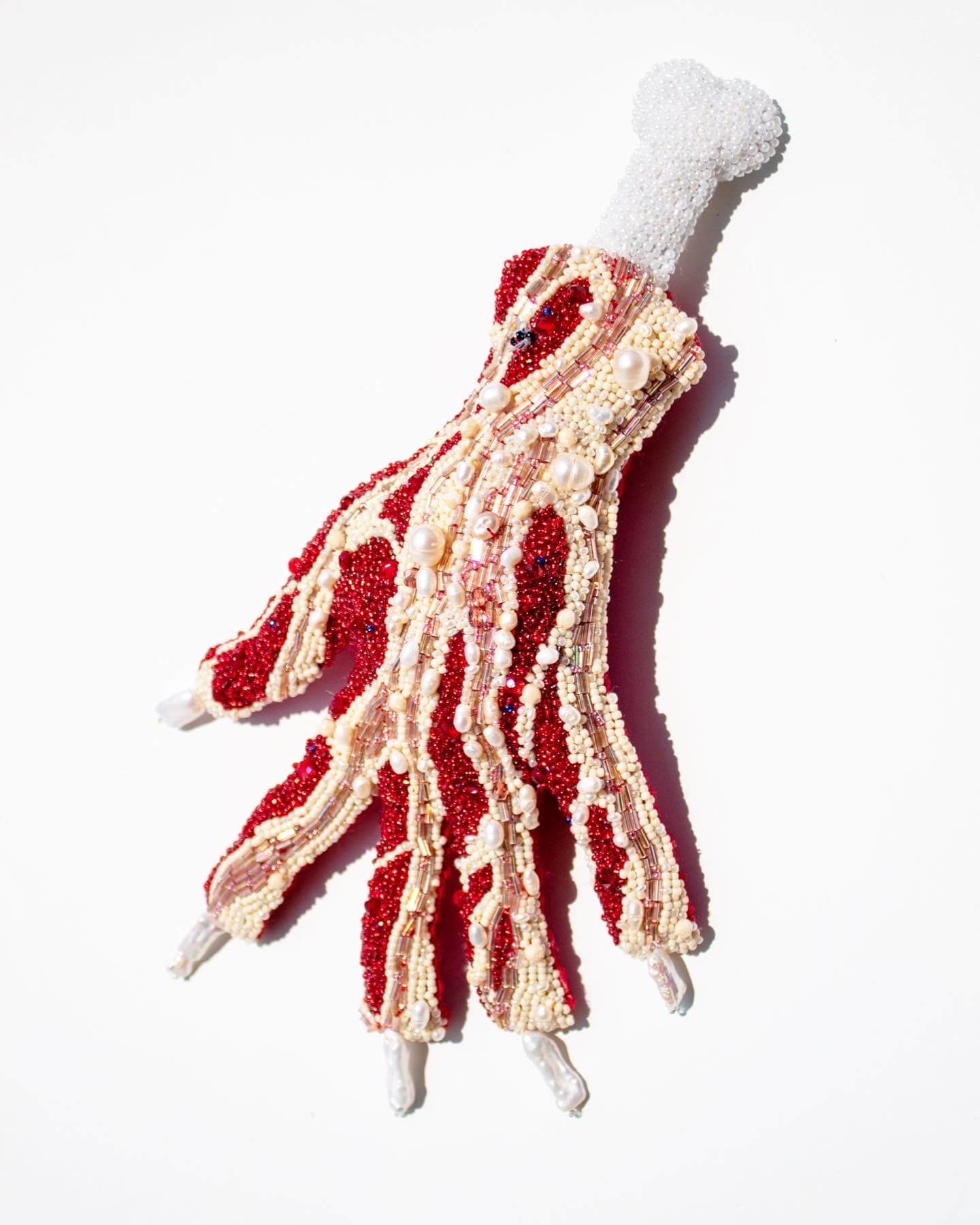 'Meatings and Partings', hand embroidered soft sculpture (2022)
If you could choose one jewellery design from the 20th century, which one would it be? 
From the 20th century, it would have to be one of Gertrude Abercrombie's brooches. She was a surrealist painter based in Chicago and she created these miniature paintings, about an inch or two in size, and would have them set into brooches. If I could choose a design from any era, it would be Victorian lover's eyes. They're what inspired my series of eye jewelry.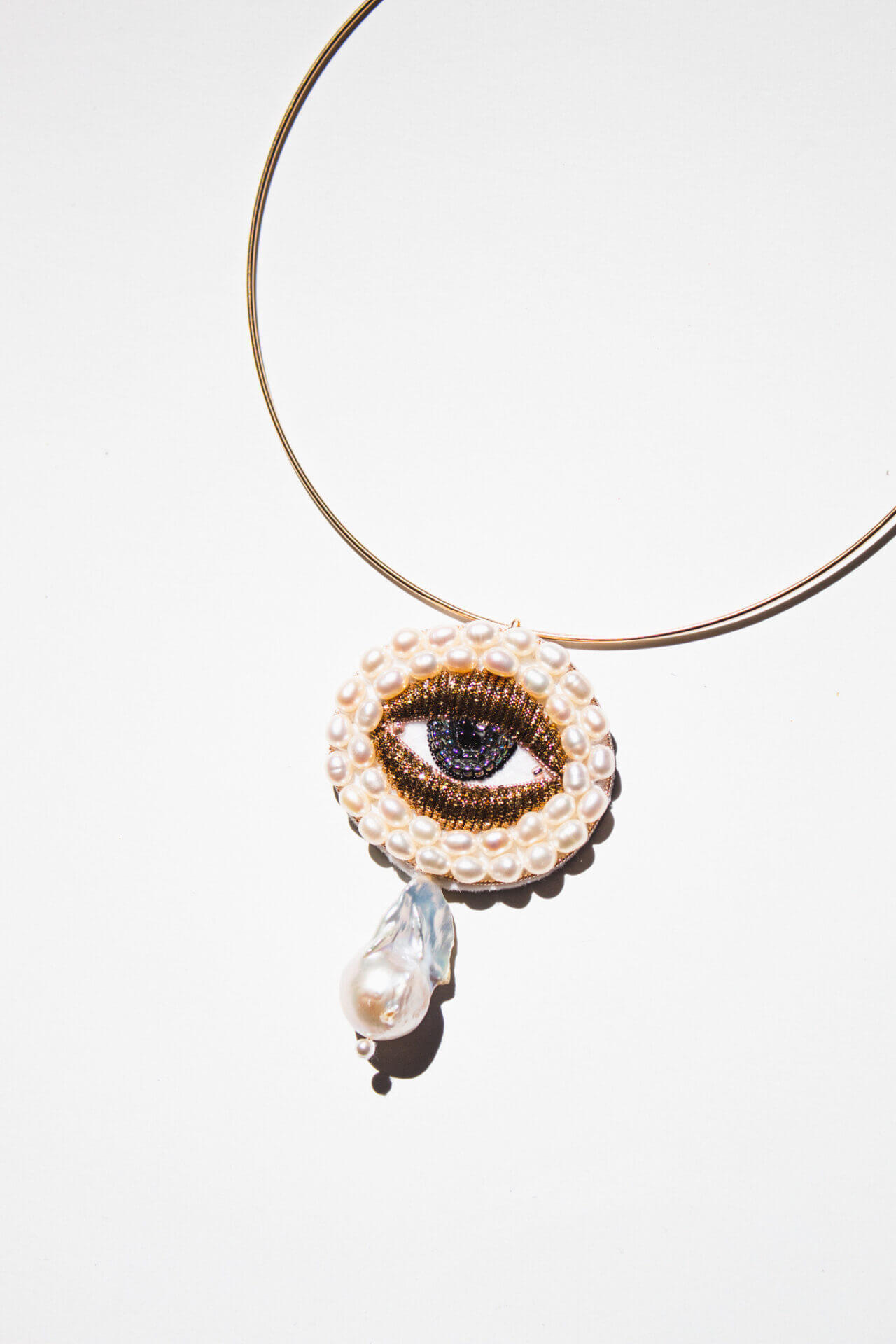 Necklace (2021)
Where do you find inspiration?
I find inspiration in a lot of places. I'm probably most influenced by art and objects from the past but nature plays a huge role in my work as well. Poetry too! I find that as a visual person I struggle putting things into words so when I read something that I profoundly connect with, it feels really visceral. I think ultimately I'm chasing something intangible. It's a certain feeling that makes the world feel a little more magical and those moments when you feel utterly alive.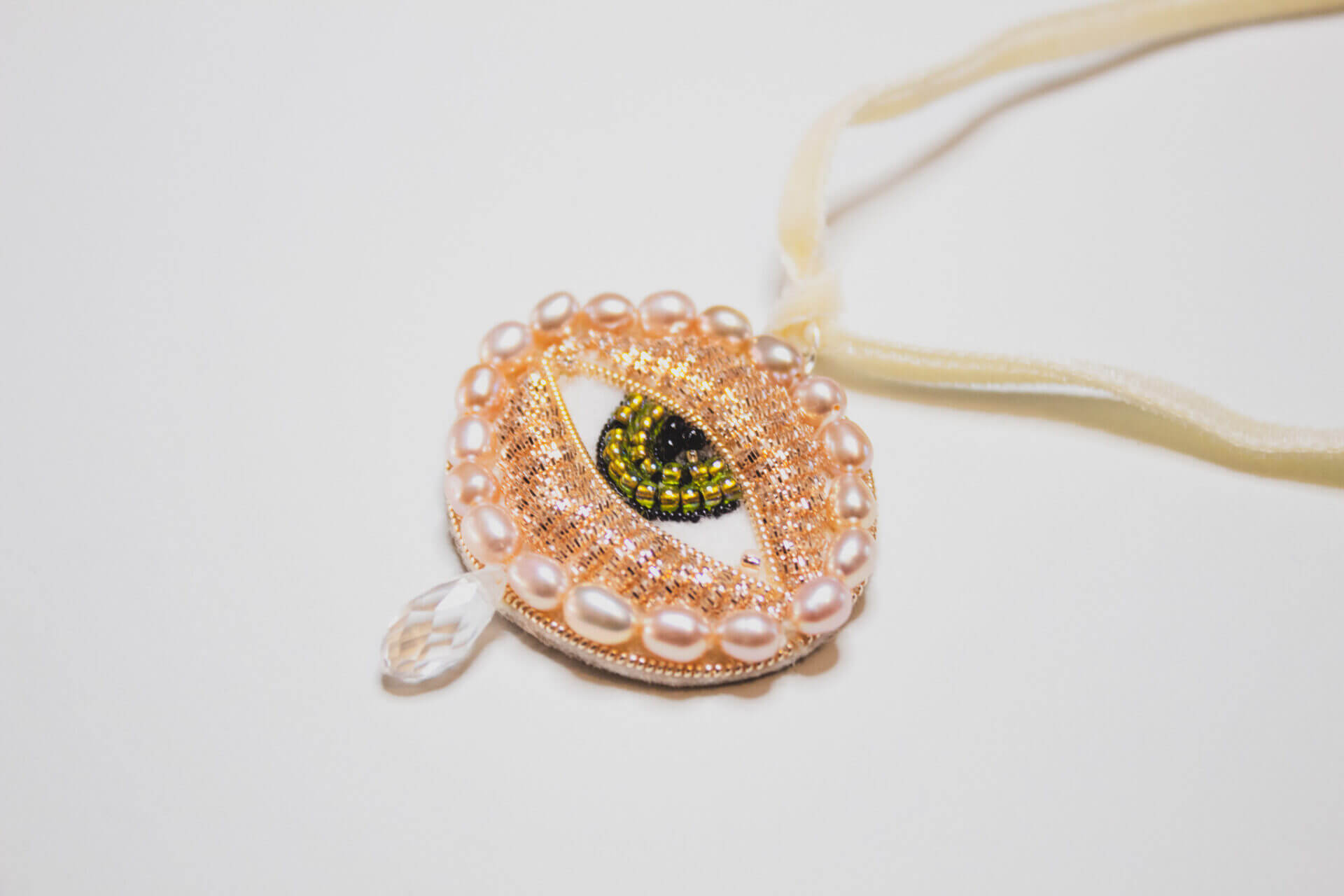 'Crystal Tears', velvet necklace (2021)
Can you speak about the symbolism of eyes/the body in your work?
I love the feeling of the uncanny that arises when you take something that is very familiar or mundane and do something unusual with it. This displacement of everyday objects is weird and wonderful and I love that it challenges the definition of reality. This is the goal for my work. For eyes specifically, there's a mysteriousness to them, especially when they're isolated from the rest of the face. They convey a spectrum of emotions and it's up to the viewer to interpret what that emotion is for them.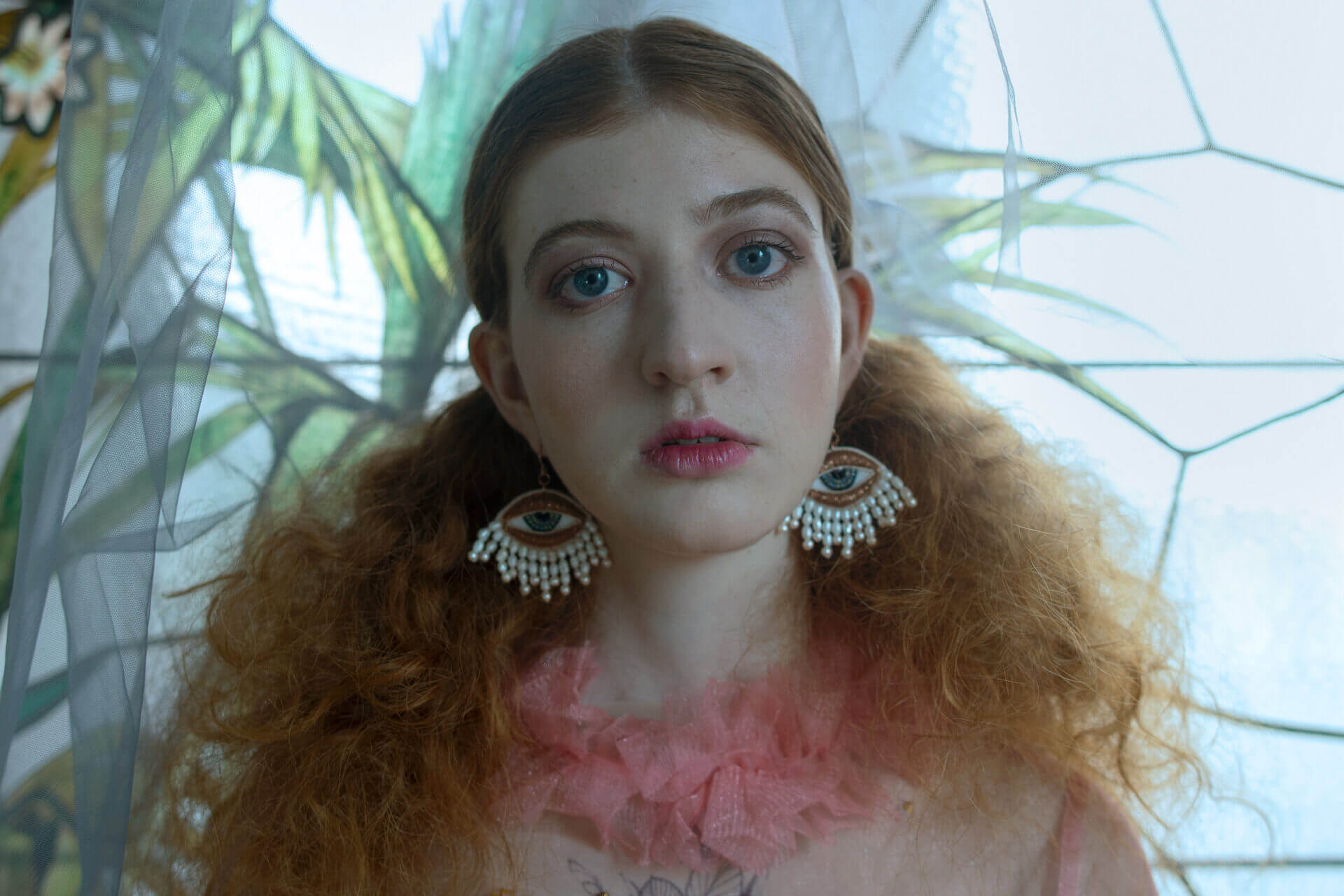 Eye earrings (2020) – (image credit: Olesya Parfenyuk from "Thy Bird Leaveth Thee by Olesya Parfenyuk)
Can you tell us about a past project/collaboration you are particularly proud of?
Last year, I had the immense privilege of exhibiting a series of wearable art pieces at the Museum of Arts and Design in New York in their annual contemporary show MAD About jewelry. I spent about six months creating pieces and preparing my installation. It felt pretty validating to be included amongst a roster of so many amazing jewelry artists. Upcoming projects I'm really excited to have been awarded two artist residencies in 2023. My first residency will be at John C Campbell Folk School, where I'll get to spend four months developing my embroidery work and engaging with the amazing community there. My next residency will be at Vermont Studio Center. I was awarded a fellowship for a sculpture residency and will be continuing to explore hand embroidered soft-sculpture.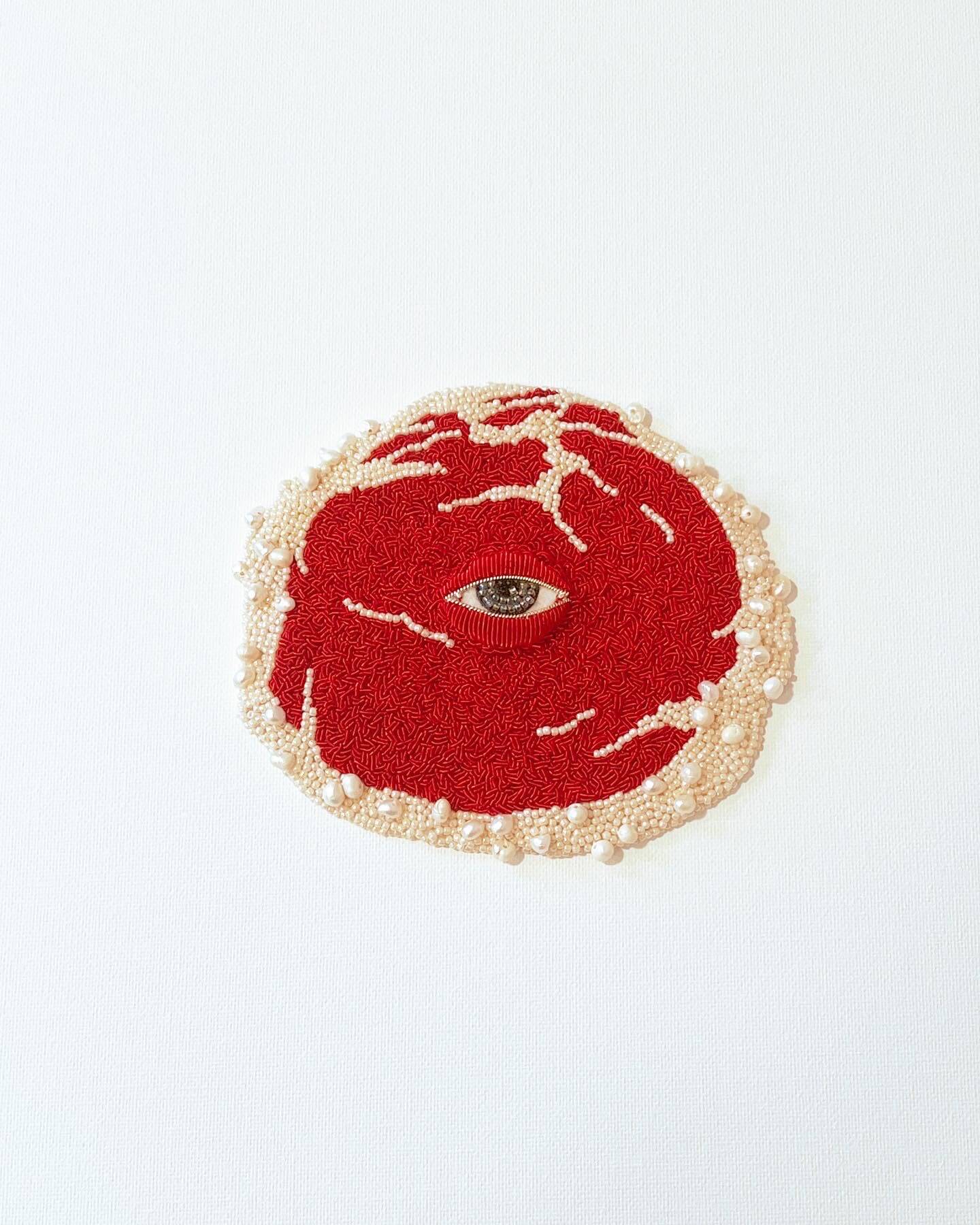 'The Portrait II', hand embroidered soft sculpture (2022)
Thank you Carly!