An Interview With Fausta Squatriti
When I was travelling in Italy last winter, a friend suggested I make a visit to Fausta Squatriti, an artist and poet living and working in Milan. I jumped at this opportunity, as there is something magical about visiting an artist's studio, for it is here that we gain insights into their working processes as well as their life through the fact that this intimate space is filled with material and memorial archives of their work. And none more so than Fausta's studio, situated on the ground floor of a modern(ish) building in Viale Vincenzo Lancetti, which was hung with a myriad of objects, sculptures and paintings, as well as a large library of books, all bearing testament to an extraordinary career and artistic friendships stretching back 60-years.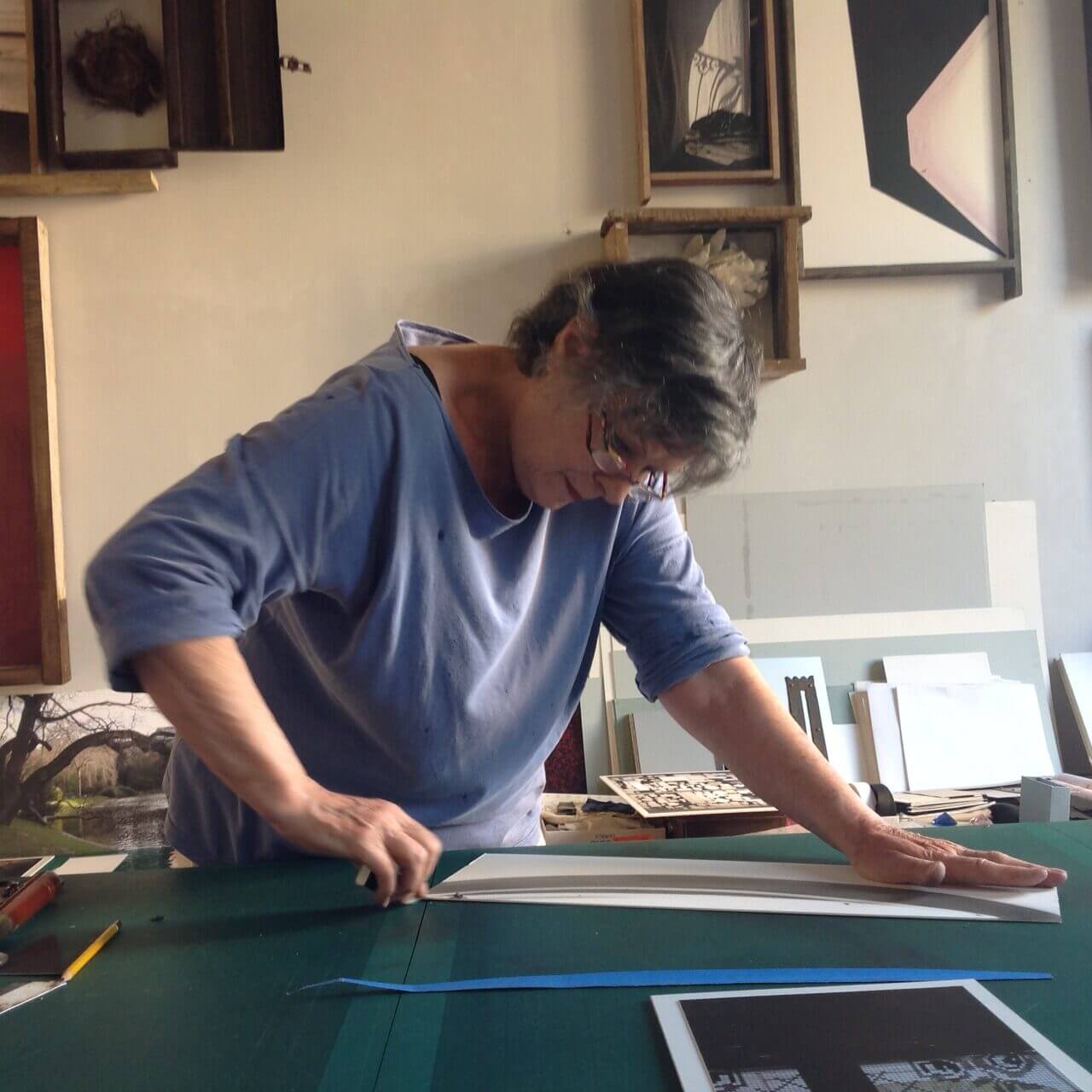 When did you first know you wanted to become an artist?
I was eight years old, standing alone in my room. I was looking at the landscape outside the window, and tears came to my eyes. My mother, who was a poet, had suggested that I should not take drawing lessons at school, but look at nature, and so I did. It was an important afternoon that changed the course of my life.
Fausta Squatriti, La Pezzente, drawing published on "l'Unità", 3 dicembre 1953 
What was the best piece of advice you were given when you were starting out?
In Milan, in 1952, Picasso had agreed to exhibit Guernica in the ballroom of the Royal Palace, which ended up being badly destroyed by bombs. Witnessing the destruction of war affected me greatly and later led me to become a Cubist artist. My first success, at the age of 12, came with the publication of a gouache that I still keep, a figure of a woman entitled 'The Beggar'; all square, published in L'Unità, the left-wing newspaper. After studying at the Academy, I aligned myself with the research going on in those years, and the already famous Gillo Dorfles presented my first solo exhibition, in 1964. In 1969, again Dorfles wrote a text that plumbed my research outside the most popular informal and gestural currents, for the exhibition at the 'Kozmopolitan Gallery' in New York.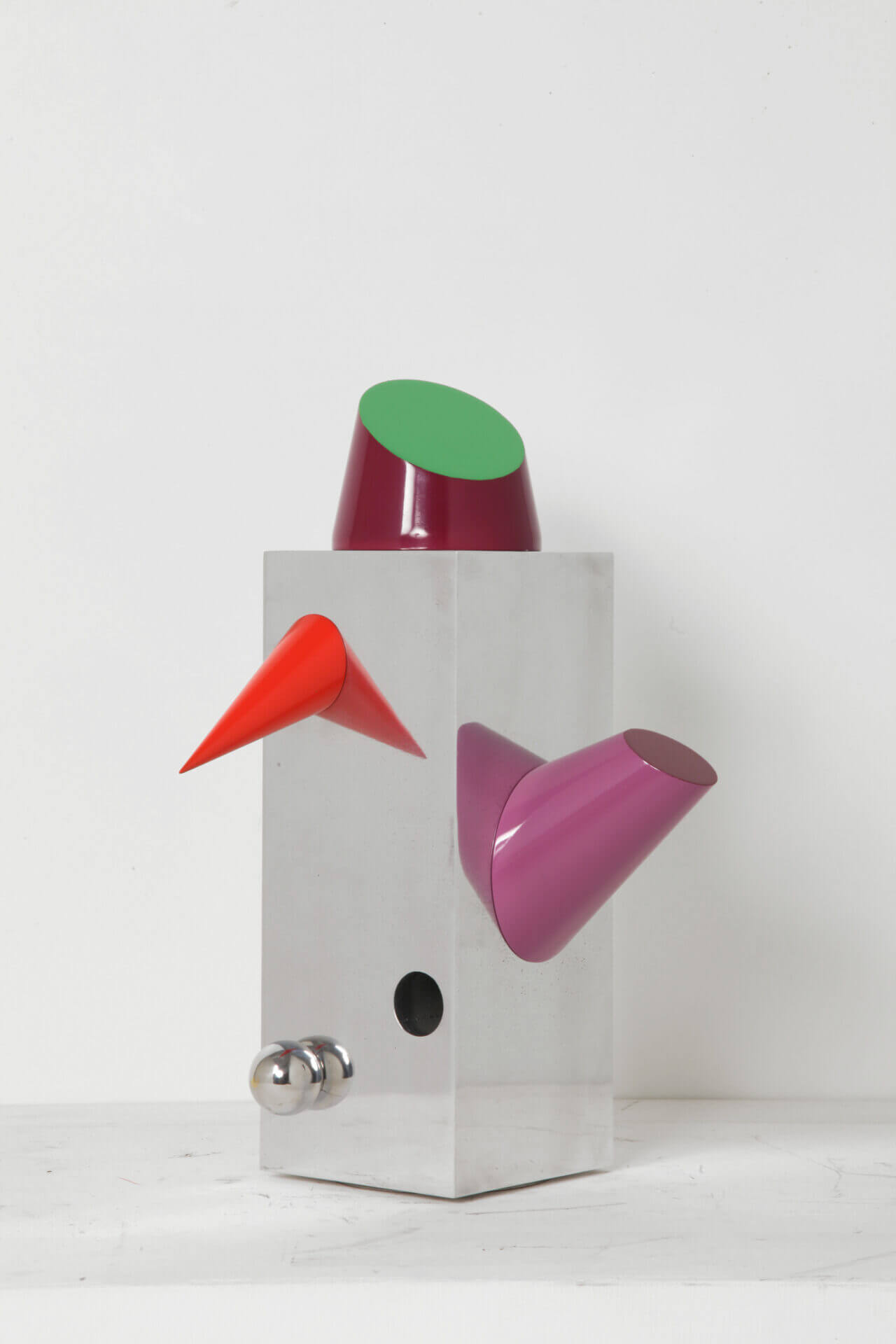 Curioso Rosso (1967)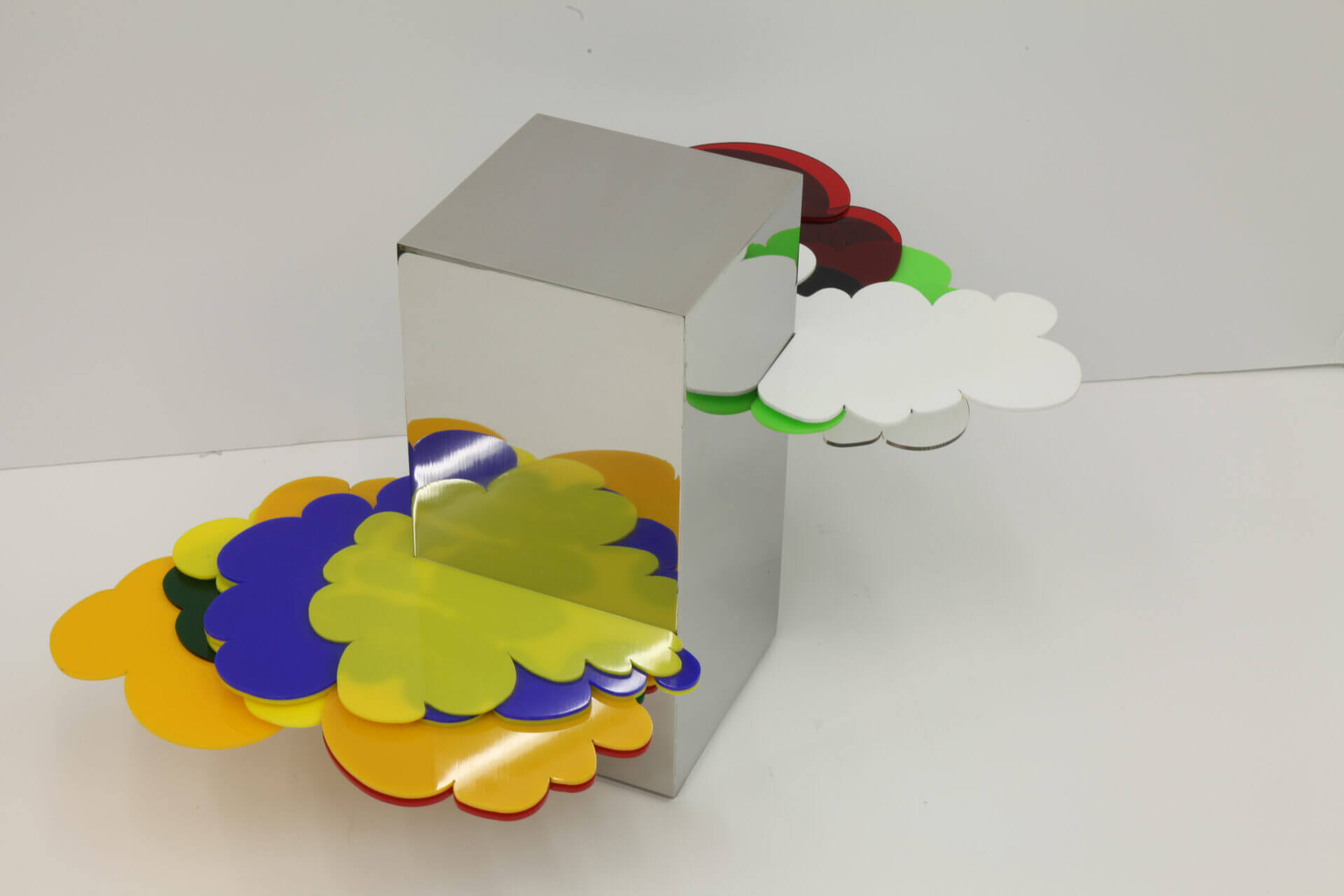 Parallelepipedo con nuvole (1967)
Where do you find inspiration?
Inspiration is like a persistent, petulant, even annoying breeze. But if it blows through our minds and hearts, we must welcome it, and love it, until it turns into a strong wind, perhaps even a hurricane.
De Rerum Natura: omaggio a Giovanni Segantini (2017)
What is your favourite medium?
I have worked in many mediums, I choose. my medium in accordance with what I am doing especially the simple but demanding pencil, to which I have always gone and come back, as well as watercolour. In the 1960s, I used industrial techniques, bent and welded sheet metal, spray lacquered, with industrial colours. I then, through inspiration, moved on to wood, beams corroded by time, and organic materials transformed by techniques I developed. Today, the breeze/hurricane forcefully carries me towards wood, satin and velvet fabrics, lace… animal bones painted gold and silver, nails.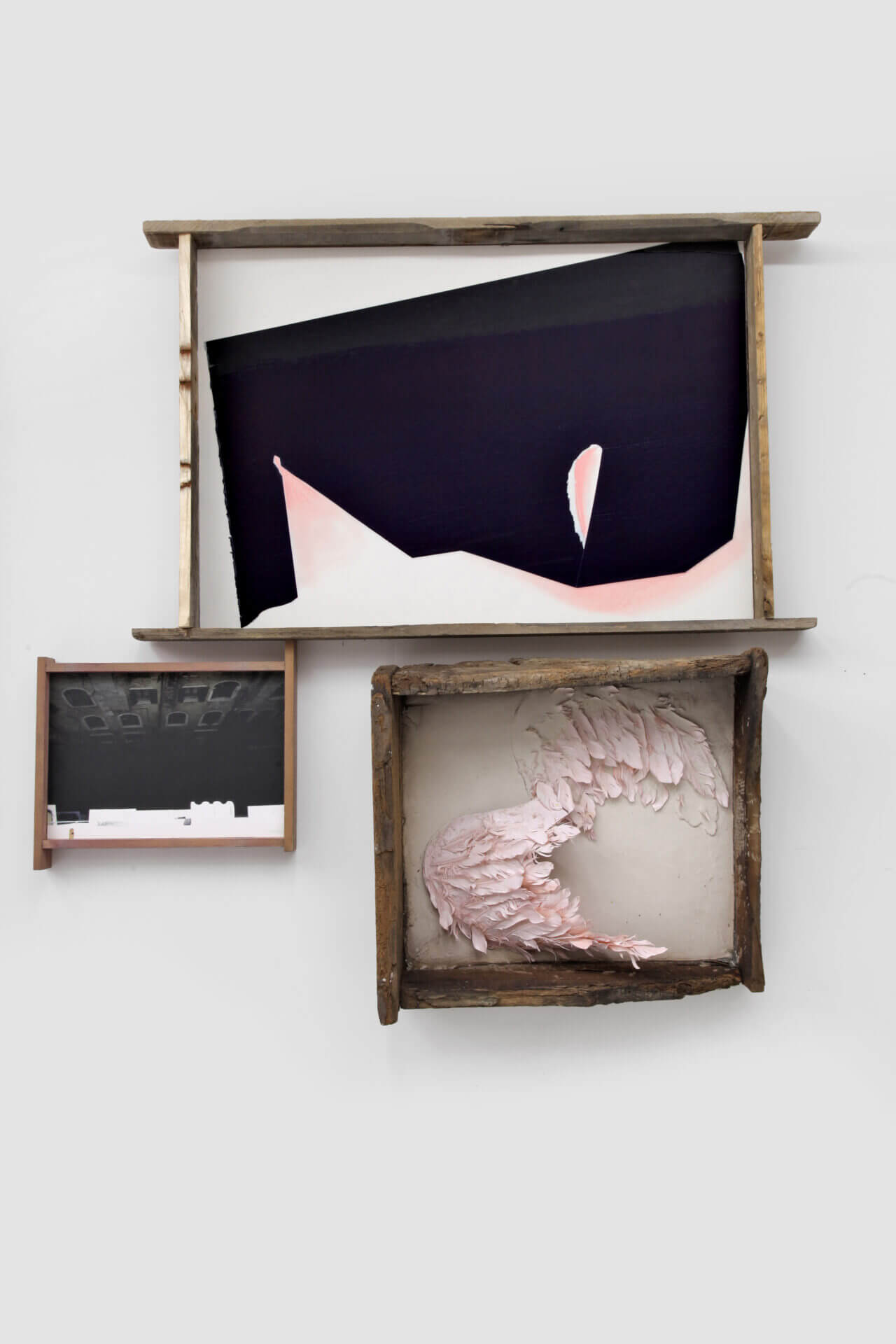 Beata solitudo sola Beatitudo: la solitudine di Casanova (2015)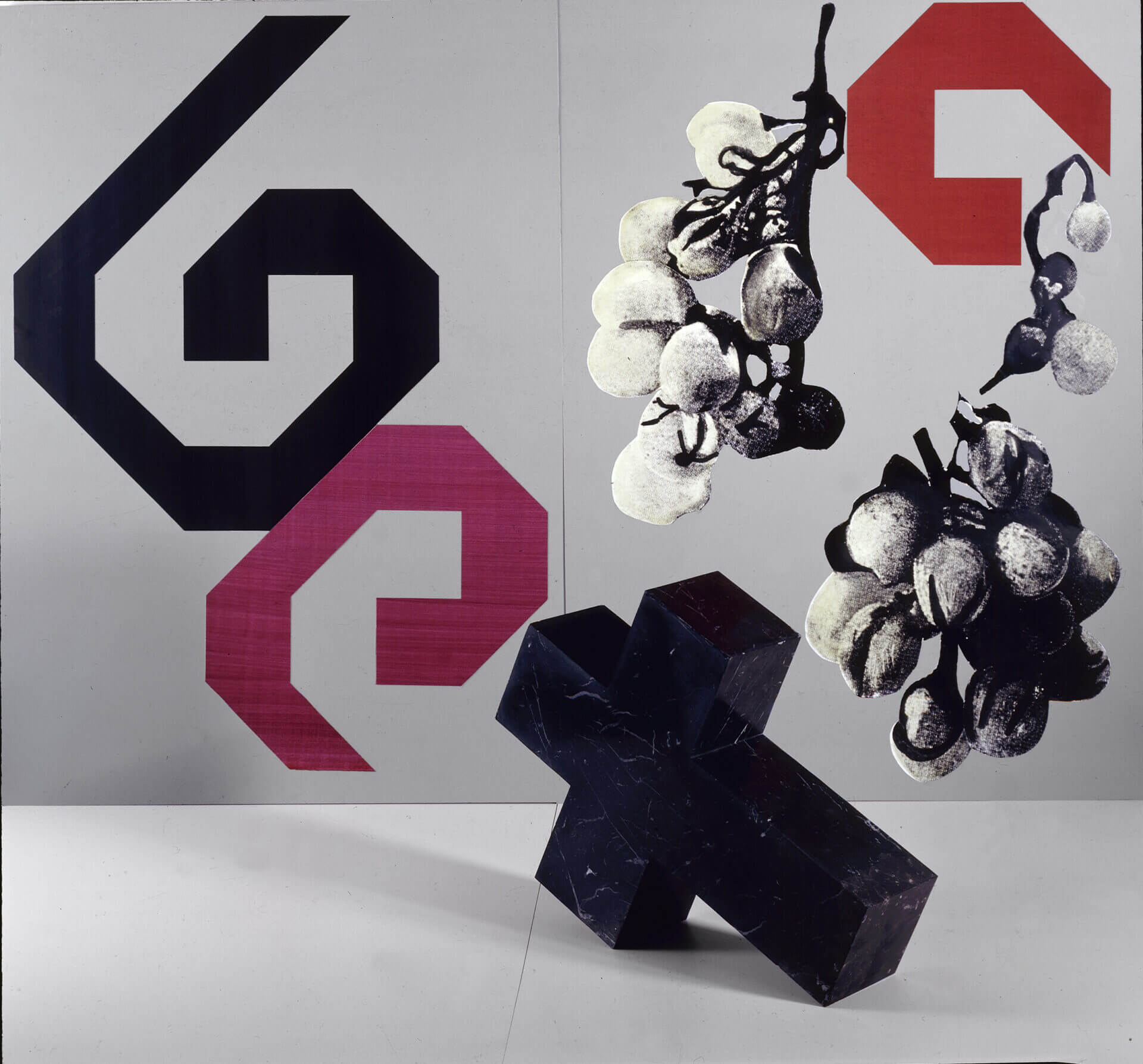 Nel regno vegetale: con grappoli di uva malata (1994)
How has being a woman affected your work?
Like all female artists of my generation, it was difficult to make my way. Men held all kinds of power, intellectual and material, they did not accept that women could enter their world. But now, at eighty years old, I would say that the problem has mostly been overcome.
Can you tell us about your collaboration with Niki de San Phalle?
I got to know Niki through Alexander Iolas, for whose galleries I used to design and produce exhibition catalogues and posters. With almost everyone, but certainly with Niki and Tinguely more than with others, we became great friends. To create a catalogue, which was more of a visual narrative than anything else, we would sit with Niki around the table, choosing which photos to use. But also the drawings, and where a drawing was missing, Niki would do it straight away. We had a lot of fun, nothing was closed off to our imagination.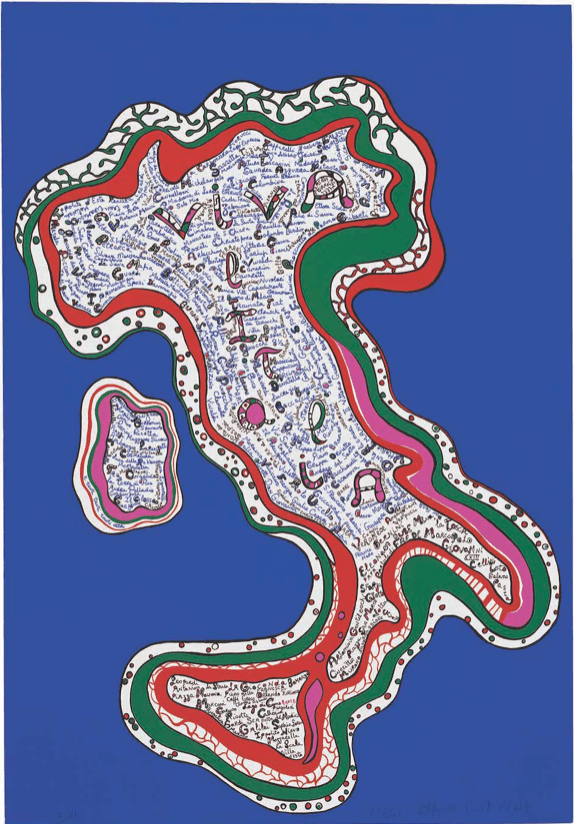 Niki de Saint Phalle, Viva l'Italia (1984)
Which historical woman artist most influenced your work?
Honestly, when I was studying, there were no important female artists on the scene. But in the 1970s, as I got to know the Russian avant-garde better, the many women protagonists of a social as much as an intellectual revolution, jumped out of the conjurer's hat. And what a revelation the exhibition 'The Other Half of the Avant-Garde' was; curated by Lea Vergine in 1980, in Milan. I also loved Sonia Delaunay, whom I got to know personally, and Louise Nevelson's sculptures.
Which of your many exhibitions are you most proud of?
The 2017 exhibition entitled 'If the World Were Square, I'd Know My Way…' held around three exhibition venues in Milan: two institutional – Triennale and Gallerie d'Italia and Nuova Galleria Morone.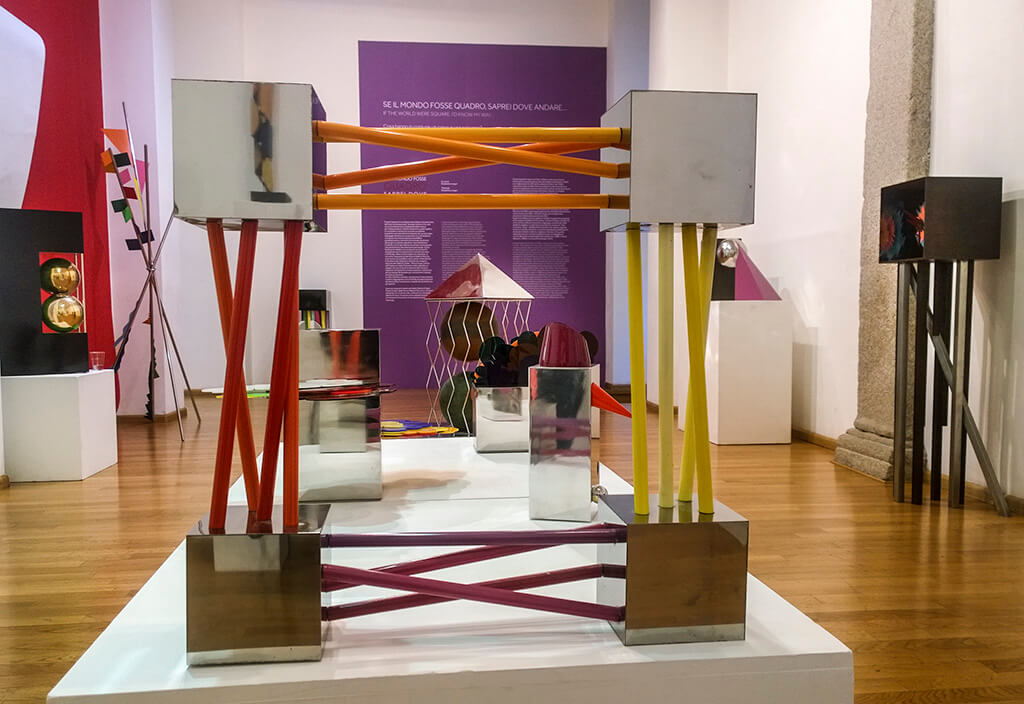 Staging of the exhibition "Se il mondo fosse quadro saprei dove andare…", Gallerie d'Italia, Milano 2017
Which work do you consider your masterpiece?
Perhaps the great political 'Polyptych of the eclipses'; in which I express all my values, symbolic and conceptual, taking advantage of the sacredness of a Polyptych.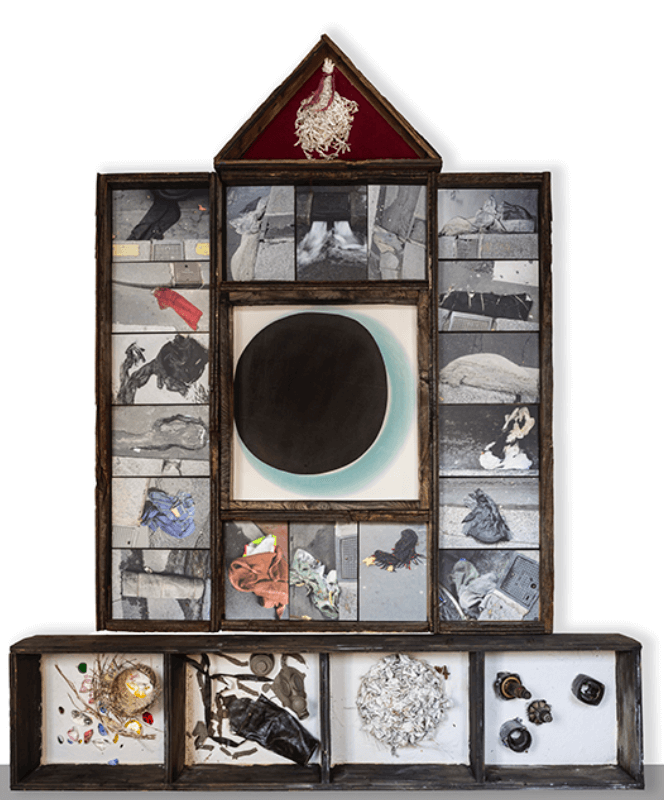 Polittico dell'eclissi (2015)
Which museum collection are you most proud to have your work included in?
Perhaps the small room that the Musée d'Art Moderne de la Ville de Paris has dedicated to Italian art. My sculpture had next to it or behind it, a canvas by Fontana, an artist and a man that in my generation we all adored. To have the honour of standing next to him moved me to tears.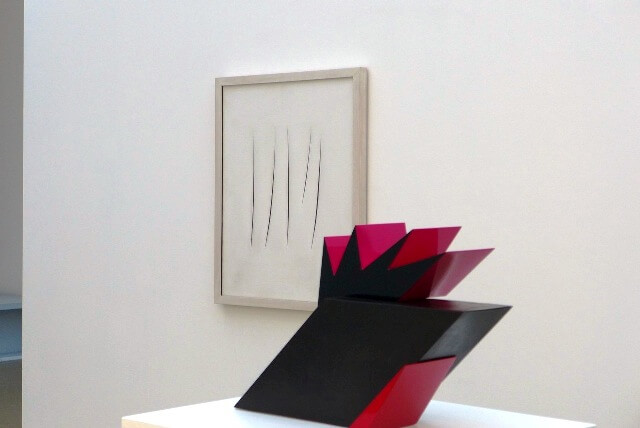 Lucio Fontana e Fausta Squatriti, Musée de la Ville de Paris
Thank you Fausta!
*All images courtesy of Archivio Fausta Squatriti, Galleria Bianconi, Milano